Big Bend Quarry Hike
February 2012
by Jim Miller
In late February Neil Garrison and I spent a week in the Big Bend area of southwest Texas. Among our several adventures, we hiked to an amazing Native American flint quarry within the limits of Big Bend National Park.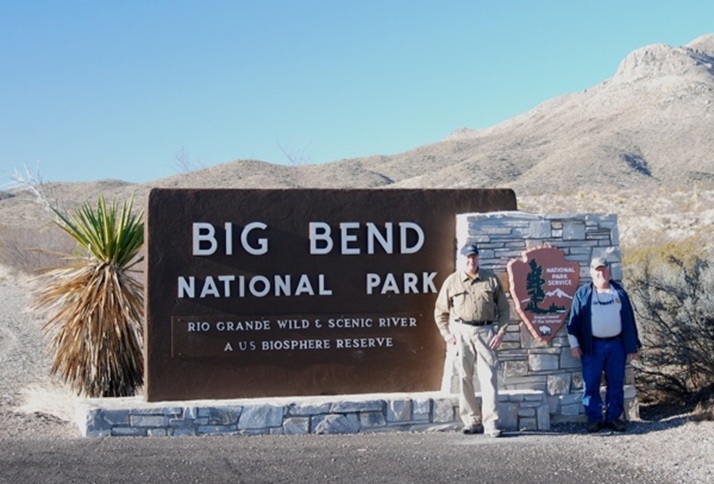 Neil had visited this location several years ago, and he was sure he could find it again. He knew it would be a long hike, so we got an early start (before the sun hit the ridge we would have to climb over). This is Neil beforethe sun hit, looking up the slope we are preparing to ascend. He's dressed for thorny terrain!
Well, Neil was sure that he could find the trail once we started hiking up the ridge. It didn't work out that way though! We stumbled across rocks, brush, cactus and all other manner of sharp-pointed vegetation until we reached the other side of the ridge.
Here's Neil climbing the brushy ridge as the sun hit the slope.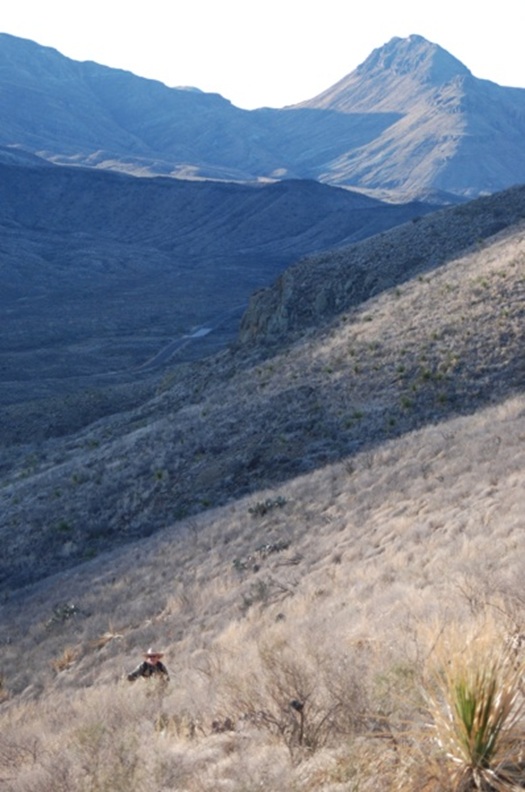 We finally made it to the ridge crest for a grand view of Big Bend's vistas.
Then Neil thought it would be easier hiking if we ventured to the base of a small drainage. Here's the route at that point:
Finally, we reached the base of the slope and Neil spied our objective about a quarter mile away. Almost immediately on the relatively flat floor of abroad, dry valley, we began to see scattered debitage on the ground: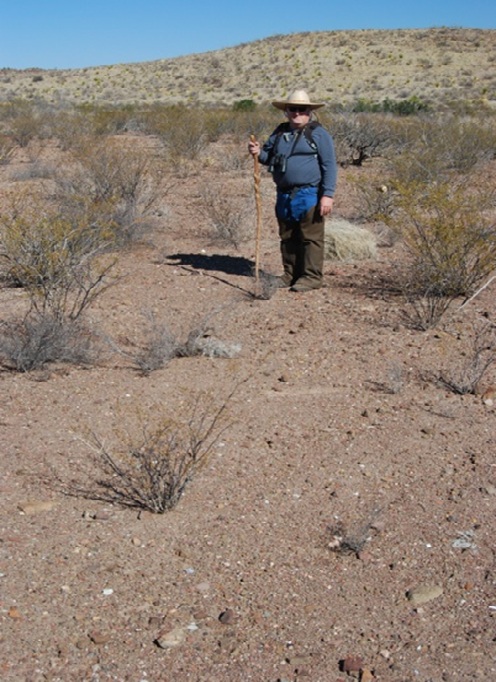 The color and variety of stone that was represented in the debitage was amazing. As a geologist, I was in awe of the colorful flakes that were littering the ground. Of course, we were in a National Park and we could not keep any of this material. Nevertheless, pictures were warranted: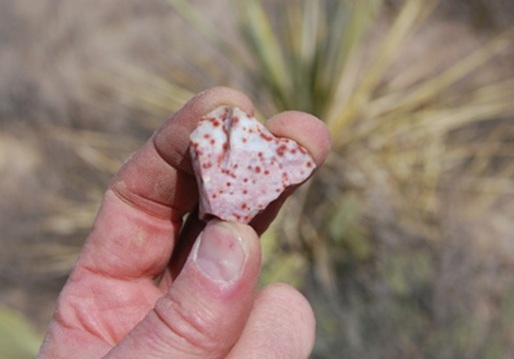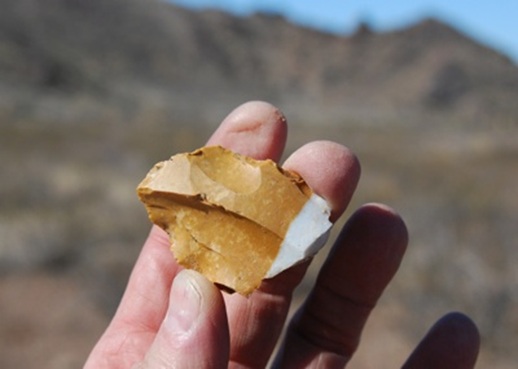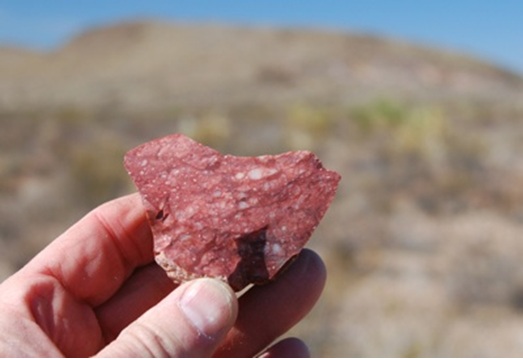 After about 4 miles of hiking, we finally reached our destination. The quarry site is a small hill of exposed chert (or chalcedony). The ground surface for acres around the outcrop area is COMPLETELY covered with colorful debitage, cores, and occasional hammerstones.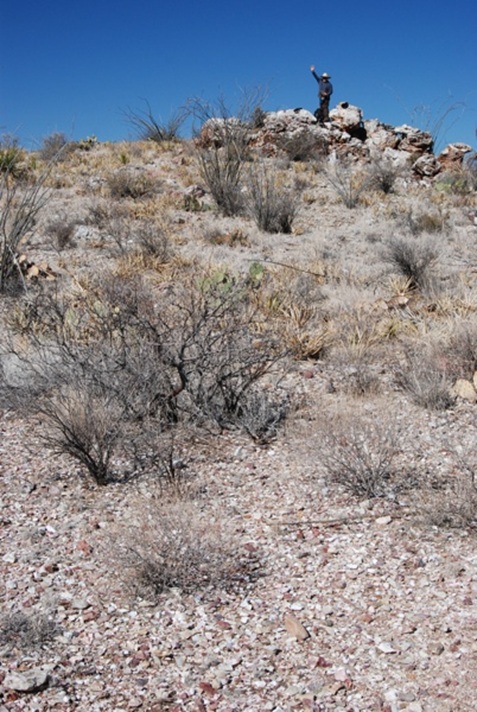 The exposed, intact stone is beautiful in its color patterns and variety. If I had access to this stone, I'm not sure I would ever knap anything else: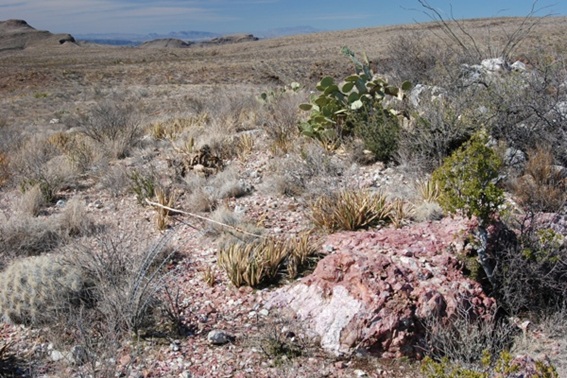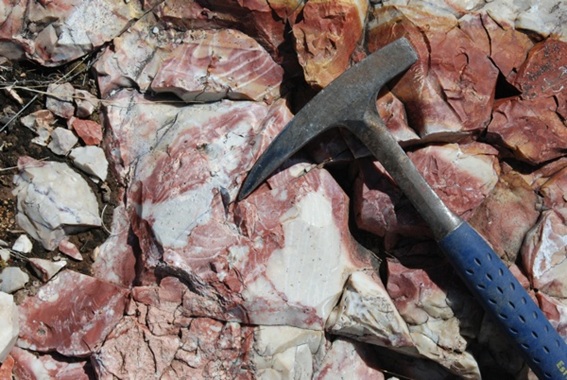 After taking in this amazing place, we began our hike the car. This timeNeil found the trail, and it emerged on the main road about a mile from wherehe had parked his car and our adventure began.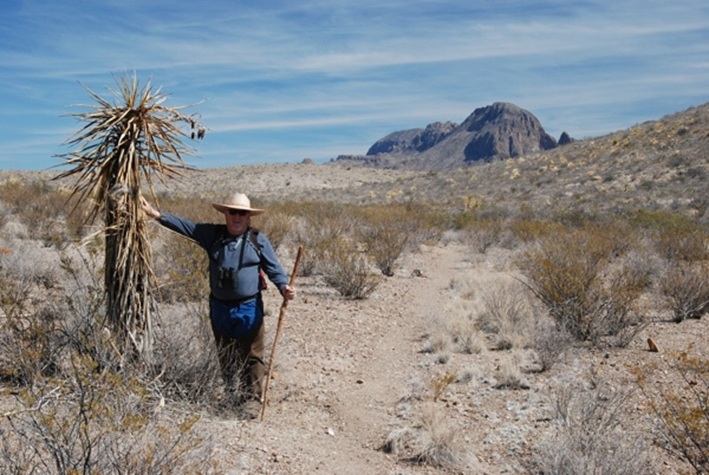 In total, the round trip hike and exploration involved about 9 miles of strenuous walking. I was a tired, but happy, geologist at the end of the desert adventure. Neil might have missed the trail on the way in, but his recollection of an incredibly interesting quarry site was right on the mark!

Jim Miller