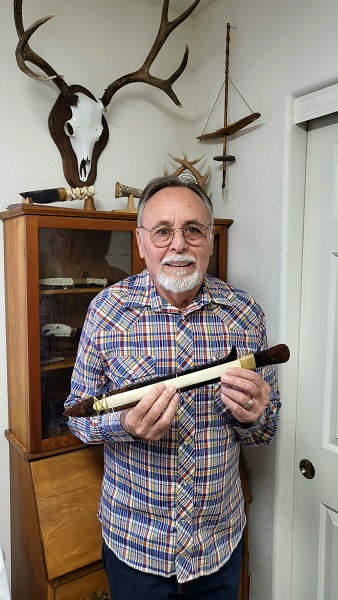 Bio
My flintknapping began in 1992 when I watched Dean Caldwell make an arrowhead and he gave some pointers.
While in Quartzsite, AZ I stumbled upon Jerry "9-Fingers" Calvert. Every time I was in Quartzsite I took lessons from Jerry for a few years.
I found a flintknapping tape by Dale Cannon and I knew then I was hooked. I loved his style and made my blades like his. He was my mentor.
After years of practice my knives became good enough to have them published in the "The Lithics Artist Guild".
I make Stone Knives, Blades, Arrowheads and Leather Knife Sheaths.
I mainly use Stone, Wood and Antler for the materials of my knives. I have tried different materials but always come back to Obsidian for my knives.