Doctor Stitt Knife Restoration Project
This knife was presented to Doctor Stitt by the Cow Creek Native American Tribe in honor of his retirement. On Dr. Stitt passing it became a family heirloom and has remained a treasured momento. An unfortunate accident resulted in a broken blade. Dr. Stitt's son, Sam Stitt. contacted the Puget Sound Knappers through this website to see if one of our members could make a replacement blade. The Ft Knapadonia Gang, and specifically Dr. Joe Higgins, quickly volunteered. When we learned that Sam Sam Stitt lived only a ferry ride from the Fort, we invited him to come and watch as the new blade was knapped. Sam watched 8 or 10 of the regulars knapping obsidian and asked if the replacement blade could be made of obsidian. It could be and was - knapped by Dr. Joe Higgins.
Sam wanted to re-attach the blade himself so with a little expert advice and material, Sam took the parts home and completed the restoration. Here are the photos. (all work was done gratis - restoring such a momento was our pleasure!)
Quote from Sam Stitt - Son of Dr.Stitt
My father left his private dental practice in 1956 and joined the Indian Health Service, a division of the (then) US Public Health Service (now Health and Human Services).

He started out at Chilocco, a Native American Boarding School on the Kansas-Oklahoma border, best known as the starting line for the Cherokee Strip land rush. He then became Dental Director of the Phoenix Area (AZ, NV, UT, CA) then Dental Director for the Anchorage Area (AK), and finally became the overall Director of the Portland Area (OR, WA, ID) around 1967, from which he retired in 1984.
For my dad, it was an extraordinarily satisfying career. He developed many deep and long-lasting friendships in his work, and at his retirement, many tribes gave him gifts in recognition of his years of service to Indian People. The knife you repaired is one of those, given by the Cow Creek Band of the Umpqua Tribe.
My dad received many beautiful works of art from the tribes at his retirement: paintings, sweaters, carvings, baskets, blankets, a cedar box, and the knife. One of my favorites not only displays the Indian craftsmanship and mutual respect, but also a high level of humor.

The Yakimas secretly asked my mother to steal my dad's golf putter and send it to them. She did so and they gave it the full tomahawk treatment and then presented it to him with the inscription " The Wise & Proven are Deserving".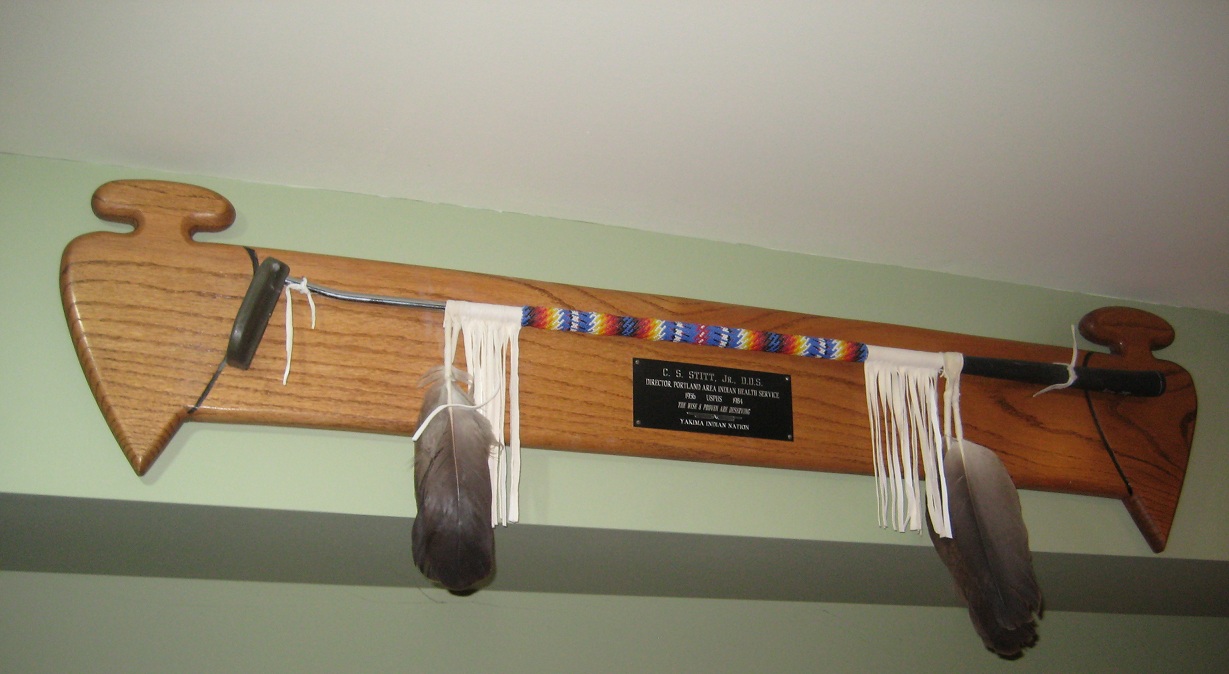 The Knife
Before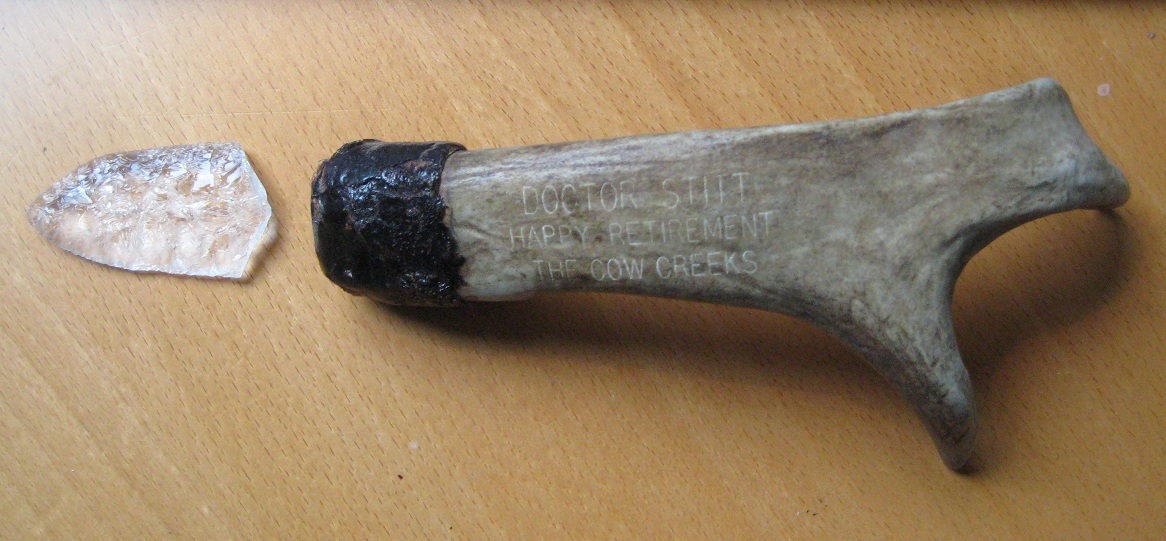 After