Ray Harwood Art Gallery
Ray Harwood finally escaped from California! He made it all the way to Post Falls, Idaho - heart of PSK country!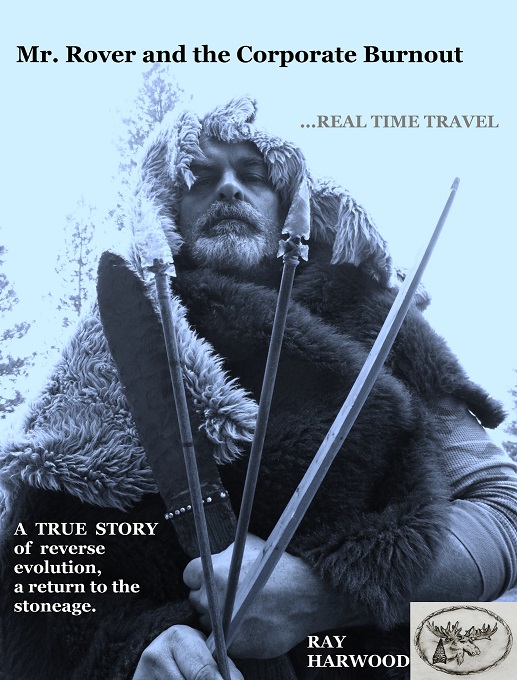 Ray Harwood has always been a flintknapper, at least as far as he remembers anyway. Ray's father dabbled with obsidian on occasion and when his brother Ted saw the Crabtree film in college and came home with new enthusiasm, the race was on. Ray began experimenting with additional methods as he was addicted.
On a trip to northern California the family procured a small load of small obsidian boulders. Ray proceeded to reduce one core but somehow managed to cut off one of his toes . With no medical insurance in the family, Ray's dad sewed the toe back on, it survived but never moved after that.
Ray made extra money selling modern arrowheads and doing minor artifact restoration and replication all through school, having classified adds in many magazines. He attended CSUN where he studied under Clay Singer in the Lithics lab at the Northridge Archaeological Research Center.
In 1983 Ray wrote "How to Make Bottle Glass Arrowheads" started the flintknapping newsletter; Flintknapping Digest.
Later that year Ray founded the California Flintknapping Rendezvous and the following year started the Wrightwood Knap In with his long time friend, Dr. Alton Safford. The Wrightwood Knap In Video was the first or one of the first videos ever sold.
Since the early 1980s Ray has written the self published book," The History Of Modern Flintknapping" and had dozens of articles published concerning lithics and/or flintknapping. He also helped knapper Gary Pickett with starting the world's longest running monthly knap-in, "The Bakersfield Knap-in" , where he just returned from the 15 year celebration*. He also has several knapper blog sites including a fairly popular one at: http://flintknappingmagazine.blogspot.com/
Now a member of the PSK Ray has just returned from a visit with Emory Coons in Burns Oregon and the Kettle Falls, Columbia River Knap-in in Eastern Washington. This knap-in hosted by Patrick Farneman ( guitar-singer, host of event, wilderness skills, PSK) patrickf@bridgestothepast.org and Kyle Chambers ( Kettle Falls Museum - knapper, woodsman at practicalnaturist@gmail.com). At the knap-in he met PSK webmaster Jim Keffer and he states he was truly inspired to rededicate himself to a higher level of flintknapping and to be an active PSK member. Now in Post Falls, Idaho and has been working with Jim Keffer to possibly establish a knap-in the Spokane River area and is working on a new mail order knapping business. He looks forward to meeting and working with PSK members .
Ray at his first PSK Knap-in!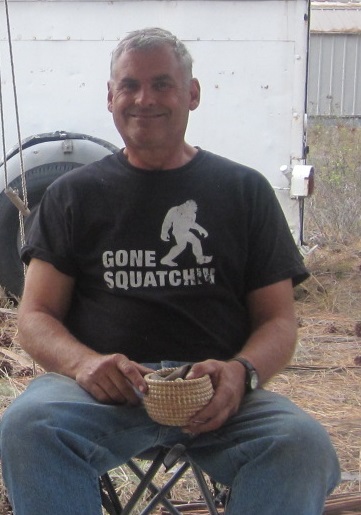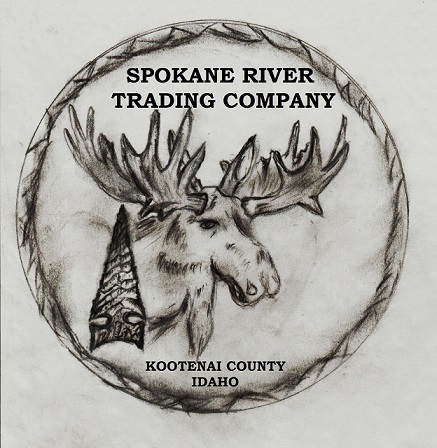 Big Blades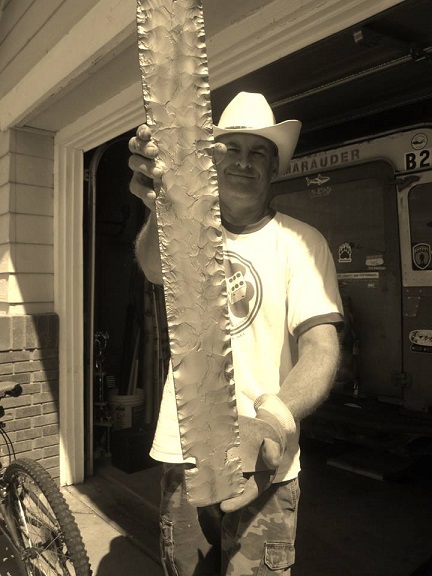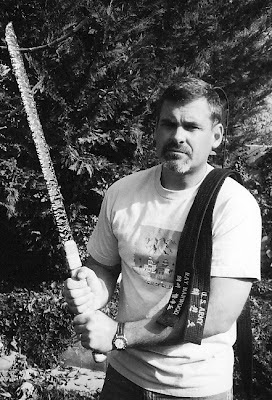 Knife work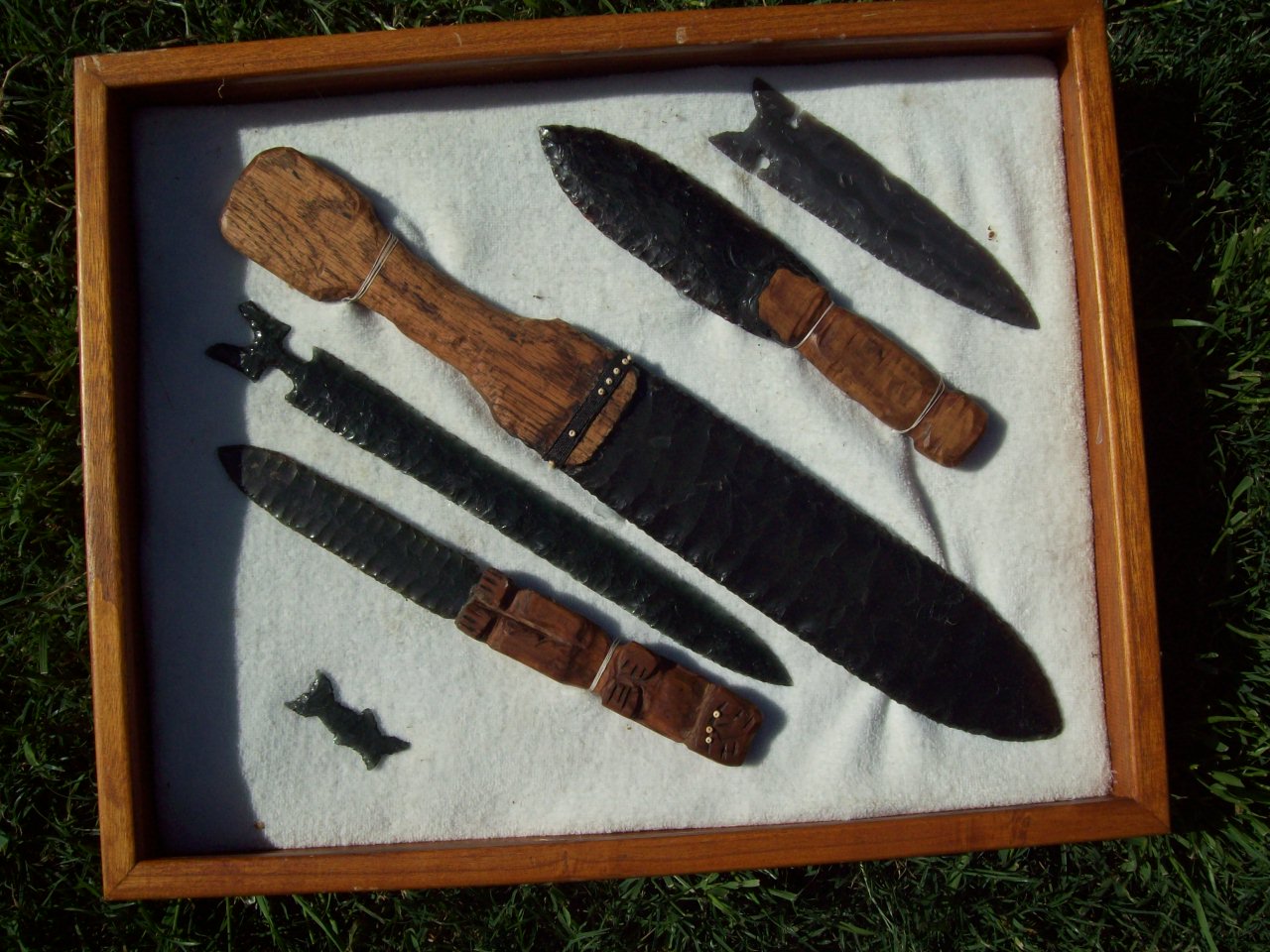 Folsoms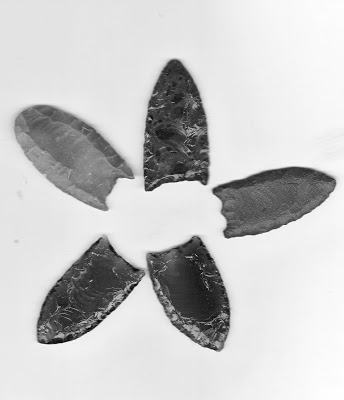 Dragon Slayer Sword