Lost Lake
Associated Dates: 10000 - 8000 Y.B.P. - Early Archaic
Also See: Bolen, Cobbs Triangular, Cypress Creek I, St. Charles, Dover Hill, Hardin, Kirk Corner Notched, Pine Tree, Thebes
Location: 10000 - 8000 Y.B.P. - Early Archaic
Morphology: Corner Notched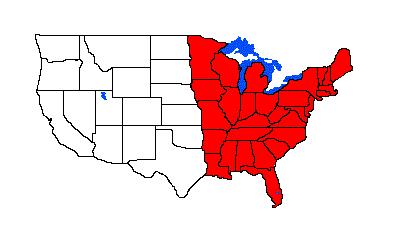 General Description: The Lost Lake is a medium to large sized corner notched point that is beveled on one side of each face.

The type is generally large with deep corner notches that often curve in and up from the edge of the blade. The terminal notch scars usually exhibit semicircular Herzian cones. The blade shape varies considerably in the type due to the resharpening processes but is generally triangular. The blade terminates in with rounded barbs which gives the type a distinctive look. The blade shape ranges from excurvate to deeply incurvate. Over the lifespan of a point, the blade shape changed due to the use of bevel reworking techniques, generally becoming less excurvate to straight-edged and then incurvate while continually becoming shorter with each rework episode. Cross sections range from biconvex on blades in pristine condition to rhomboid cross sections on highly reworked examples. Most examples of the type are finely serrated along the blade edges and in general exhibit high quality flaking and a symmetrical outline.

The base on this point is usually ground and can be concave, convex, or straight and usually appears to be expanding due to the inward and upward corner notching style.

The Lost Lake type is known over much of the southeastern United States with a central focus on Alabama and Tennessee. The distribution range extends into the Ohio Valley and the type is known in Florida, Kentucky, southern Indiana, Ohio, Virginia and West Virginia. The point is called the Bolen Beveled Corner Notched in Florida and also has been known as the Deep Notch in the distribution area.

The size range of the Lost Lake point is between 49 mm and 91 mm in length, with the average being 63 mm. The width is between 35 mm and 48 mm wide across the barbs, 7 mm to 8 mm thick with a stem 12 mm to 15 mm long and 23 mm to 32 mm wide across the stem. The point was named by James W. Cambron and David C. Hulse for examples which were recovered from the Lost Lake area of Limestone County, Alabama.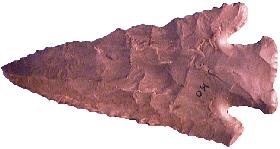 ABOVE: LOSTLAKE01: Lost Lake point; described below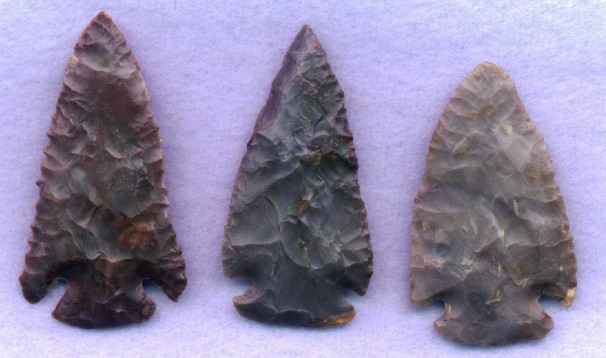 ABOVE: LOSTLAKE02: three Lost Lake points; from L-R: 3.13 inches (78.25mm); 3.0 inches (75mm); 2.75 inches (68.75mm); no locations provided. Nice grouping to see variations in the type
LOST LAKE POINT THUMBNAIL GALLERY (386 images: 193 source images/193 thumbnails)
| | | | | |
| --- | --- | --- | --- | --- |
| | | | | |
| Lost Lake 1 | Lost Lake 2 | Lost Lake 3 | Lost Lake 4 | Lost Lake 5 |
| | | | | |
| Lost Lake 6 | Lost Lake 7 | Lost Lake 8 | Lost Lake 9 | Lost Lake 10 |
| | | | | |
| Lost Lake 11 | Lost Lake 12 | Lost Lake 13 | Lost Lake 14 | Lost Lake 15 |
| | | | | |
| Lost Lake 16 | Lost Lake 17 | Lost Lake 18 | Lost Lake 19 | Lost Lake 20 |
ABOVE: LOSTLAKE03: Lost Lake point; no other details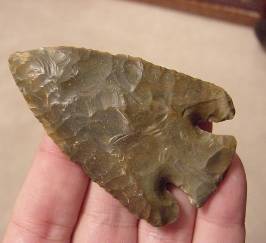 ABOVE: LOSTLAKE04 AND LOSTLAKE05: Lost Lake point; Hart County, Kentucky; 3.06 inches (77.7mm); Sonora chert