Calvert
Associated Dates: approximately 1200 - 500 Y.B.P.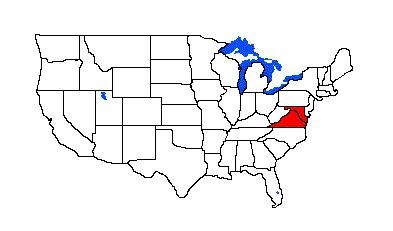 Distribution: Virginia and Maryland

General Description: the following comprehensive description is from the Virginia Department of Historic Resources (http://www.dhr.virginia.gov/arch_DHR/Points/Cattle%20Run.xml):

"The Calvert is a typically short, thick, wide point with rudimentary shoulders, parallel sided or slightly contracting stem, and a straight or slightly rounded base. The stem often comprises [sic] 30 to 50 percent of the total length.

The Calvert point dates to the Early Woodland period, 1200 to 500 BCE. Waselkov (1982) obtained three radiocarbon dates on Calvert points, in association with Bushnell Plain pottery.

Blade: The blade is a short, thick, stubby triangle, with convex edges, a sharp tip, and thick, irregular cross section. Abrupt, though slight, shoulders separate the blade and the stem.

Base: The base is usually straight, and often convex in the contracting stem examples. The stem is straight or slightly contracting, thinner than the blade, and usually wider than it is long (though in some examples width and length are about equal).

Size: Length ranges from 25 to 48 mm. with an average of 36 mm. Width ranges from 18 to 27 mm. with an average of 22 mm. Thickness ranges from 8 to 13 mm. with an average of 10 mm.

Technique of manufacture: Moderately well made by percussion chipping with some pressure flaking around the edges.

Stephenson placed the Calvert type in the Early Woodland and said that it was closely related to the Vernon (1963). This type is similar to the Gypsy type defined by Oliver (1981) in North Carolina. This illustrates the reduction in size of points that was occurring across much of the East Coast of the United States at this period of time.

This type was originally defined by Stephenson (1963) based on points recovered from the Accokeek Creek Site in Maryland."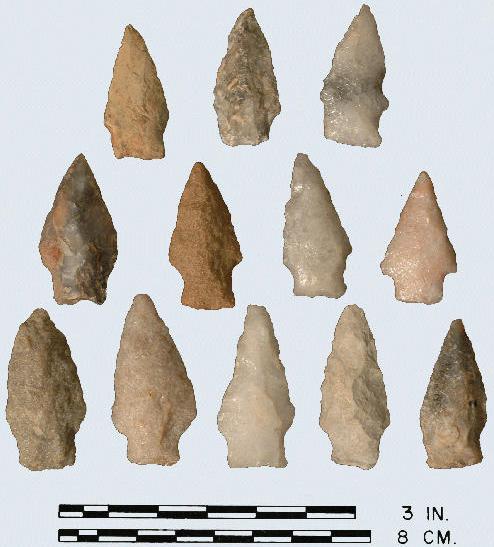 ABOVE: CALV01: Calvert points; lithic materials employed are, beginning with the top row and working L-R: tuff, rhyolite, quartz; middle row: chert, quartzite, quartz, quartz; bottom row: quartzite, quartzite, quartz, rhyolite, chert. Source: Virginia Department of Historical Resources (http://www.dhr.virginia.gov/arch_DHR/Points/Cattle%20Run.xml)
Camel Back
Associated Dates: 700 – 500 Y.B.P.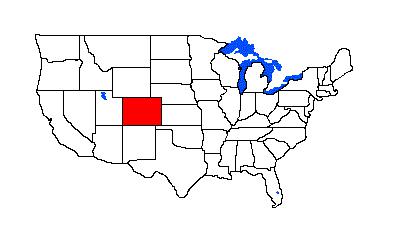 Cameron
Associated Dates: 1500 – 500 Y.B.P.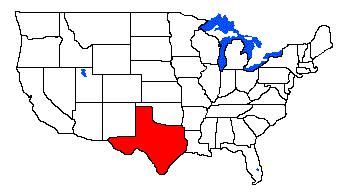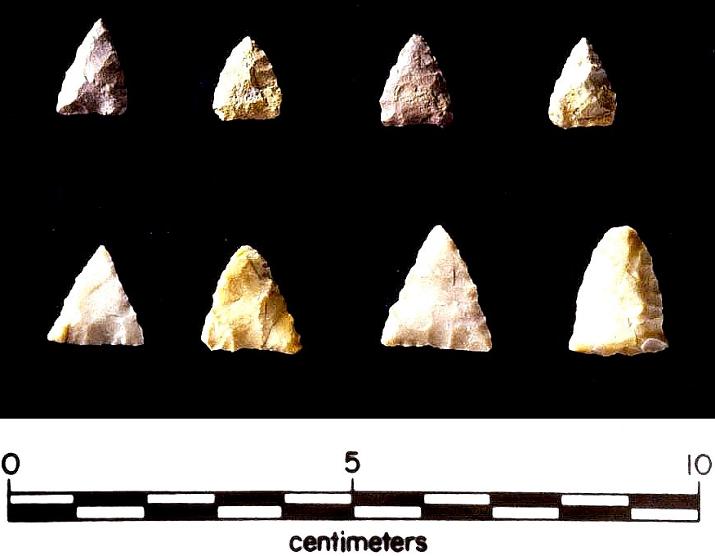 ABOVE: CAMERON01: Cameron points of the Brownsville-Barril Culture; Rio Grande Delta, extreme southern Texas; chert
Camp Creek
Associated Dates: 3000 – 1500 Y.B.P.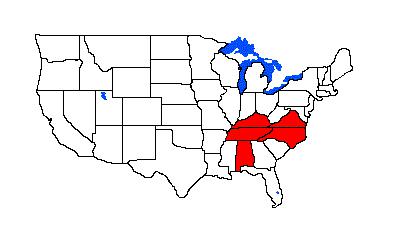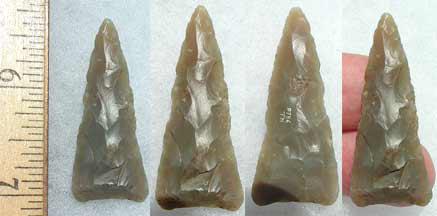 ABOVE: CAMP01: Camp Creek point; no details. Source: Westernartifacts dot com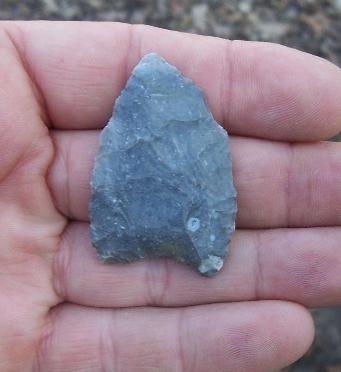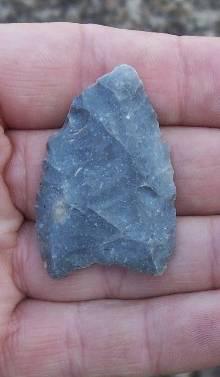 ABOVE: CAMP02 AND CAMP03: Camp Creek point; White Co., Tennessee; 1.75 inches (44.4mm)
Canalino
Associated Dates: 800 – 200 Y.B.P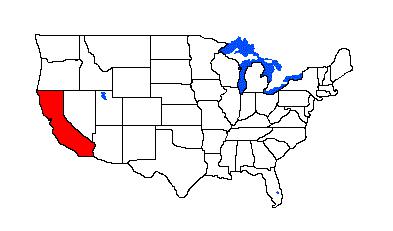 CANALINO POINT THUMBNAIL GALLERY
| | | | |
| --- | --- | --- | --- |
| | | | |
| Canalino 1 | Canalino 2 | Canalino 3 | Canalino 4 |
End of Canalino Thumbnail Gallery - Complete
ABOVE: CANAL01: Canalino point; "found exposed on the surface of a midden near Cuylers Cove on San Miguel Island, California." 2.75 inches (69.8mm)* NOTE: this point is now in the Chris Merriam Collection (Arrowheadsonline dot com). Chris gives the size as 2.806 inches, or 71.27mm; I would believe the latter to be the more accurate measurement; first of four images>
ABOVE: CANAL02: second of four images of the Canalino point described above in frame #01. Source: Chris Merriam Collection, Arrowheadsonline dot com>
>ABOVE: CANAL03: third of four images of the Canalino point described above in frame #01. Source: Chris Merriam Collection, Arrowheadsonline dot com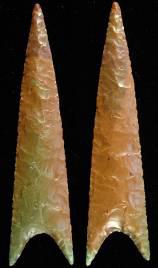 ABOVE: CANAL04: fourth of four images of the Canalino point described above in frame #01; shown here actual size. Source: Chris Merriam Collection, Arrowheadsonline dot com
Candy Creek
Associated Dates: 800 – 200 Y.B.P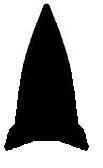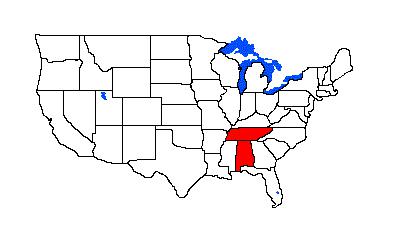 CANDY CREEK POINT THUMBNAIL GALLERY (14 images: 7 source images/7 thumbnails)
Candy Creek 1
Candy Creek 2
Candy Creek 3
Candy Creek 4
Candy Creek 5
Candy Creek 6
Candy Creek 7
End of Candy Creek Thumbnail Gallery - Complete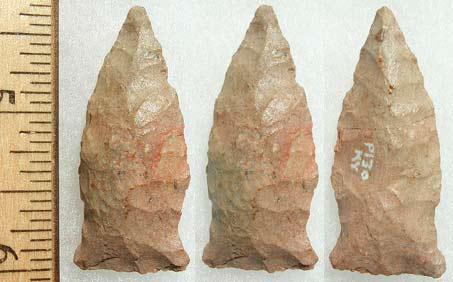 ABOVE: CANDY01: Candy Creek point; Barren Co., Kentucky. Source: Westernartifacts dot com>
ABOVE: CANDY02: Candy Creek point; Bourbon Co., Kentucky; 2.0 inches (50mm); first of two views>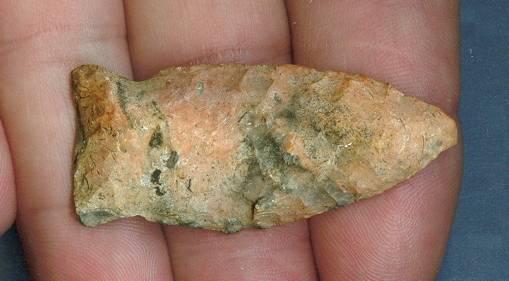 ABOVE: CANDY03: second of two images of Candy Creek point described above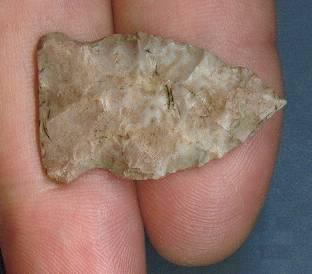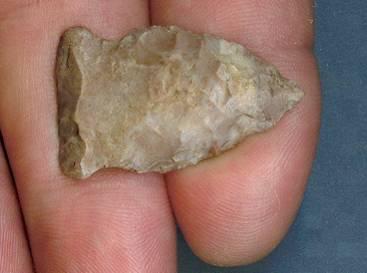 ABOVE: CANDY04 AND CANDY05: Candy Creek point; Bourbon Co., Kentucky; 1.31 inches (32.75mm)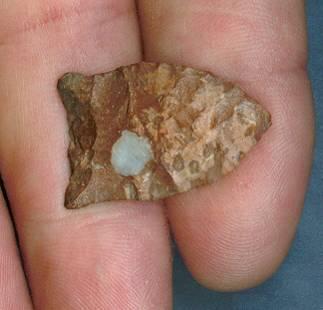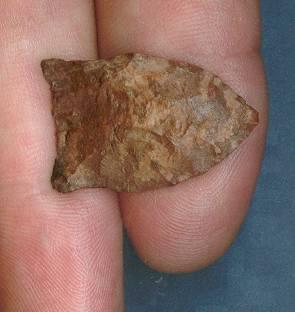 ABOVE: CANDY06 AND CANDY07: Candy Creek point; Bourbon Co., Kentucky; 1.06 inches (26.5mm)