Annie Lake

Associated Dates: 2795 Y.B.P., +/- 65 yrs

Distribution:Named for Annie Lake, the Yukon, Canada (see map below) where it was first identified, the Annie Lake point has subsequently been identified at several southern Yukon sites including Kusawa Lake, Marshall Creek and Airport Lake. General Description: The Annie Lake point is a "delicate and finely crafted point with a shallow notch at the base for hafting to a spear shaft" (source: http://www.tc.gov.yk.ca/931.html).

At Annie Lake, this point is found in a distinct stratified context between layers containing Northern Archaic Tradition side-notched points (specifically designated as Little Arm Phase, lower layer, and Taye Lake Phase, upper layer). It is speculated that the presence of the Annie Lake points in such an "inserted" deposition may indicate an incursion by another culture, possibly from the Northern Plains, subsequently replaced by the Taye Lake Phase.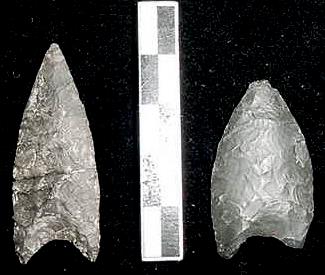 ABOVE: ANLAKE01 AND ANLAKE02: Annie Lake points (the two on the right are enlarged views of, respectively, the point in the bottom row, far left, and the point third from left in the same row. Source: http://www.tc.gov.yk.ca/annie_lake.html