Brad's Bed Jasper

Natural rock courtesy of Brad 'Big Bad' Baughman
(Also known as Brad's Red)
Brad's Bed Jaspers were discovered by Brad Baughman and Todd Fisher while antelope hunting in august of 2012 near Jordan Craters on the breaks of the Owyhee river.
At the time of the discovery there was no real chance to explore the extent of the bed or the different types of material located there. Due to many issues another trip was postponed several times.
Finally in September 2015 another exploratory trip was made by Brad Baughman, Steve Allely and Emory Coons. That trip proved that the bed was much larger and more diversified than originally thought.
To get to the beds, turn off HWY 95 at the town Arock then go 34 miles on bad jeep trails to the area above Jordan craters. It is strongly suggested that you not travel alone and under no circumstances attempt the trip when there has been any rain! That country turns into a bottomless mud hole after only a few drops of rain.
There is no way that written directions can be given due to the fact that there are so many jeep trail turnoffs.... So the best I can do is give you the GPS coordinates and my best wishes to your being able to get there. The coordinates are n 43.15227 w 117.47855. This will get you to the middle of the beds. This is on BLM land so their rules for rock collecting apply - see 'Rock Collecting Guide Washington & Oregon U.S. Bureau of Land Management'.
The jasper bed is over a mile long and estimated 2-300 yards wide. I believe it was formed by silica (ash) being capped over by a new flow of basalt and baked in place. Jordan Craters is one of the newest flows in the state.
The type of material we found varied by the spot we looked at. It varies from red to green to brown to pink and flint tan. It also varies in hardness from soft and sandy to extremely hard and brittle. Much of it is good lapidary grade and has beautiful patterns. A good percentage is knappable without heat treating. Most will work even better with some time in the oven.
I think that further exploration will show that the jasper originates under the caprock flow and is weathering out and drifting downhill to the road.
The entire Owyhee area is very rich in diverse rock types. Thunder eggs, picture jasper, agates and petrified woods are all found within a fairly short distance from the new brad's bed jasper.
Another exploratory expedition I planned for the time around Memorial Day weekend. At that time it is hoped that test holes will give a better idea of what is there, how deep it goes and where it comes from. All dependent upon the rain of course!
If you do go to the site I would love to hear from you as to what you find too. Email me at bbb7707@yahoo.com
Brad Baughman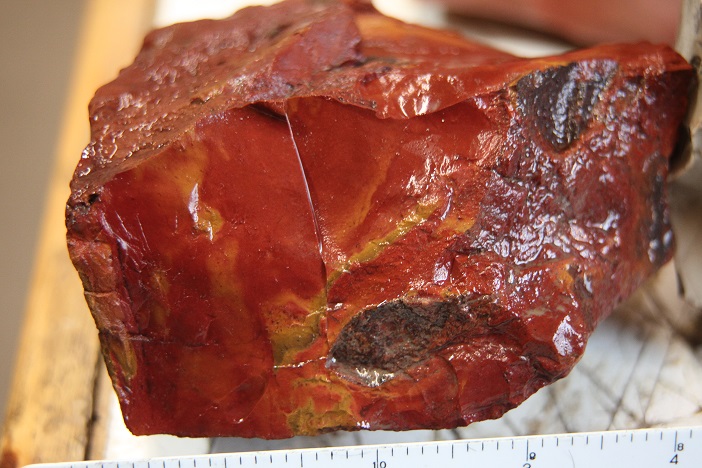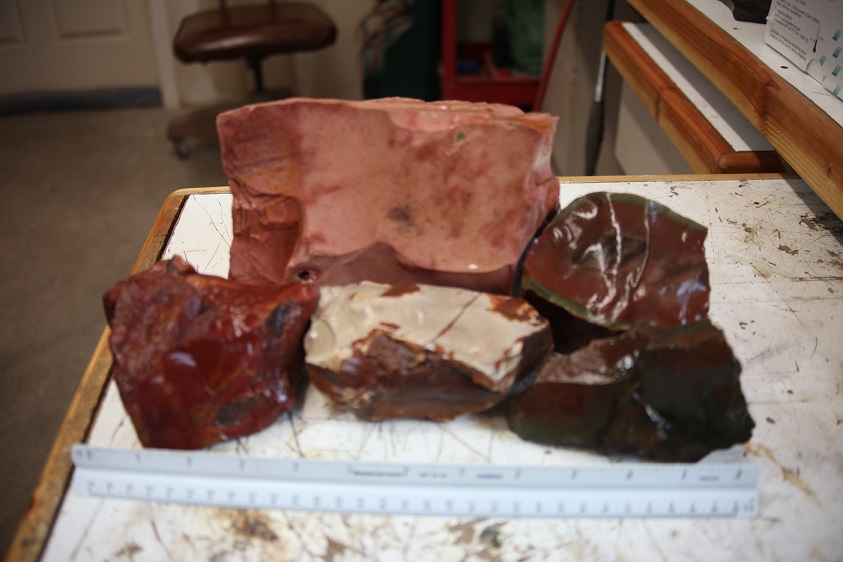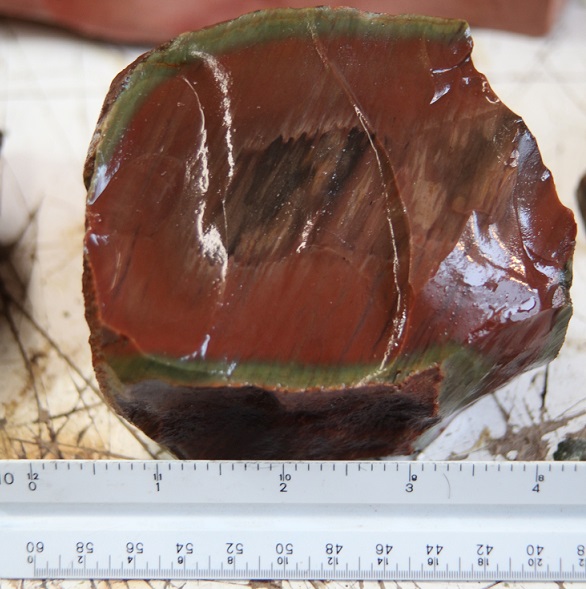 Brad's Bed Jasper, Steve Allely Points - Left is heat treated, Right is Raw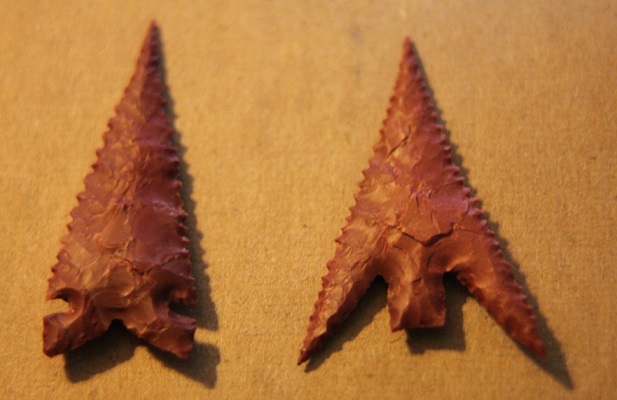 Brad's Bed Jasper Cabochon 1 (not heat treated)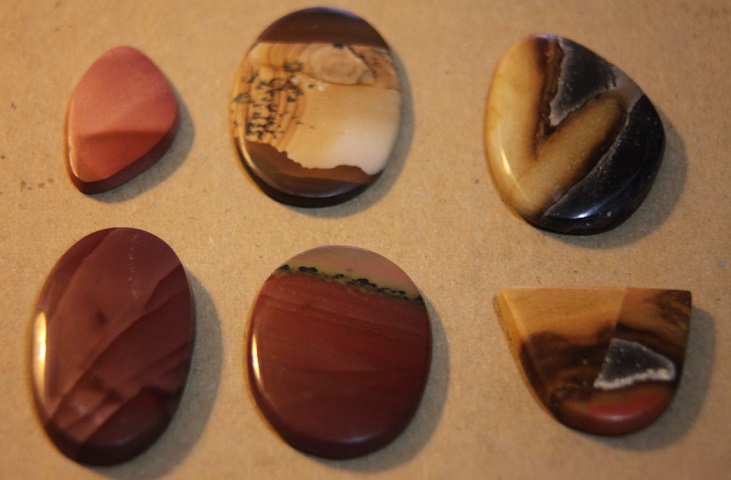 Brad's Bed Jasper Cabochon 2 (not heat treated