This is the tale of Parks AZ Obsidian from Government Mt at the Obsidian Tank area. My wife and I visited Obsidian Tank in search of obsidian while vacationing in Arizona.
Obsidian Tank is located at the west side foot of Government Mountain and is about 28 mi (45 minutes) northwest of Flagstaff AZ. You can get there by traveling west from Flagstaff to Parks, AZ and taking Spring Valley Road north to Fire Rd 107. Turn right (east) on Fire Rd 107 and go until you are at the base of Government Mountain
We had about 5 hours before our flight from Flagstaff, AZ when we found out about an obsidian deposit in Parks, AZ.
We were warned by the local that it was a bad road but higher you go the better pickings and worse road, with a big deposit somewhere high up. We were there the first week of May just after spring snow plowing and grading so where we went we had very good dirt roads.
We were not sure about reservation removal rights or public land rights (this is recommended before removing minerals or anything from a reservation) so we only picked up very loose rocks from on top of the ground beside the road. In about 45 min we had collected about 50 lbs and where well into tossing bad ones and had only gone a short distance up the road. We ended up sending 38 lbs back via 18$ USPS Flat Rate Box and gave about 15 lbs away.
Webmaster's note: (from UNITED STATES AND CANADA OBSIDIAN SOURCE CATALOG)
"Government Mountain. Sections 24, 25 R4E, T22N and Sections 19, 20, 29, 30, R5E, T22N USGS Parks 7.5' Quad, Kaibab National Forest, south central Coconino County, Arizona (updated 6.25.98). This is, as noted earlier, perhaps the best known contemporary obsidian source in Arizona. Shackley (2005), however, showed that RS Hill glass may be equally common in Preclassic Hohokam contexts in central Arizona. Government Mountain is a single rhyolite dome that exhibits rhyolite/tuff/obsidian within the alluvium around the base of the dome structure. Even after years of modern and prehistoric collection, nodules up to 15 cm in diameter are common. Most nodules exhibit little cortex, per se, but some are covered with ash from the alluvium or exhibit a thin gray or brown weathered surface. The glass is aphyric, but the fabric is megascopically granular and distinctive, apparently from microphenocrysts of alkali feldspar and iron oxide (Burton 1986; Wolfe et al. 1987:13). Some lighter gray and more vitreous material was recovered on the south slope. Thin flakes are cloudy gray when viewed with transmitted light. Secondary deposition occurs only within a short distance (2 km) around the base and is most noticeable south into Government Prairie."
The author with some Government Mountain Arizona Obsidian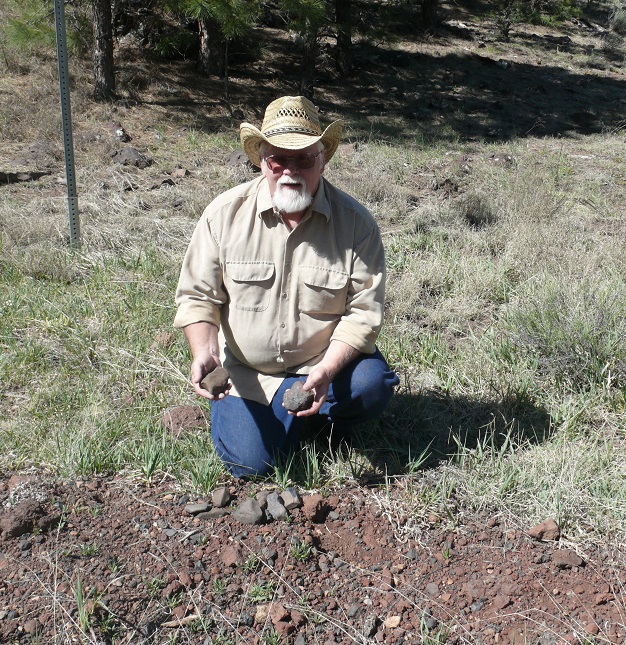 Obsidian Tank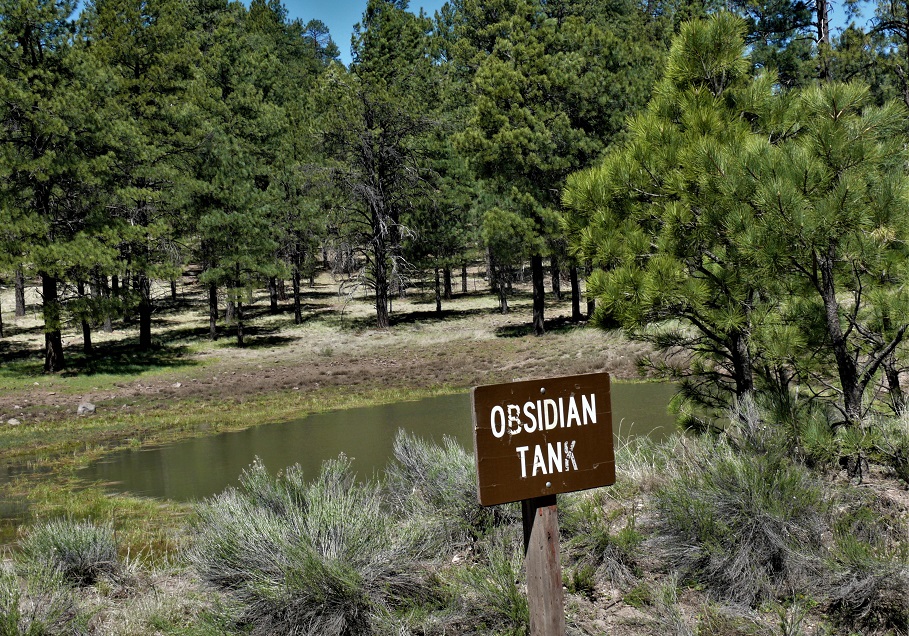 At the Corner of Obsidian Tank Rd and Govermnent Mountain Rd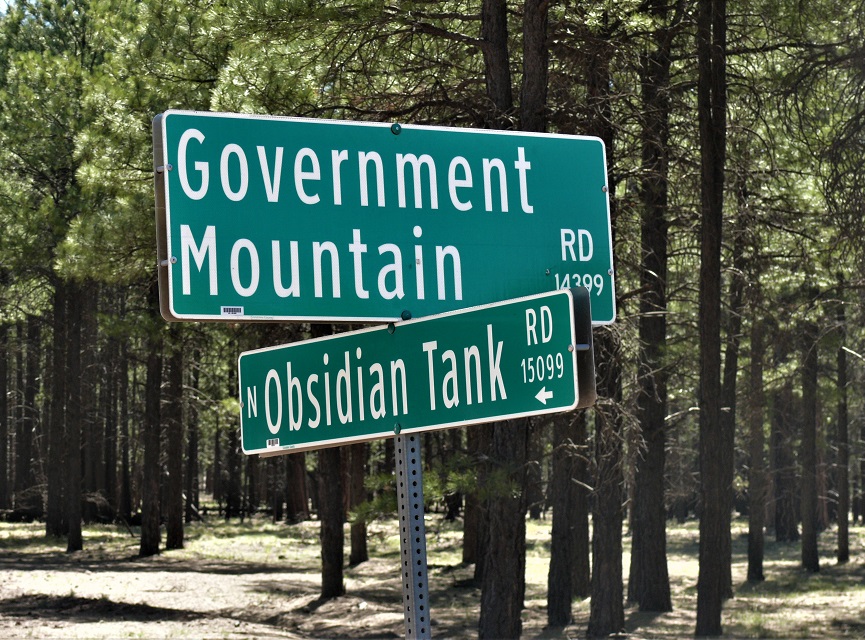 Spring Valley Rd - the way to Government Mountain from Parks, AZ