Sammamish Weekly Knap-in
Jim Keffer and friends hosts a weekly knap-in at his shop in Sammamish, WA. The knap-in is every Friday from about 8:30 am until sometime in the afternoon. In the event that Jim is attending a PSK knap-in or is otherwise unavailable, either Max Grow, Jim Smith or Barry Bonnell will open the shop and host this weekly event.
Free rock is provided, loaner tools are available as are safety glasses and gloves. All instruction is free and there is almost always a couple of good knappers to help with teaching.
In addition to flintknapping, the group also ocassionally works on other project - making flintknapping tools, bows, arrows, etc.
Everyone is invited and if the weather is good we knap outside. The shop will accommodate 30 plus knappers and has a whole room air filter.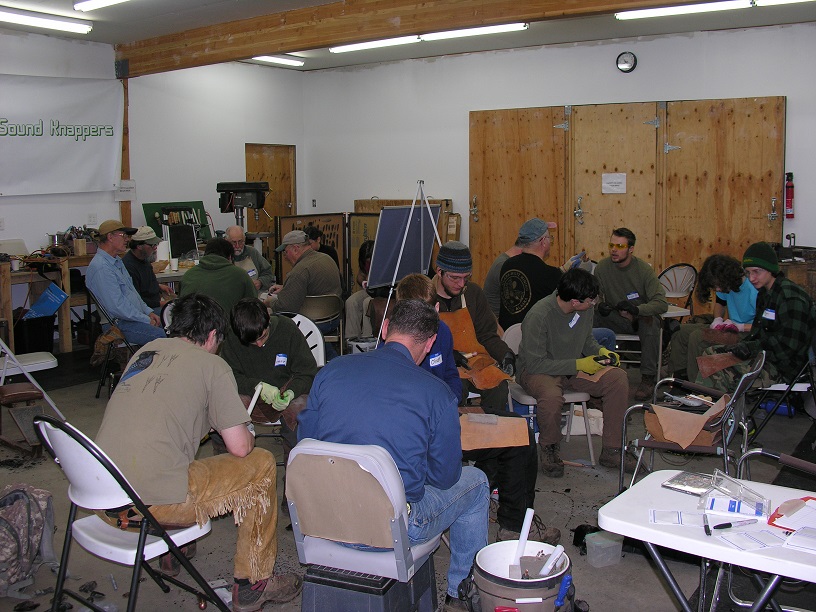 Address:
23811 NE 14th Street
Sammamish, WA
Directions:
From the North:
Take I405 south to Hwy 520 east. Go east on Hwy 520 5.5 miles to Redmond-Fall City Road. Take Redmond-Fall City Road east towards Sammamish. Go approximately 5.5 miles to 244th Ave NE and turn right (there is a stop light at this intersection). Go 1.1 mile to NE 14th Street and turn right. Go to the end of NE 14th Street (23811 NE 14th Street) is at the end of the gravel road and continue on a driveable path out to the shop.
From the South: Use same directions as above except take I405 North to Hwy 520
From the East – Take I90 to the Preston exit (exit 22). Turn right at the end of the off-ramp and turn right on SE High Point Way. SE High Point Way becomes Preston-Fall City Road. Continue on Preston-Fall City Road 3.7 miles to Fall City and turn left on SR-202 (Redmond-Fall City Road). Go 8.7 miles to 244th Ave NE (stoplight) and turn left. Go 1.2 miles and turn right on NE 14th Street, 23811 NE 14th Street is at the end of the gravel road
From the West: See directions for Hwy 520 above.