Millersylvania 'TurkeyFest' Knap-in 2012 Report
Hosted by Mick and Holly Hill
The Puget Sound Knappers last major knap-in for 2012 capped one of the best years of knapping in memory!
And for the 16th year in a row Mick and Holly Hill organized and hosted an outstanding Knap-in at beautiful Millersylvania State Park near Olympia, Washington. It was the perfect ending to a great year for our knapping community!
Turnout on the first morning (Saturday the 3rd of November) was the best in several years. Starting about 8:00 in the morning, the knappers gathered in Pavillion #1 (kitchen #1) in front of the large fireplace and its warm glow and started knapping. Meanwhile the non-knappers and ladies started preparing the pre-Thanksgiving feast!
At 1:00 in the afternoon all knapping ceased - and everyone filled there plates with one of the best turkey dinners in recent memory. Roast turkey, deep-fried turkey, dozens of 'fixens' including stuffing, cranberries, sweet potatoes, roasted potatoes, green beans, salads, squash, etc. And then there was dessert! Pies, cookies, cakes, breads, cobblers, fritters and more and more! What a feast!
Following the feast and a short rest/digestive break we held our traditional competitions - 2" goat and 10-Speed. The 2" Goat competition was tightly contested - the relatively small goat rock (small by PSK standards) went around at least 5 times - and we started with 20 knappers! So many knappers were able to take just 2" flakes that the tape measure was in constant use by the judge. It finally came down to just two three knappers - Harley Slade of Vancouver, British Columbia, Scott Cannaday of Gig Harbor, Washington and Jim Keffer of Sammamish, Washington. Harley mis-hit on the last round and Scott broke the remaining piece in two - neither piece of which was 2". That left Jim as the winner! This competition proves that you don't need to be a master knapper to win. The combined years of experience of the three finalist is less than 10 years - which is less than the average experience of a PSK member!
Following the 2" Goat came the 10-Speed competition. Ten knappers competed and the resulting points were quite remarkable. Of the 10 knappers, 8 completed their points, giving the judges (our 'Flintknapping Floozies') a real tough job of deciding the winner. It took the judges at least a half an hour to evaluate symmetry, style, flake pattern and aspect ratio to determine which point was best. When all the judges scores were tallied, Master Knapper and all-around great guy Jim Miller won first place!
While the knappers were knapping the non-knappers were engrossed with their crafts - knitting, rag-rugging, and various other craft art forms!
We all knapped and crafted until dusk and then met at various campsites for socializing.
Sunday was all knapping - well almost all. Holly and the ladies prepared a breakfast fare second to none.
Both days and particularly Sunday saw quite a few 'noobies' attend our knap-in. As usual they were welcomed with open arms, free rock, free instruction, loaner tools and safety glasses and gloves. All told we managed to convert several knappers wanna-bes to beginning knappers and members of the PSK!
Thanks to those that helped make this such a success - the free rock providers, the loaner tool providers, the helpers and the photographers, especially Bettye Hensel and Kathy Woodside!
Many, many thanks to Mick and especially Holly for all the work they put in to making this such a great knap-in!
List of Attendees (partial)
| | |
| --- | --- |
| Jim Smith | Harry Oda |
| Jim and Beverly Keffer | Henry and Rosalie Payne |
| Jim Miller | Mikke Gale-Sinex |
| Mick and Holly Hill | Riley and Allan Hayes |
| Woody and Kathy Woodside | Chris Bronstad |
| DOn and Carolyn Wattenbarger | Al and Lola Gain |
| Joe Greenwell and Bettye Hensel | Sam Black |
| Donn Paris | Mike Nesbitt |
| Dave McNett | John Weyer |
| Rich Russell | Matthew Frasier |
| Scott Cannaday | Daniel Dausener, Rachel, and Fox |
| Ron Folty | Harley Slade |
| Mike Kildow | Preson Stanke |
| Richard Schneider | Joe Pollock |
| | |
Here the photographic evidence of the great time!
Wishing you all a HAPPY THANKSGIVING - The Puget Sound Knappers!
The Knappers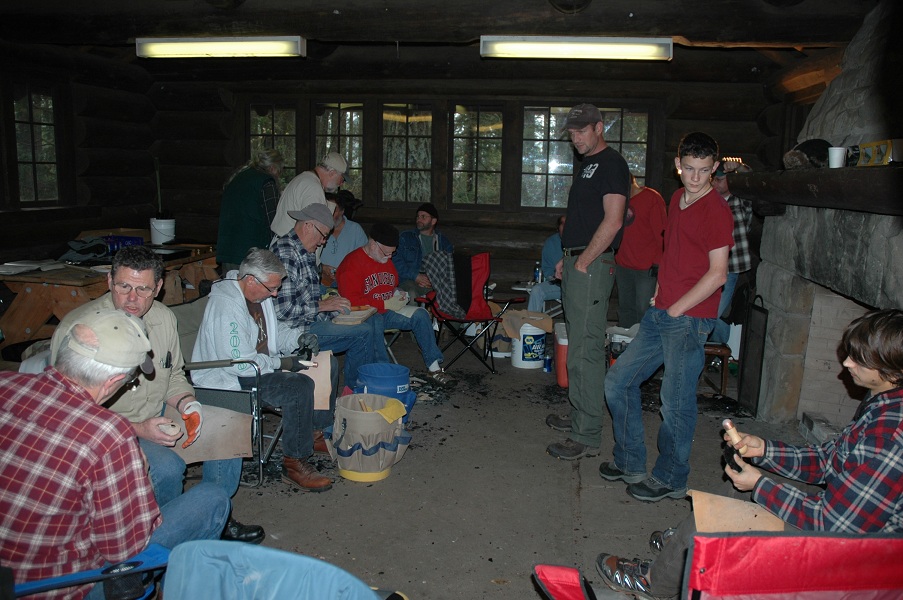 IJAR - It's Just A Rock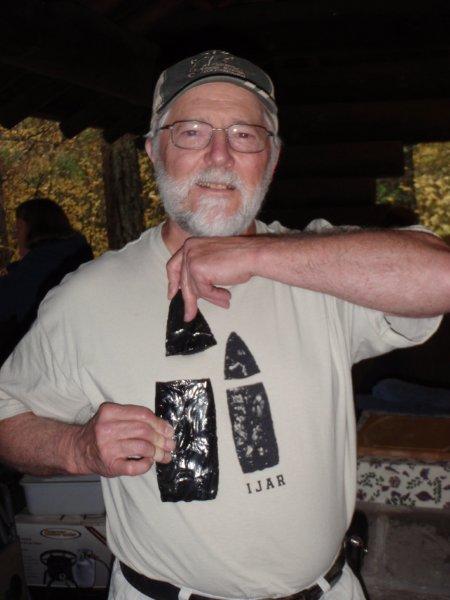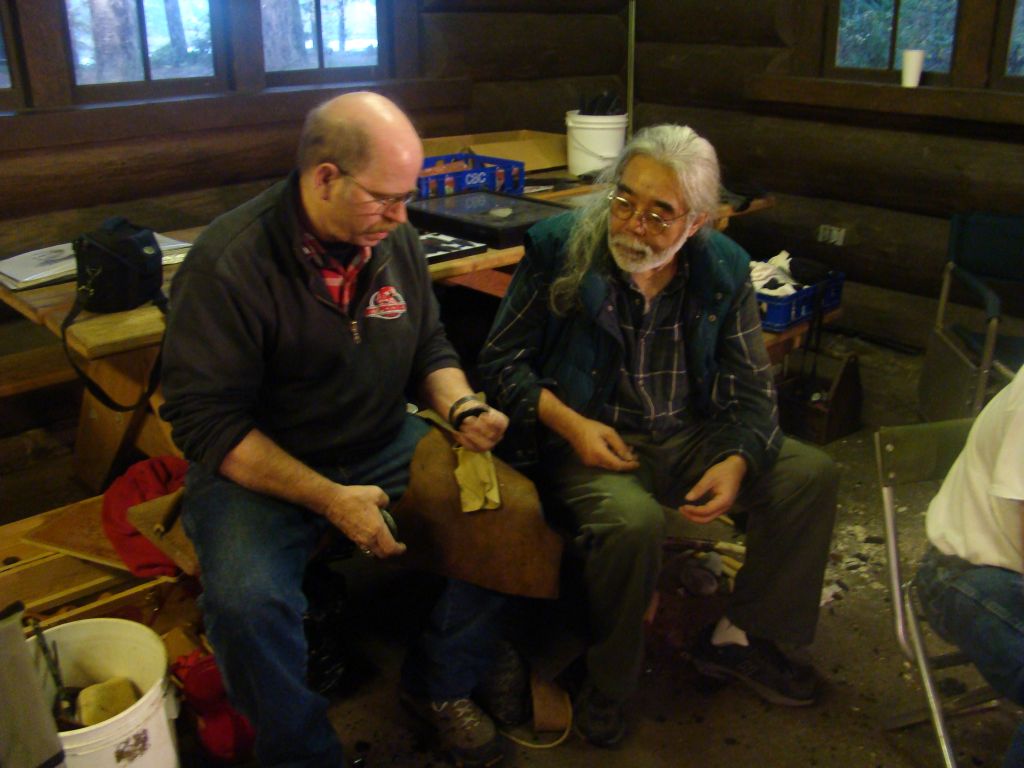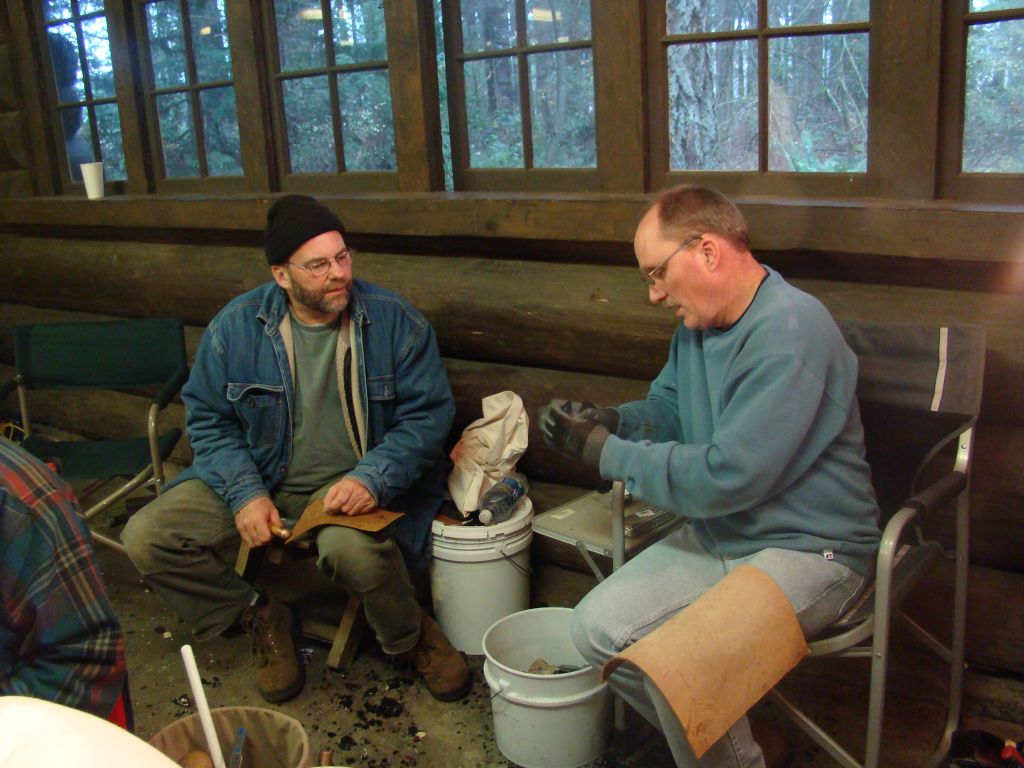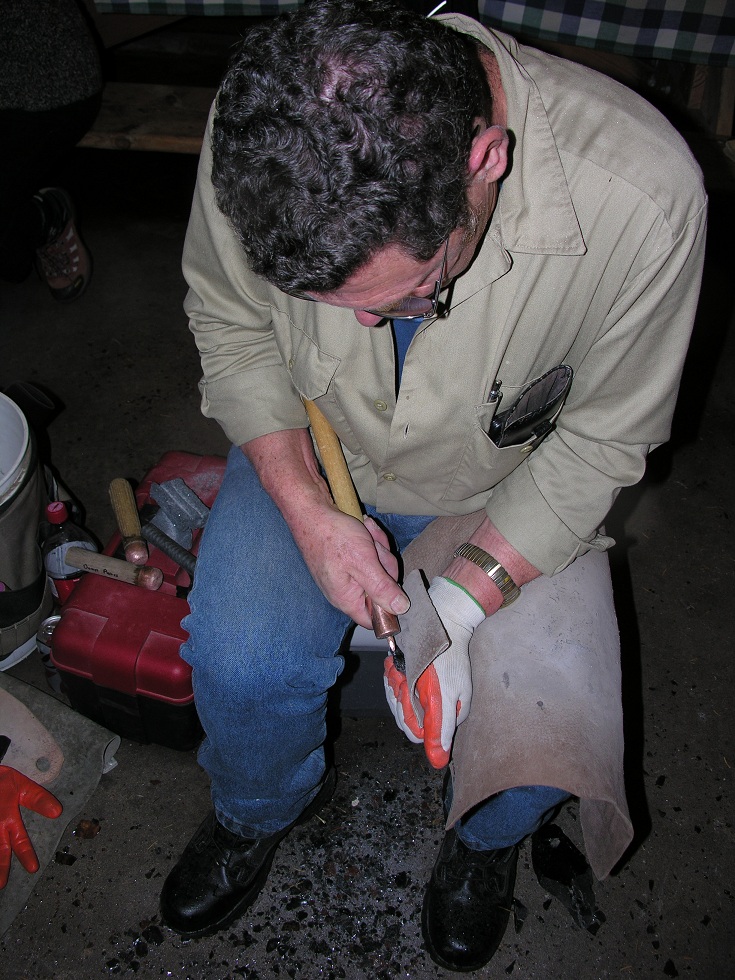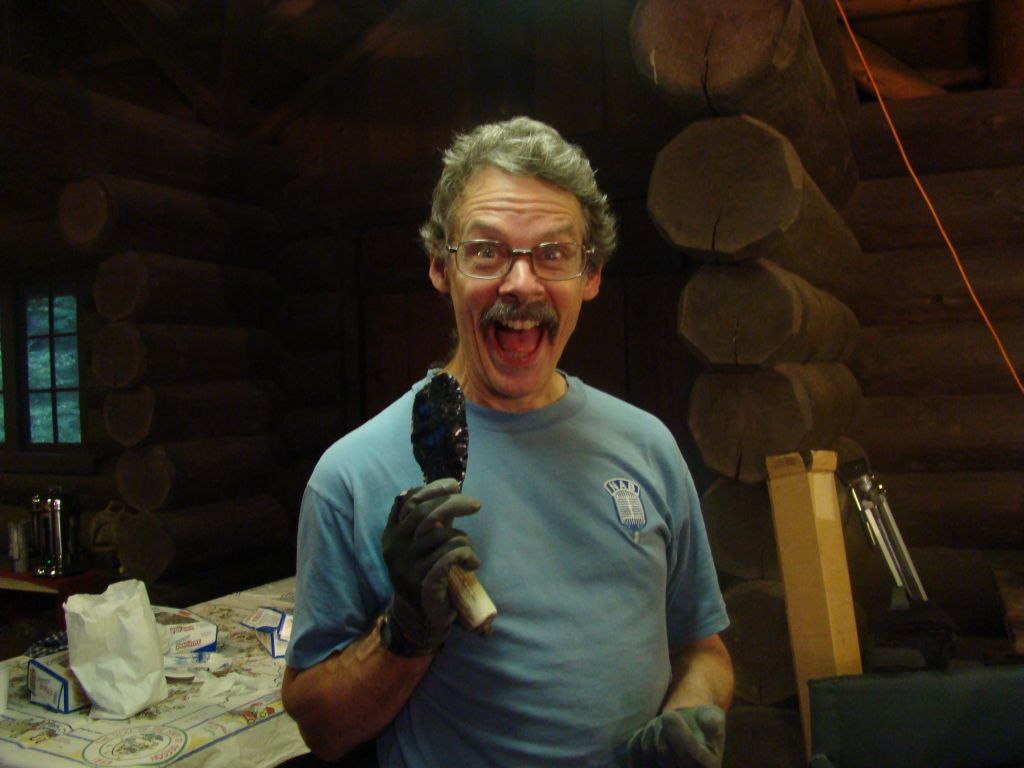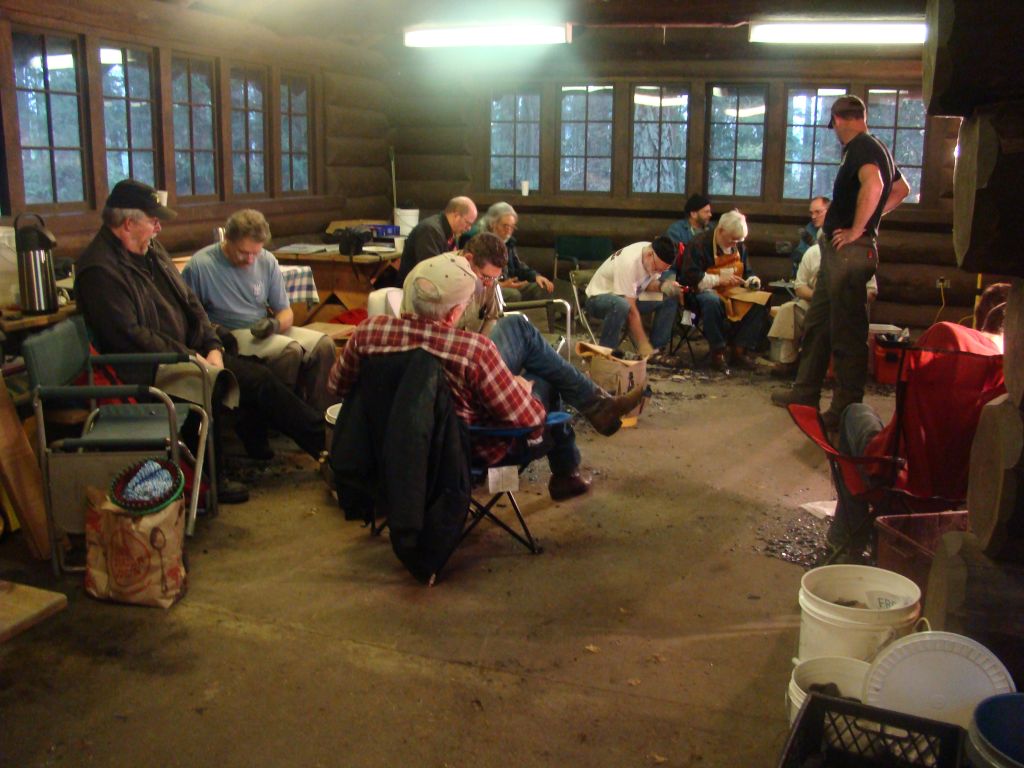 Jim Smith providing some instruction to one of our newest members, Riley Hayes of Battleground, WA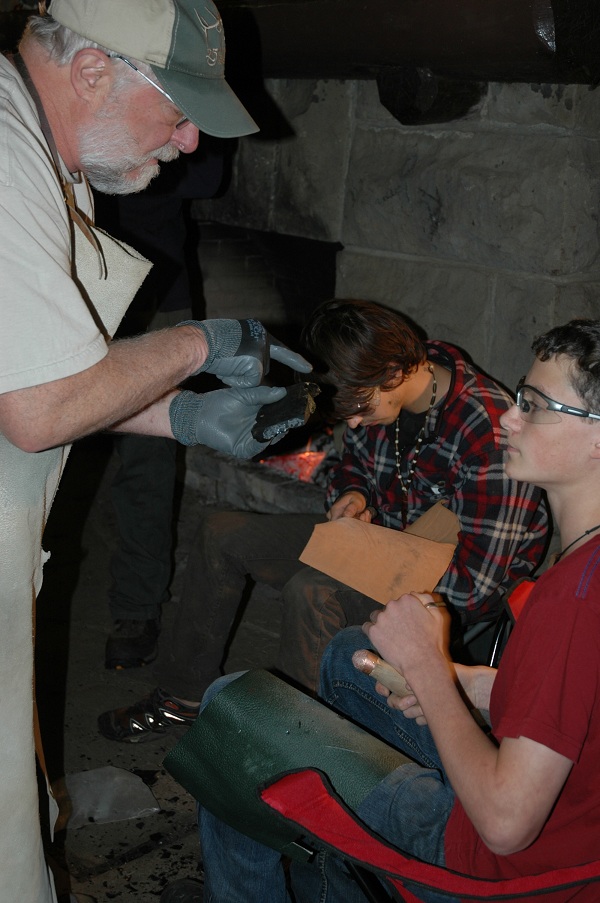 No longer a 'noobie' but now an accomplished knapper, Harley Slade passes along what he's learned in the PSK to noobie Riley Hayes.
'Abo Master' Harry Oda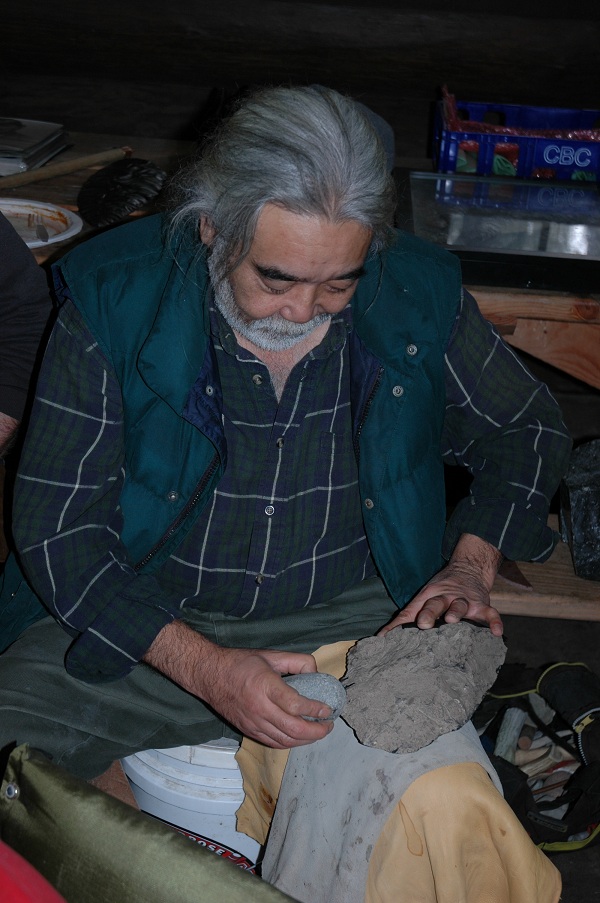 The 2" Goat
Jim Smith getting some 'coaching' and 'encouragement'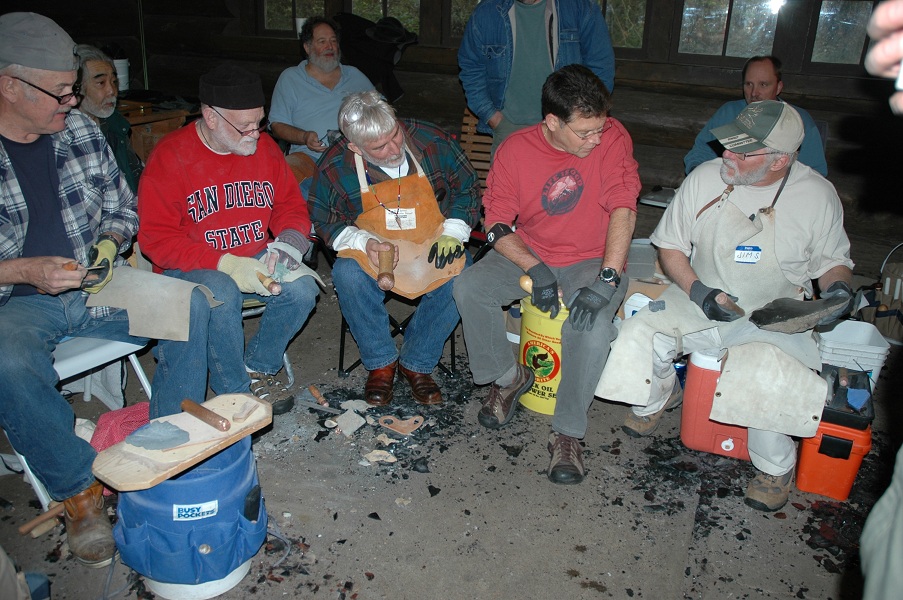 Woody's turn (Jim Miller - left, Jim Keffer on the right)
10-Speed Competition
The Rocks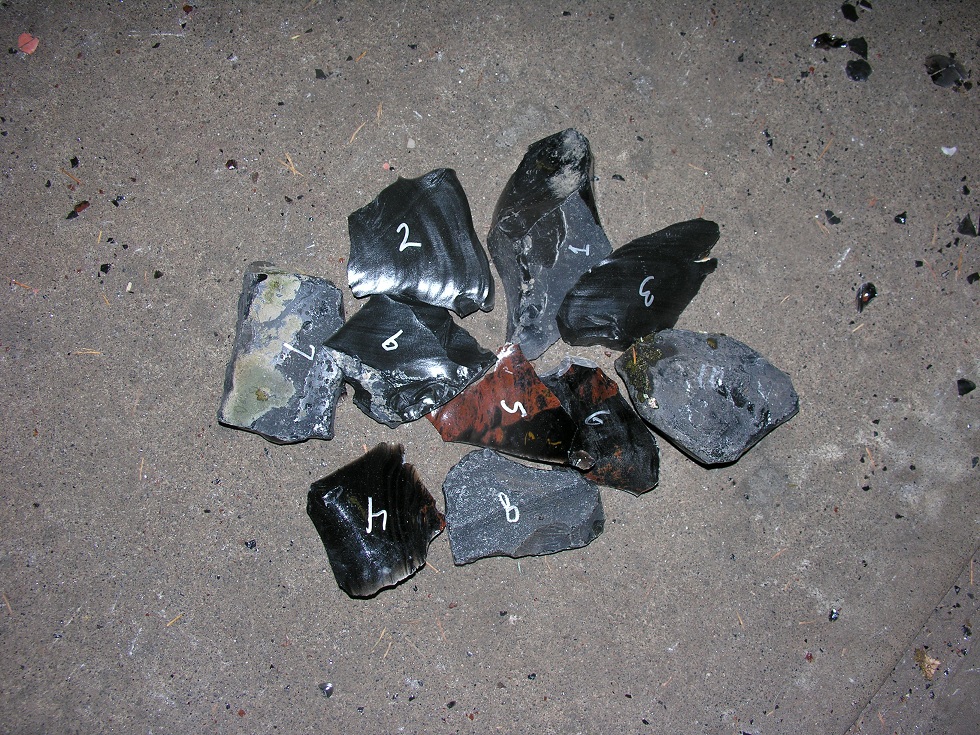 The competition (photos and a MOVIE!)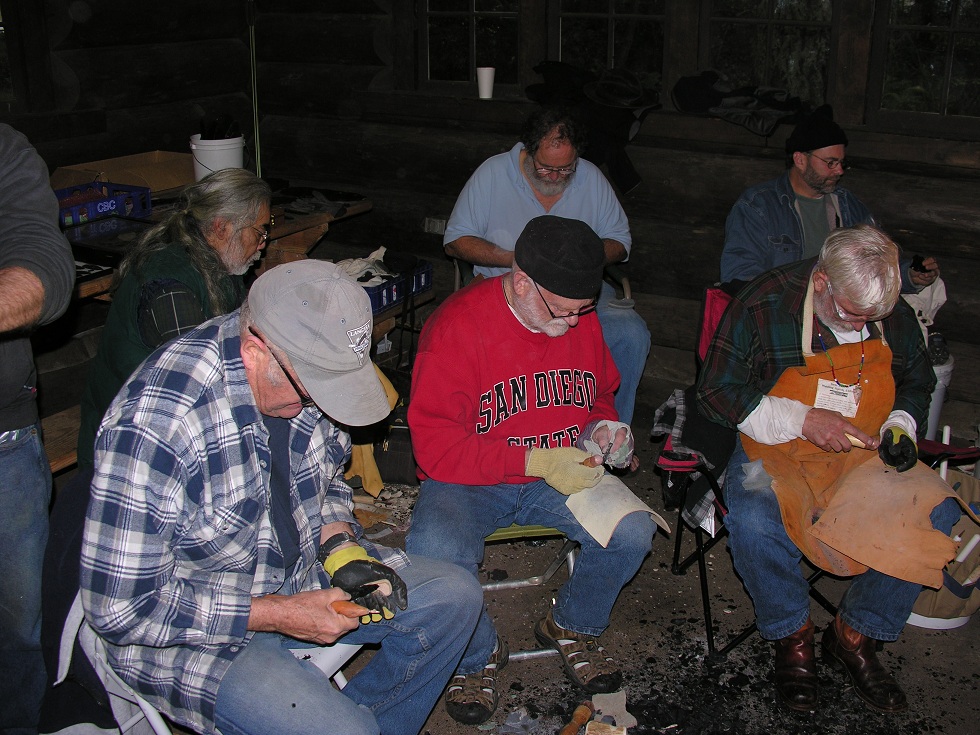 Judging by the Flintknapping Floozies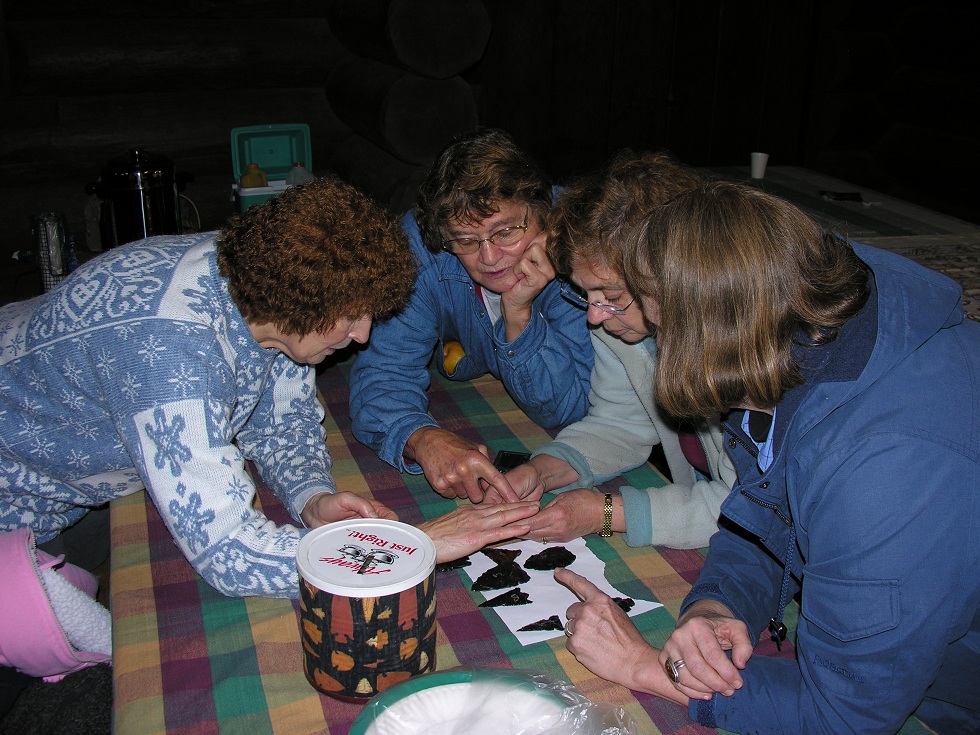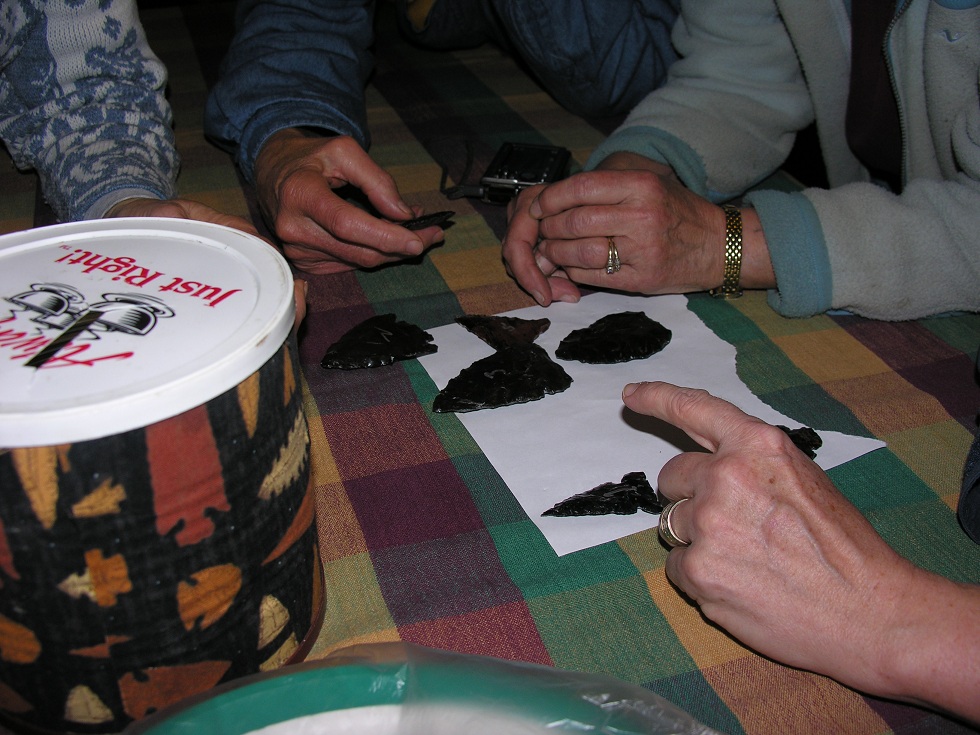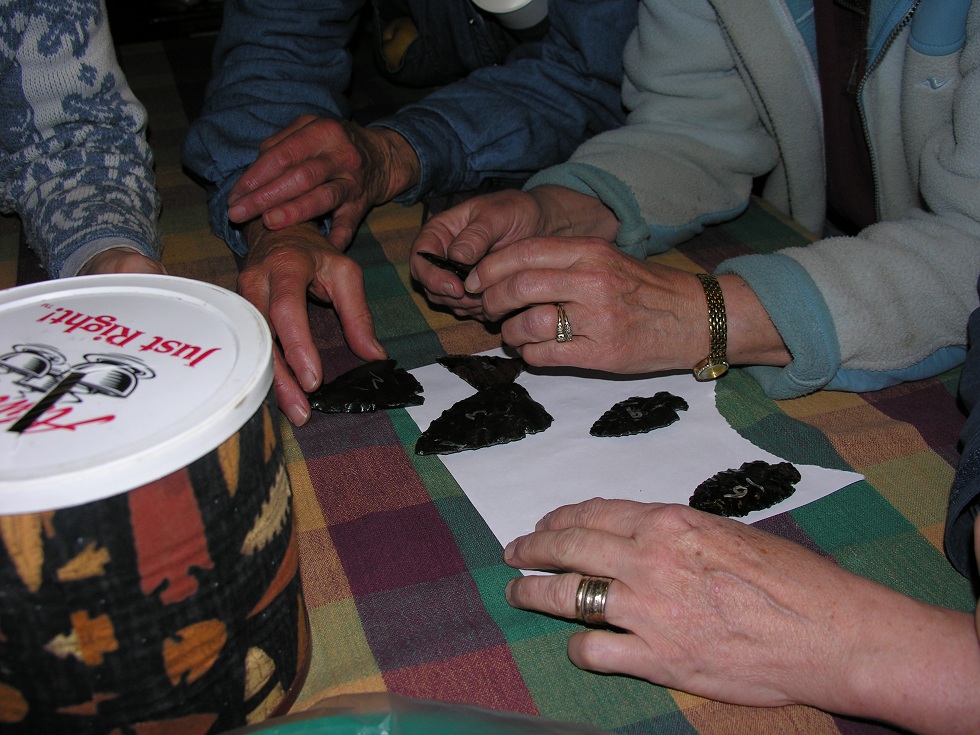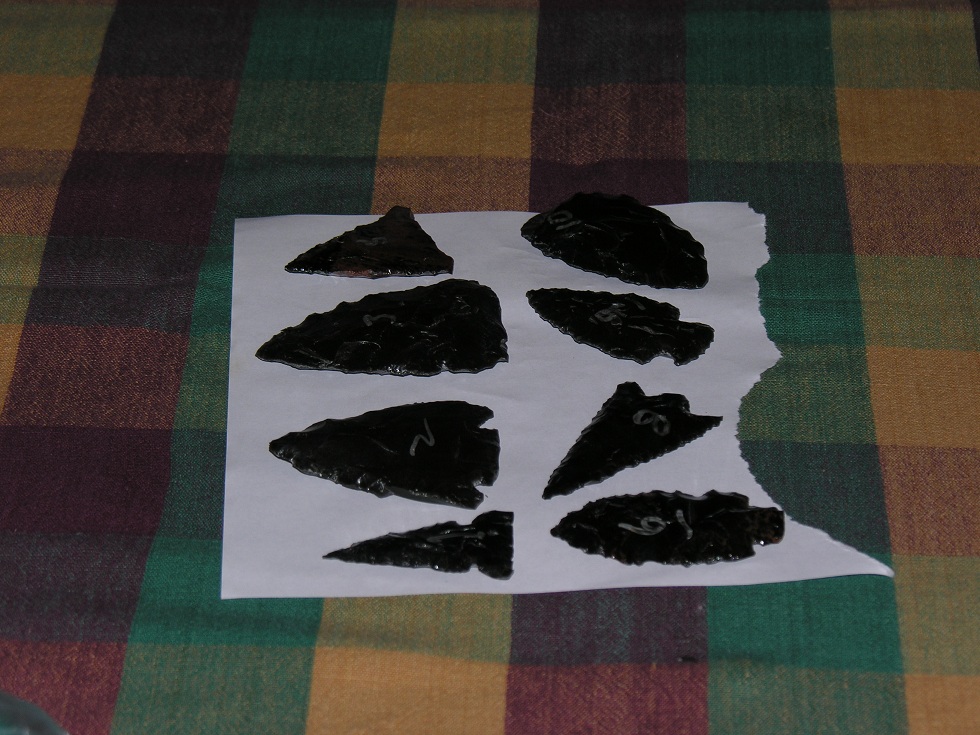 And the WINNER is: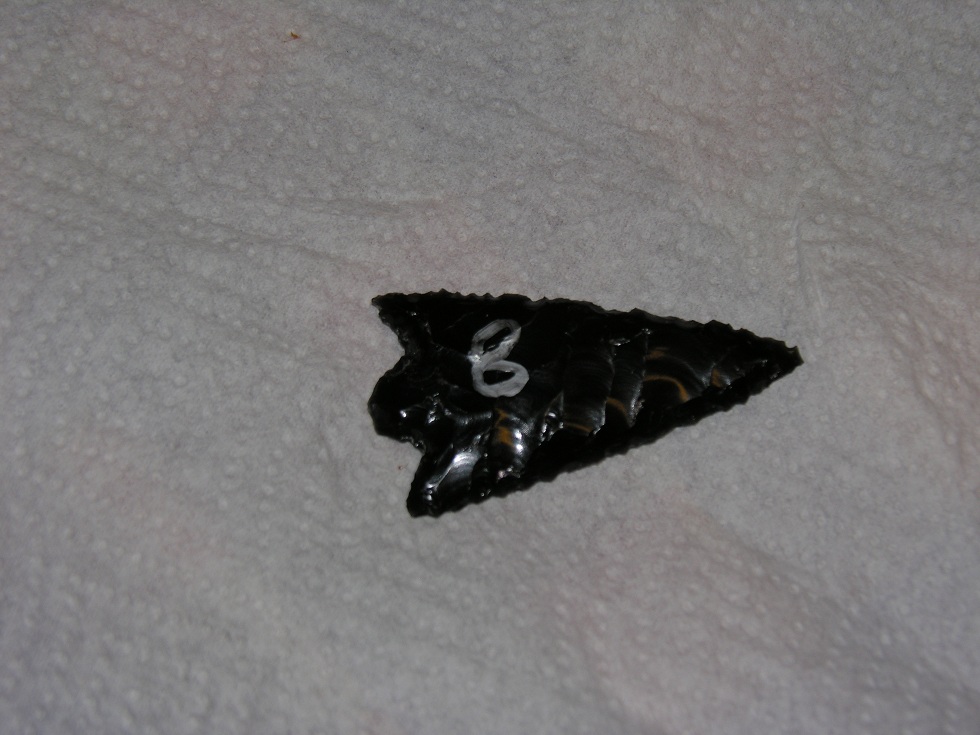 Jim Miller!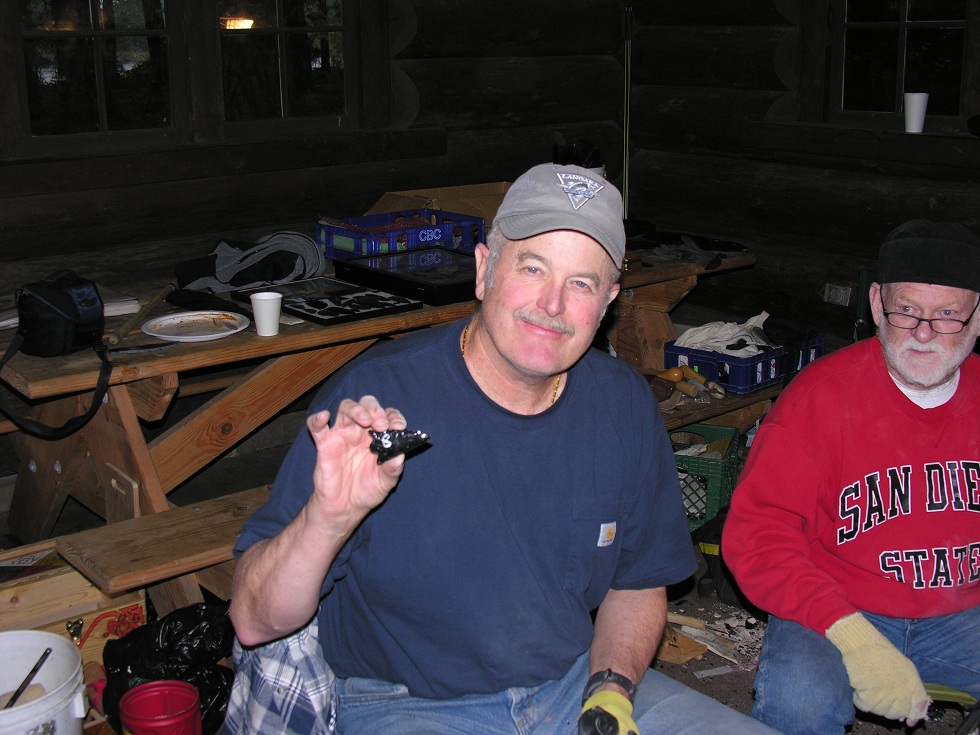 The Turkey Feast!
Co-host Holly Hill keeping things warm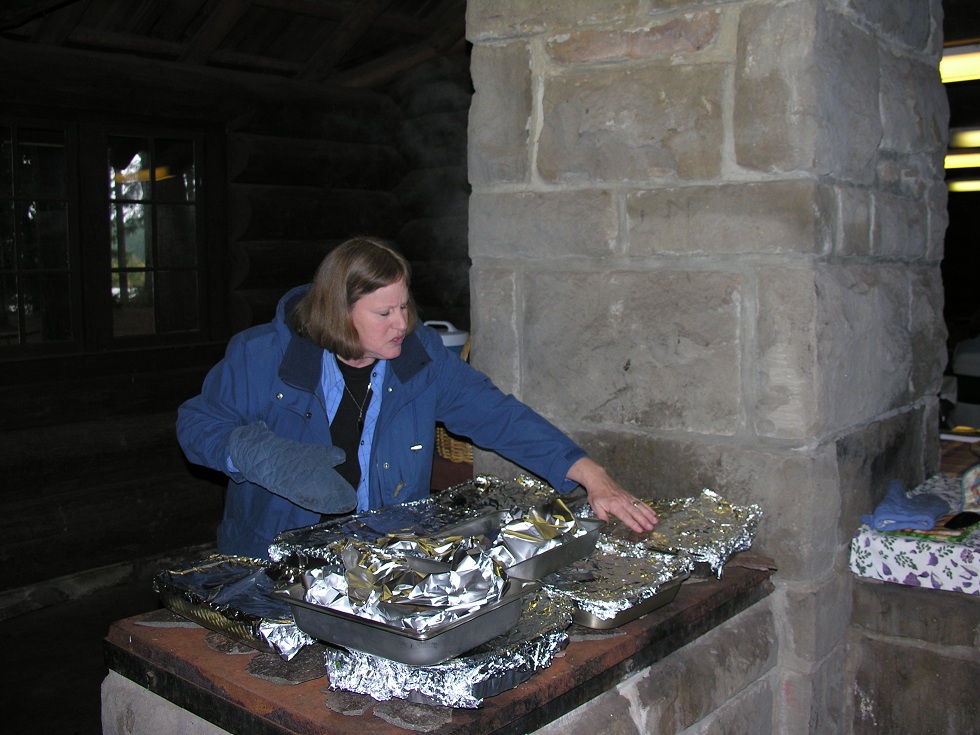 Deep Fried Turkey - Chef Jim Keffer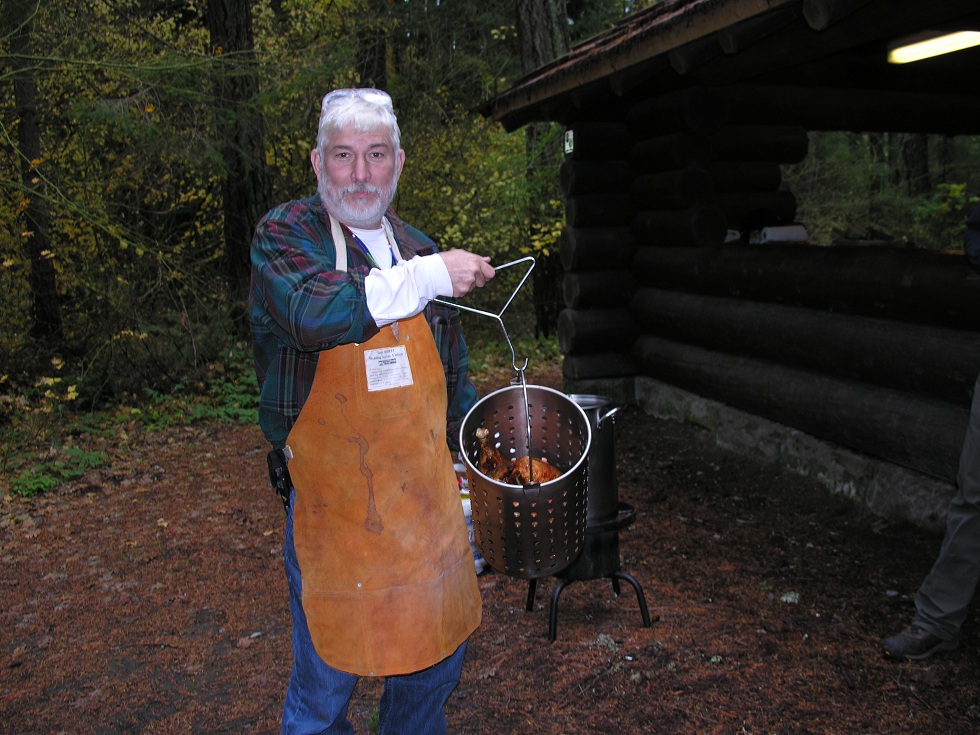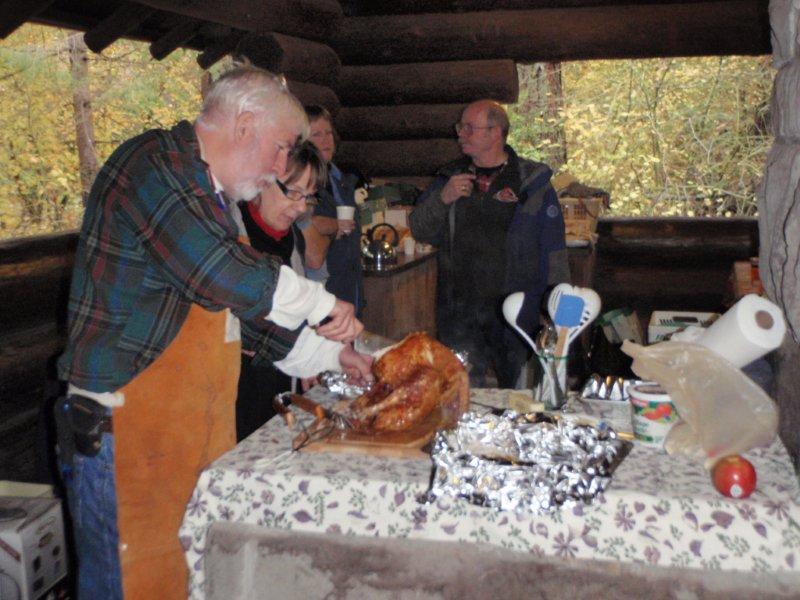 Socialing around the campfire Saturday night
(left to right facing - Harley Slade w/hat, Jim Keffer, Beverly Keffer, Holly Hill, Joe Greenwell w/gray jacket and Woody Woodside w/red sweatshirt)
(back to camera left to right - Mick Hill, Kathy Woodside)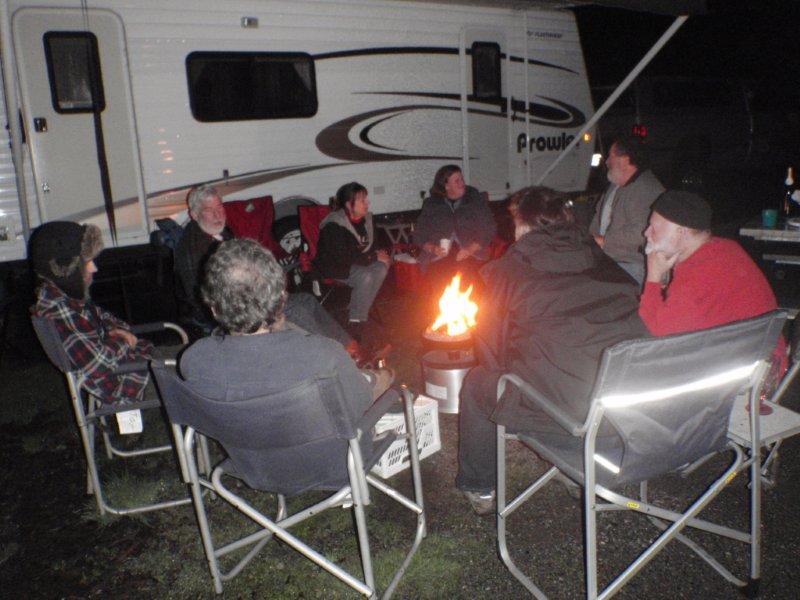 Woody and Kathy Woodside, Mick Hill and Harley Slade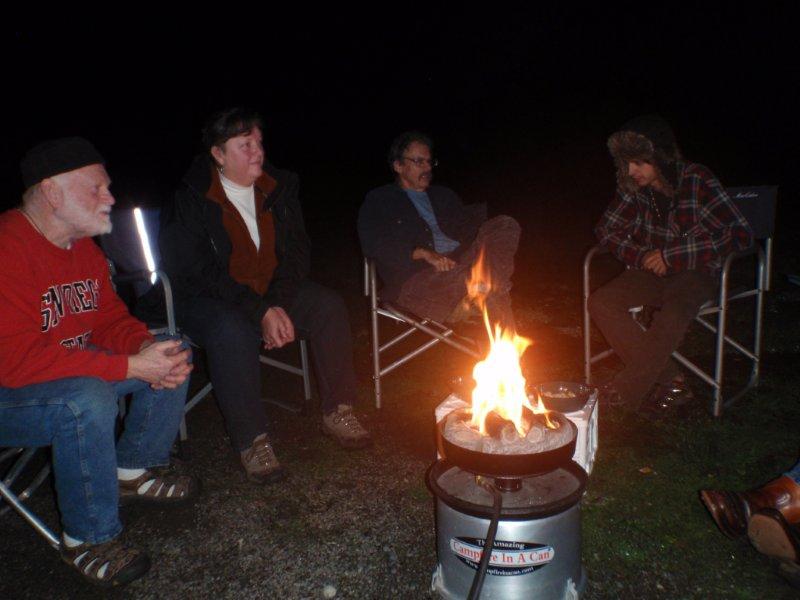 Some more Photos from Bettye and Joe- Random Arragnement