Seattle Country Day School Flintknapping Demo/Presentation Report
November 29th
Host Mary Lowry (SCDS) and Jim Keffer (PSK)
One of the distinct advantages of being the webmaster of Puget Sound Knappers website is that I'm frequently the first point of contact for people interested in flintknapping! This is especially true when it involves requests for flintknapping demonstrations at schools, rock shows, museums and the like. And while it has never been difficult getting PSK members to volunteer their time and expertise, occasionally I get the opportunity to participate in these demonstrations and discussions myself. This was the case with the Seattle Country Days School.
Mary Lowry, 7th & 8th Social Studies Teacher Extraordinaire, invited me to demonstrate flintknapping and provide hands-on instruction to her three 8th grade classes over the course of one day. And I have to say, this was a real treat. Mary' thirty‐five plus students were extraordinary themselves. They were really interested in the ancient art of flintknapping and this was evident in the remarkable progress they make in just 45 minutes or so.
Photos (additional photos from SCDS pending)
I didn't have time to take photos of the demo or instruction but I did take a photo of the set-up that Mary Lowry provided. She thought of everything and provided all of her students with some great material to work with.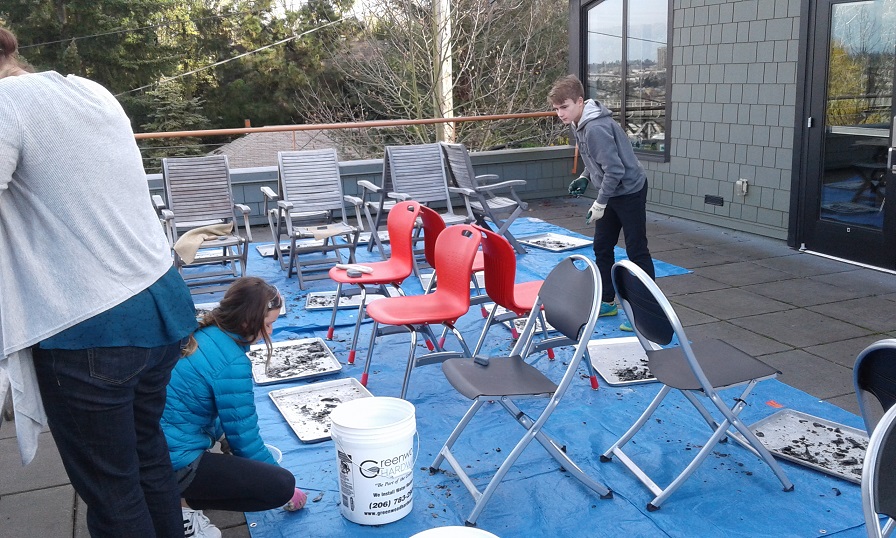 And I did manage a photo of one of the student's obsidian point. I just wish my first points came close to this one!