2016 Glass Buttes Knap-in Report
March 19th - 27th
Host - Rocky Male
This year's Glass Buttes Gathering was somewhat unique. There were, according to a count by Mick Hill, upwards of 150 attendees during the week.
The weather was mixed as usual, but didn't seem to affect attendance in the least. What did have an unexpected impact was the fact at Easter weekend occurred on the last weekend of the Gathering. Many knappers came and just stayed a couple of days, just enough to get some obsidian (250 pounds – the annual limit) and maybe visit the Dacite quarry.
Despite the timing of this event, enough people attended and generously donated that we were able to cover the cost. A good auction, competitive games and direct donations all helped.
There were some special highlights – a noobie, Steve McKay from the Seattle area, demonstrated his talent on the bagpipes (loaned to him by Mick Hill). This brings to three the number of regular bagpipe players in the PSK and certainly a record in the knapping community!
We were also happy to bring back Brad Baughman. Brad's had some health issues but by pulling together, Brad's friends were able to arrange suitable accommodations and get him to Glass Buttes. Brad is one of the true PSK evangelists and is always teaching others the art of flintknapping.
There were a number of other 'noobies' who attended and all were able to gather rock and take lessons with the help of PSK members.
A couple of pot luck dinners (Keffer's home made spaghetti one night and Higgins' Tostados the next) were provided by Jim Keffer and Joe Higgins. Amazingly, this was two potluck dinners in a row where there were no left overs!
Special thanks to Rocky Male. Without Rocky's hard work and selfless dedication, the Glass Buttes Gathering simply would not happen. Providing porta-potties and guaranteeing that the area would be trash free at the conclusion are the two requirements the BLM place on this event. It behooves all of us to insure that we do are part in supporting Rocky.>
(left to right) Rocky Male (w/phone), James Male, Donn Paris, Jim Keffer and Jim Smith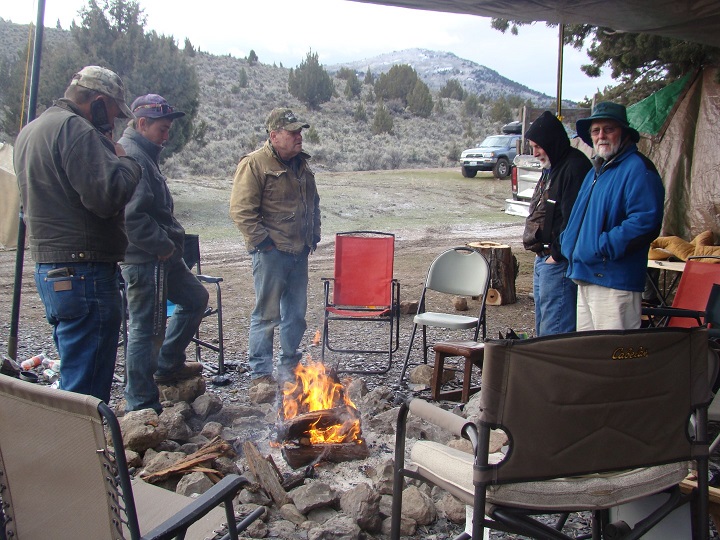 (left to right) Joe Higgins, Mick Hill and Jim Keffer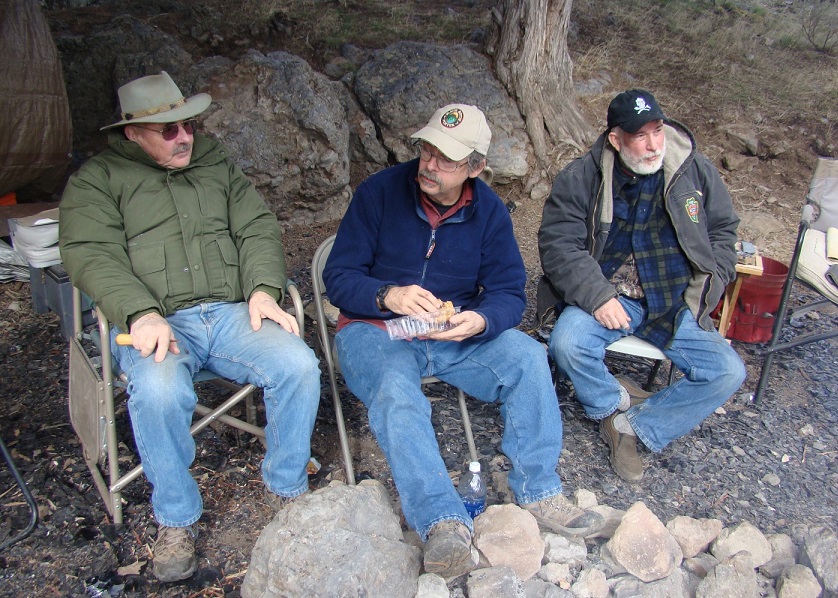 A New Knapper and New Member of the Puget Sound Knappers! This young lady, along with her sister, not only got the opportunity to see some of the all time great knappers, but were lucky enough to meet Kathy Woodside - wire wrapper extraodinaire, who personally wire-wrapped a couple of Joe Higgins points. PLUS Kathy provided them with Hot Chocolate - on a particularly cold Glass Buttes afternoon.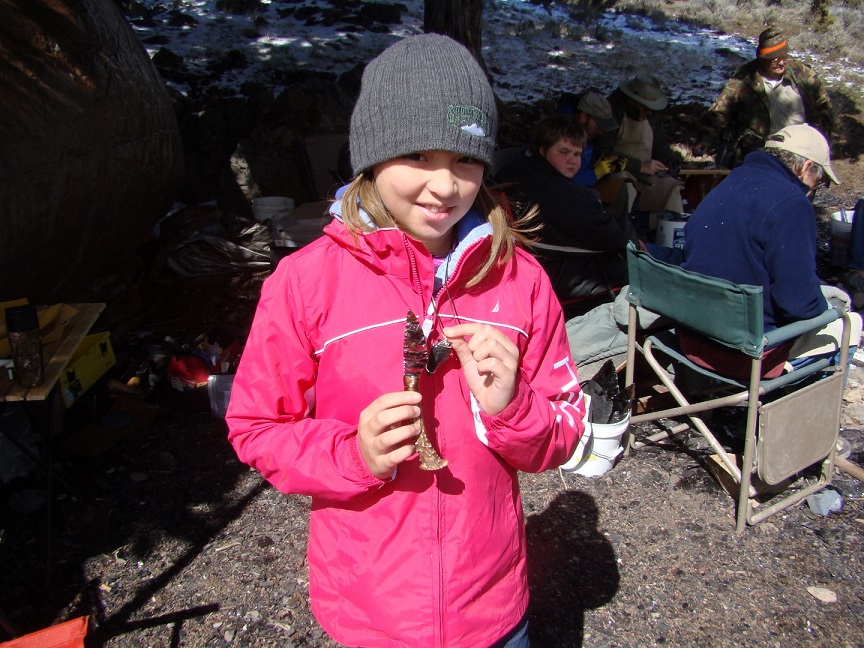 (left to right) Ken Graham,Joe Higgins, Jim Keffer, Donn Paris, Rocky Male and Woody Woodside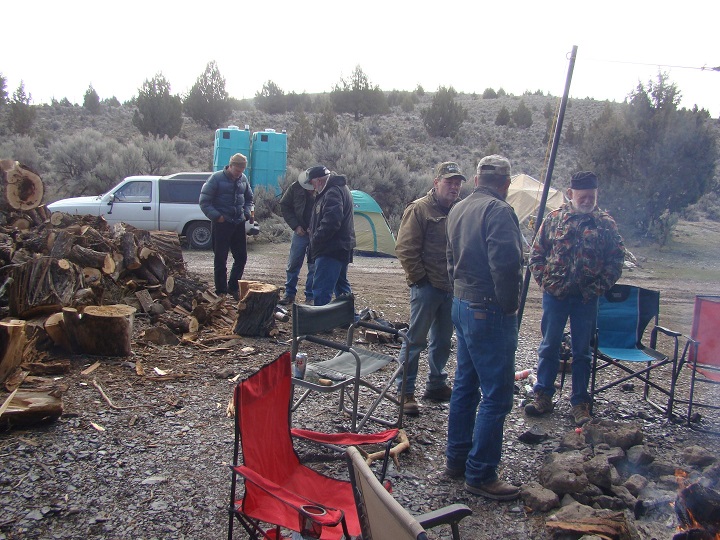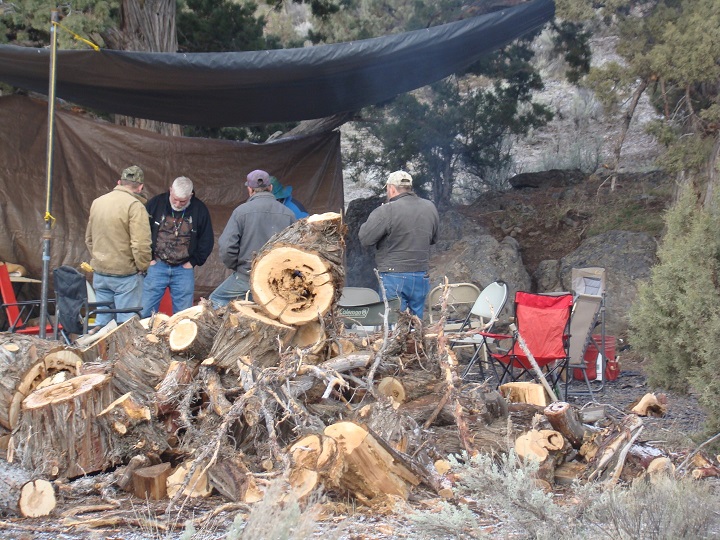 Stu ' Ute Flintknapper' Murdock about to play his Didgeridoo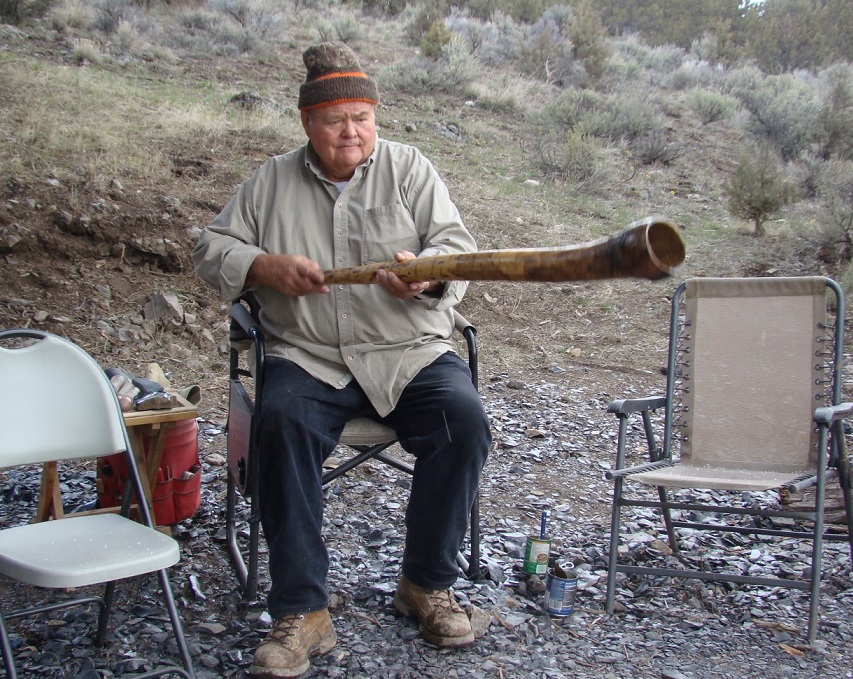 Getting ready to spall a big one. (left to right) Jim Keffer, Jack Fee, Aaron Webster, Richie Bello (blue cap) Goode Jones and Donn Paris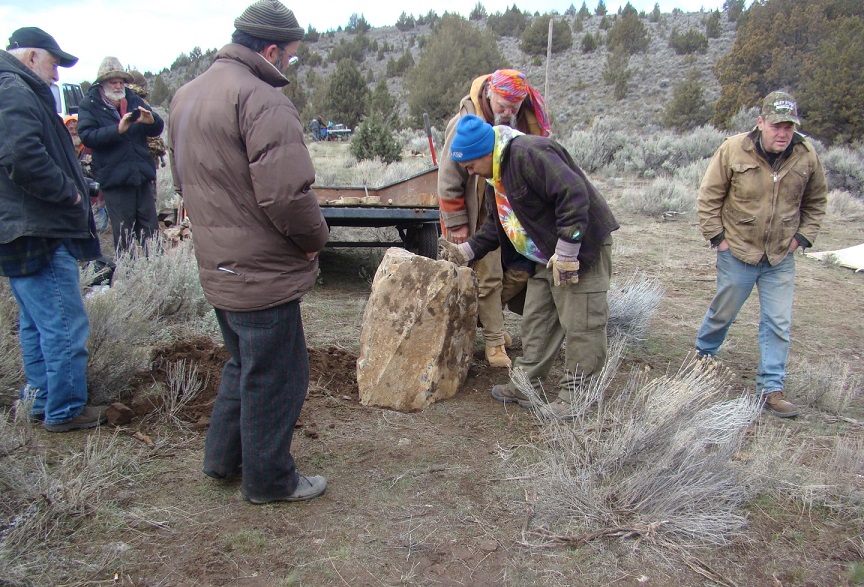 Donn and Joe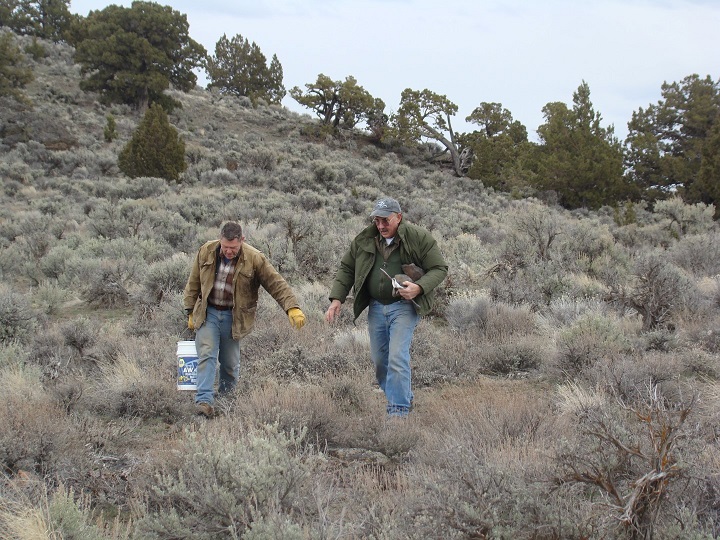 Emory Coons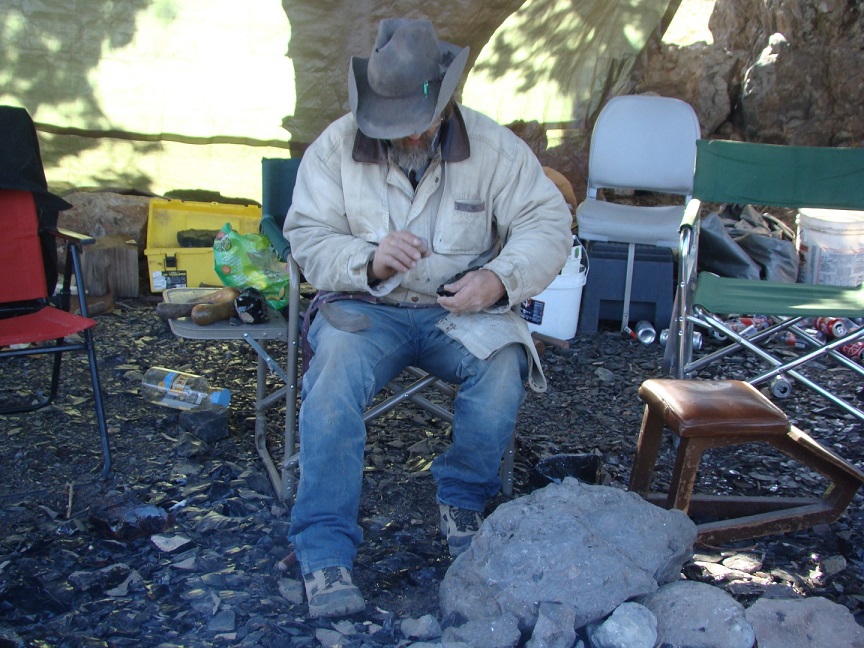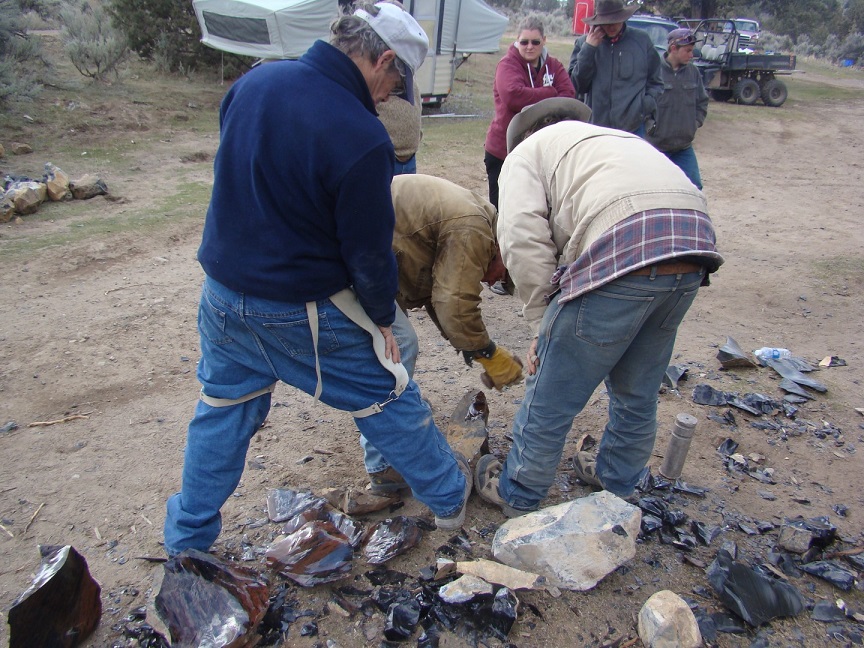 Joe Higgins and Eli walton at the Black Butter area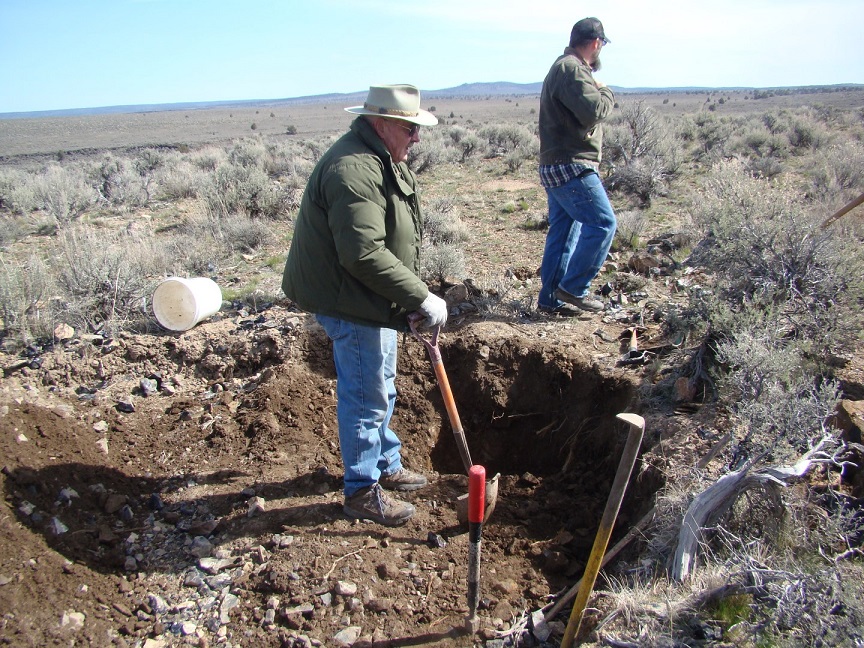 Jeff 'The Camera Guy', Dixon, Donn Paris and Stu Murdock