2013 Glass Buttes Knap-in Report
This year's Glass Buttes knap-in will be long remembered for two things - the incredibly great weather and the number of 'Noobies' who attended. The noobies came from as far away and Texas and Colorado and as close a Burn, OR!
The noobies had the very good fortune not only to collect some great rock, but they also were able to watch some of the truly great knappers and get some free instruction. Master knappers Steve Allely, Stu Murdock, Emory Coons and Mick Hill made some outstanding points including a collaboration on the two 'Community Points' - the best in recent memory.
This knap-in also marks the return of favorite son Emory Coons to active knapping. As most knappers know, Emory suffered some extensive injuries from an ATV accident while hunting for fire agate in Arizona. These injuries have made it very difficult, sometimes impossible, for Emory to see well enough to knap or concentrate for long knapping sessions. And while he might not be back to 100%, Emory impressed everyone there with his legendary spalling ability! He also percussion knapped one of the best big blades of the week! We're all pulling for his continued recovery.
Along with lots of knapping we also had a terrific 2" Goat competition with Master Knapper Stu 'The Ute Flintknapper' finally winning one - it's only been what - 20 years!

Knapping at the 'Buttes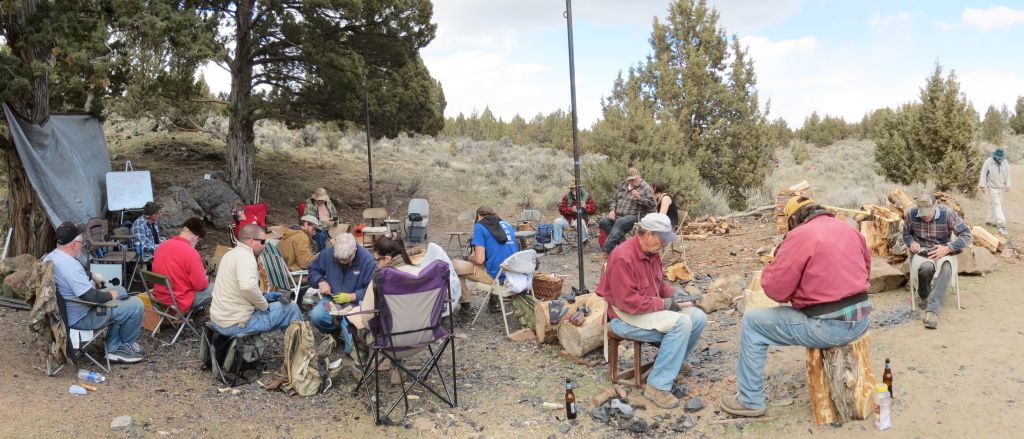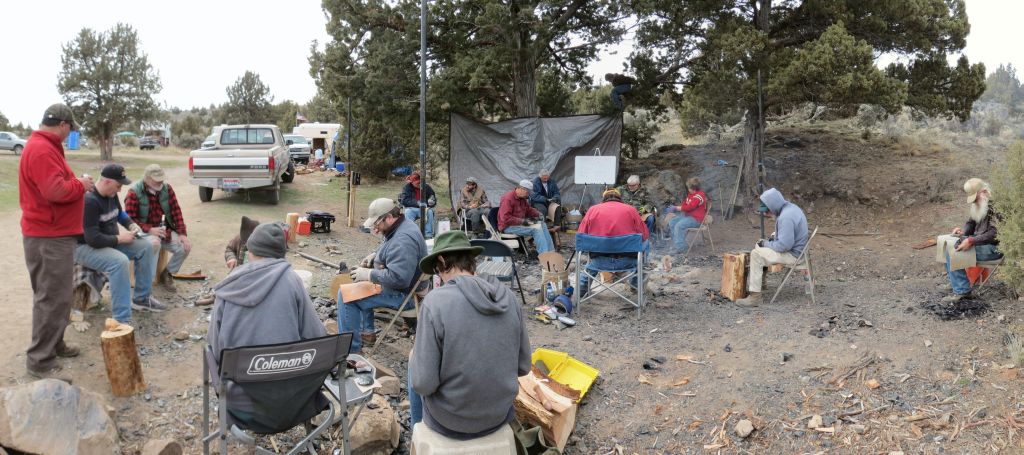 Some of the 'Noobies'
Tim Evans - Denver, CO.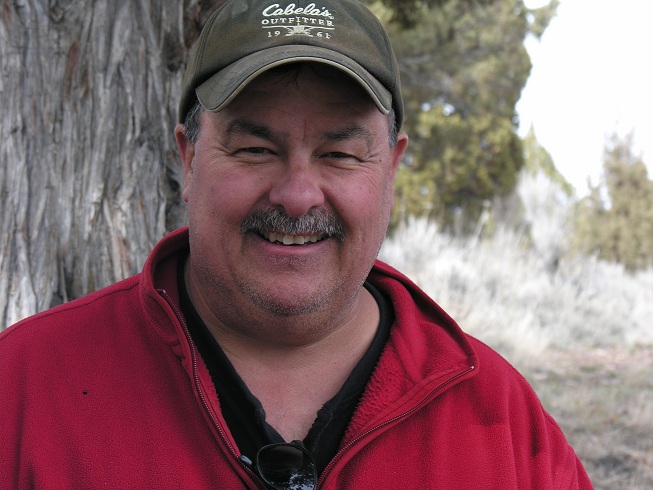 'Mink' Taylor and Aaron Rosen (Trapsetter on left)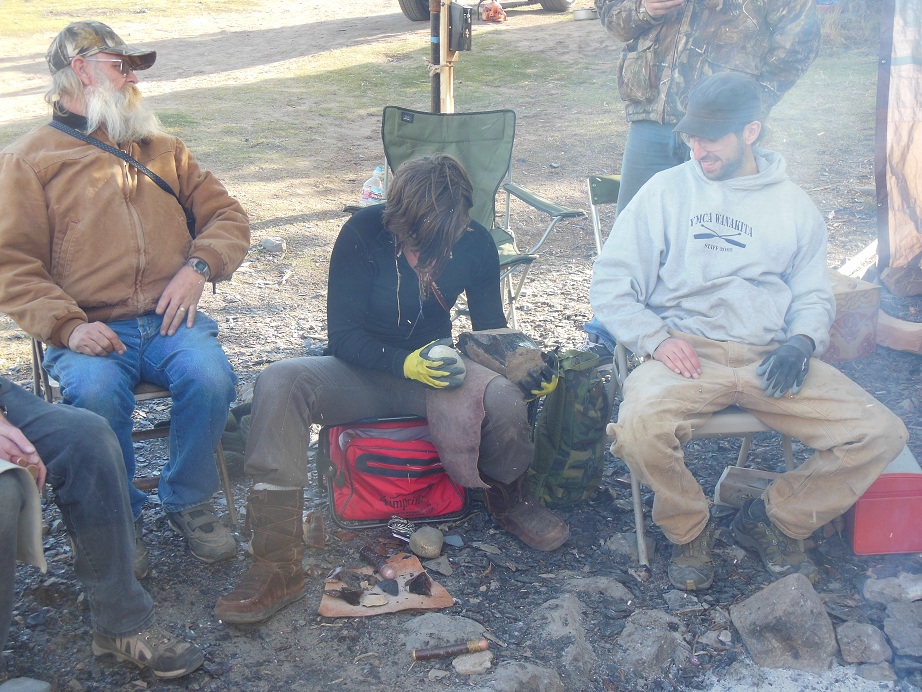 Army Staff Sergeant from Ft Lewis (with orders to Georgia)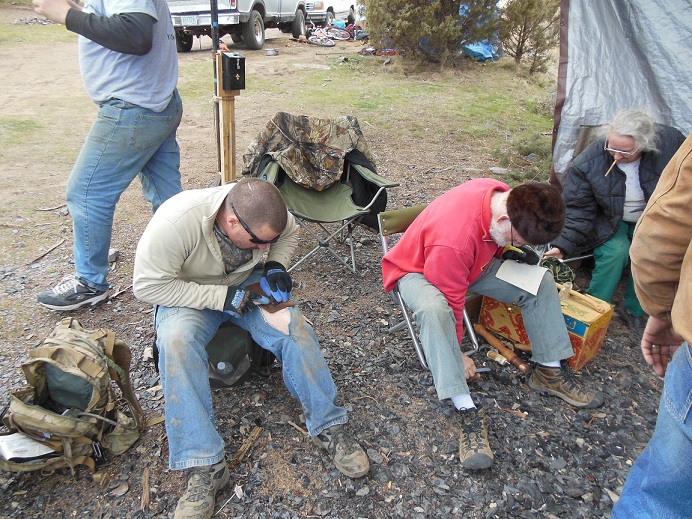 'Oldtimers'
Trapsetter
The 'Community Points'
These points were started by Master Knappers Mick Hill and Stu Murdock and especially Steve Allely. The points were passed around so that everyone could take a flake or two - contributing to the fnal product. The top point - 12" of supberb 'Black Butter" obsidian was then raffled off to help pay for the Porta-Potties - a very successful raffle at that!
Steve Allely spent 30 - 40 minutes putting the 'finishing touches' on each of the two community points! World renown for his small exquisite 'gem' points, Steve is equally adept at larger blades! A true Master Flintknapper!
Community Point #1 - Black Butter Obsidian
Comuunity Point #2 Midnight Lace Obsidian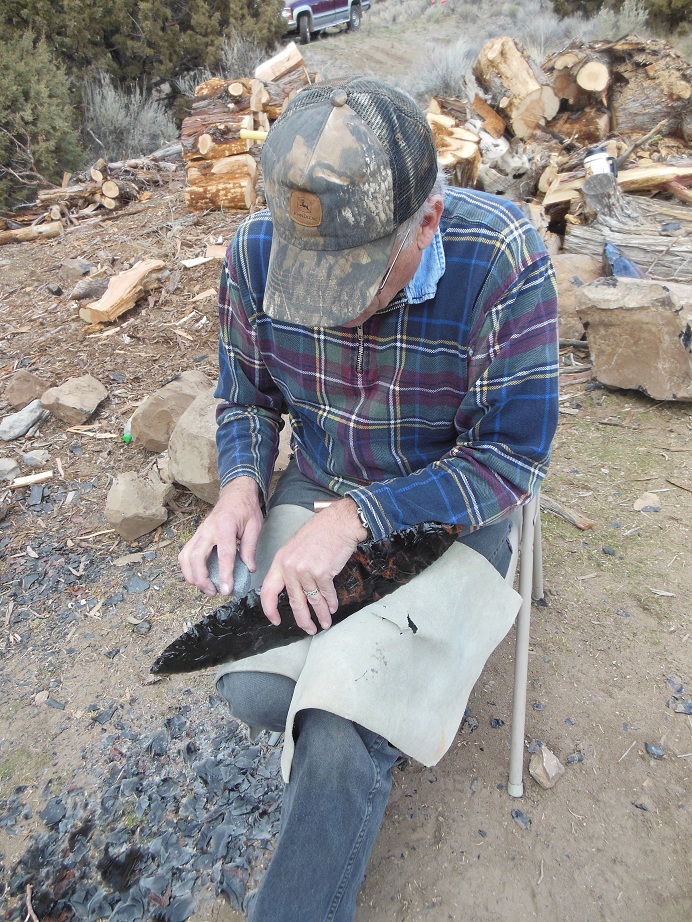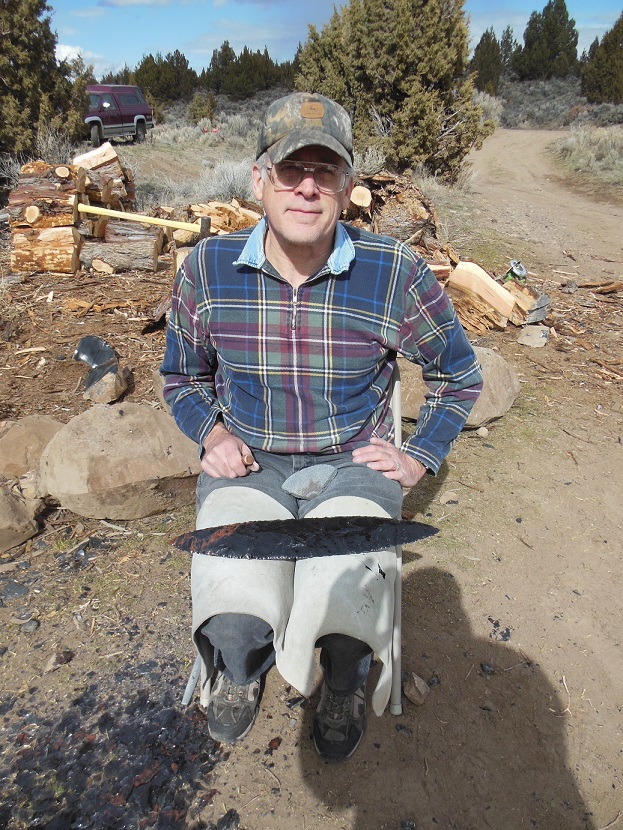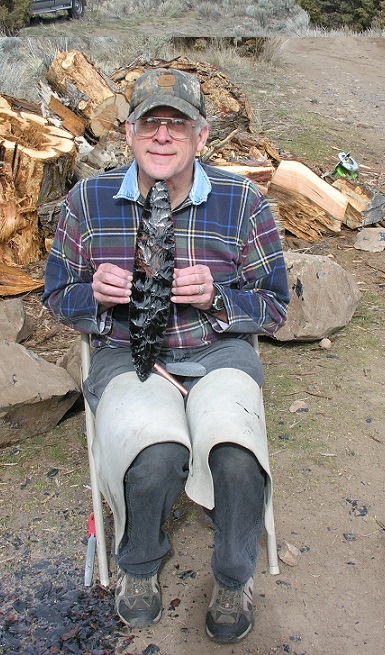 Original Midnight Lace Pebble - the 20% left after Emory did a great job spalling the larger piece!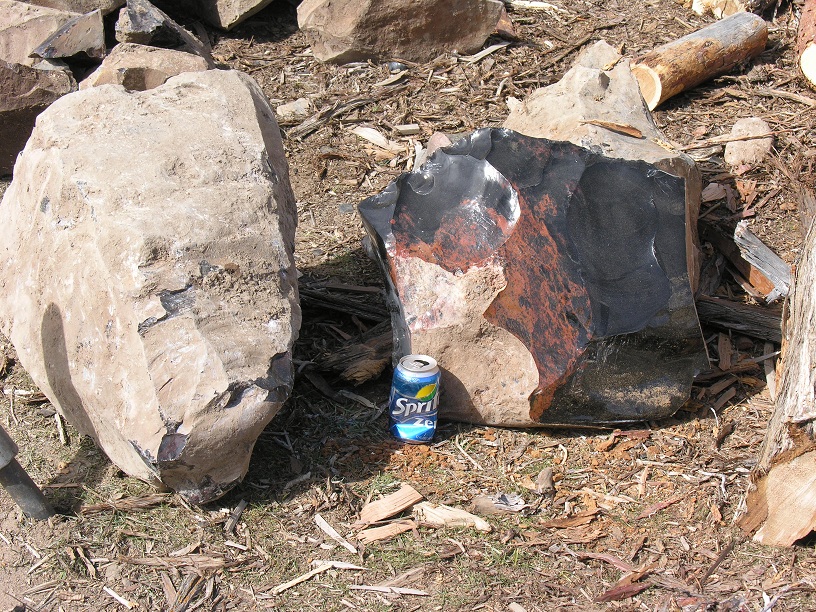 A Great Dilemma - Jim Smith and the Community Point - where to take a flake?!?!?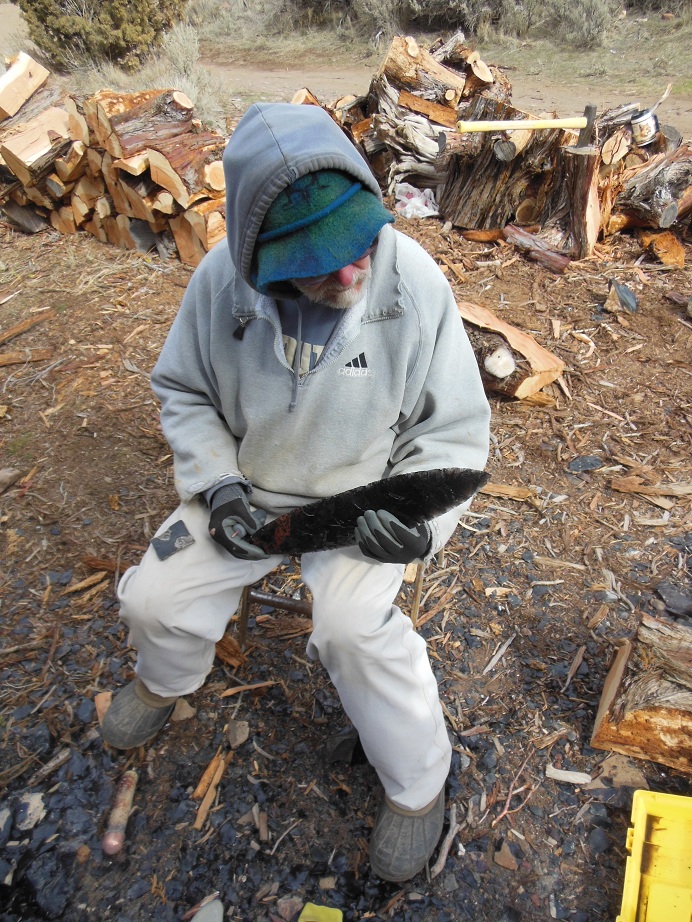 'Reefer' and Community Point #1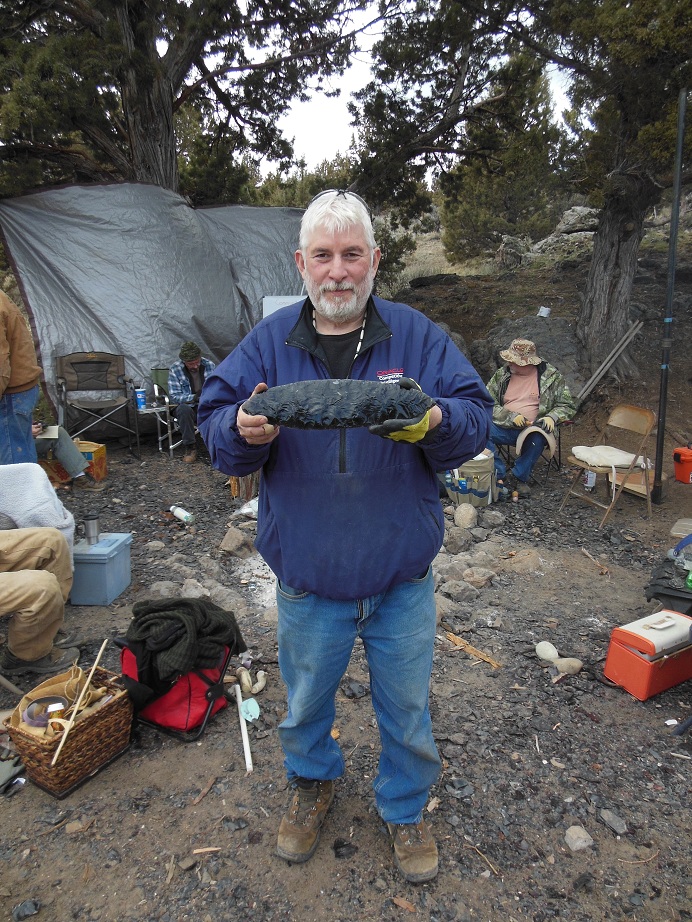 The 2" Goat Competition - another way to raise $$$ to pay for the Porta-Potties - and test one's knapping skill!
Stu Murdock finally won one!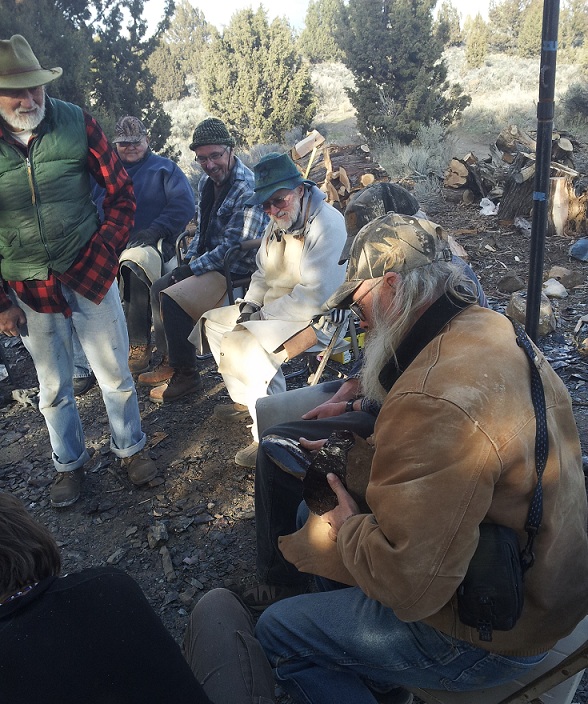 Some more of Steve's art at Glass Buttes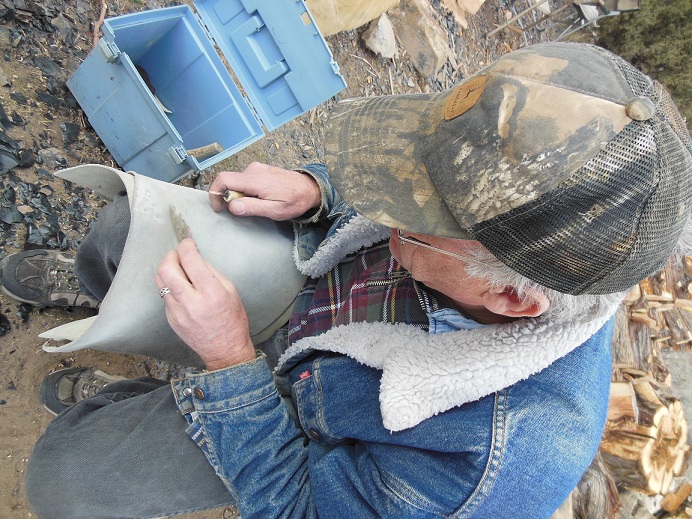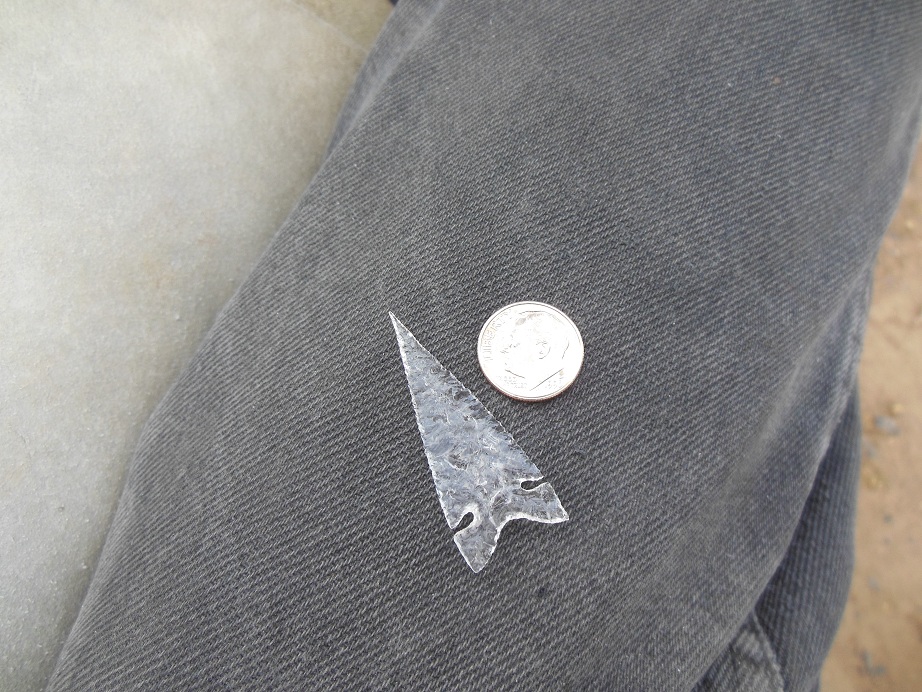 Steve's contribution to the auction. Auctions help pay for the Porta-Potties
Jim Smith had the winning bid.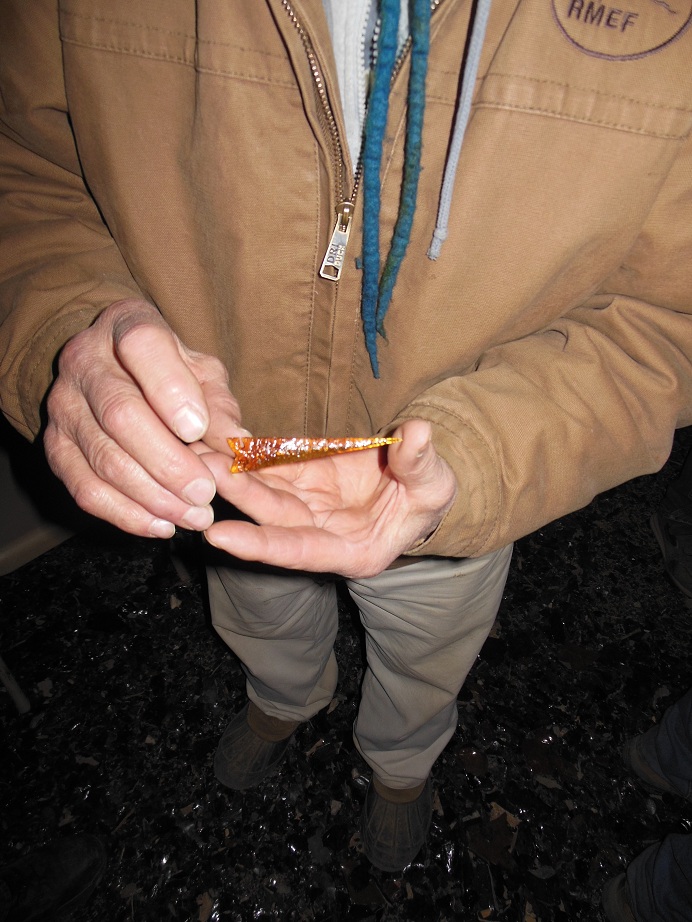 Emory - Making a Comeback!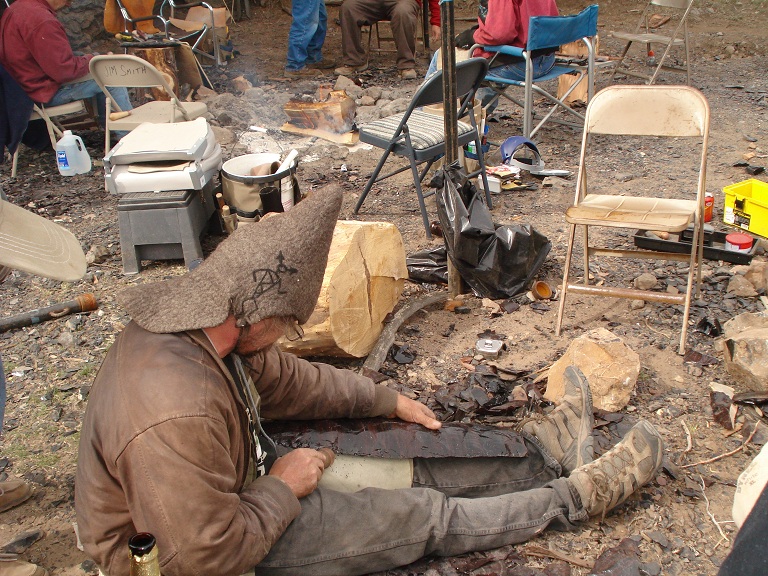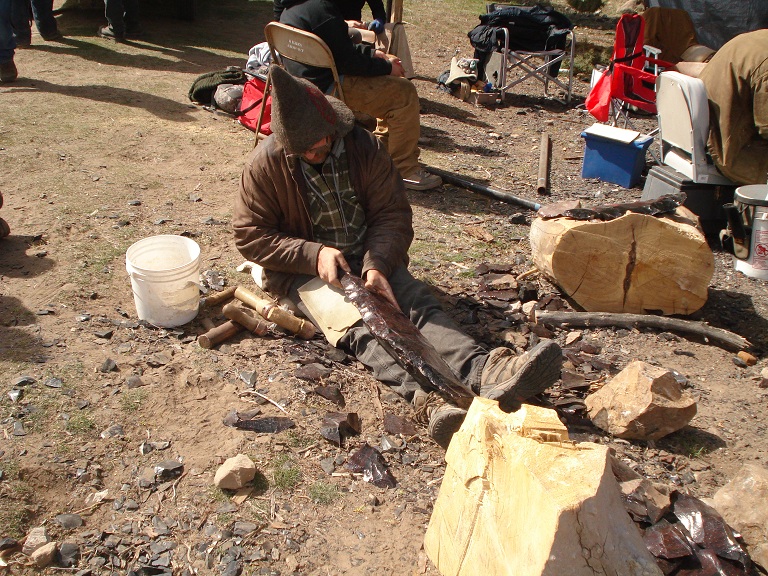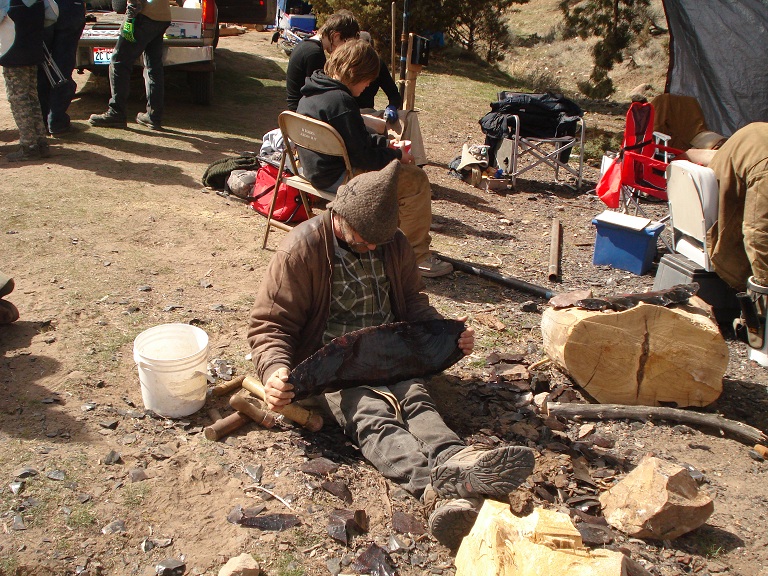 The Entertainers
Didgeridoo Serenade
by
Bill McClure, Richard Urata and Stu Murdock