PSK Point Collection and Display
We've started an ambitious project to create a single display case with a point from every member of the PSK. The display will be brought to every knap-in and major PSK attended event possible and showcase the knapping art of the PSK. This will be an ongoing process and as I receive points I will photograph each one and post in on this page as time permits.
Submitted points should, if possible, be signed by the knapper. They should also be accompanied with a minimum description of the point and the type of rock.
The Display Case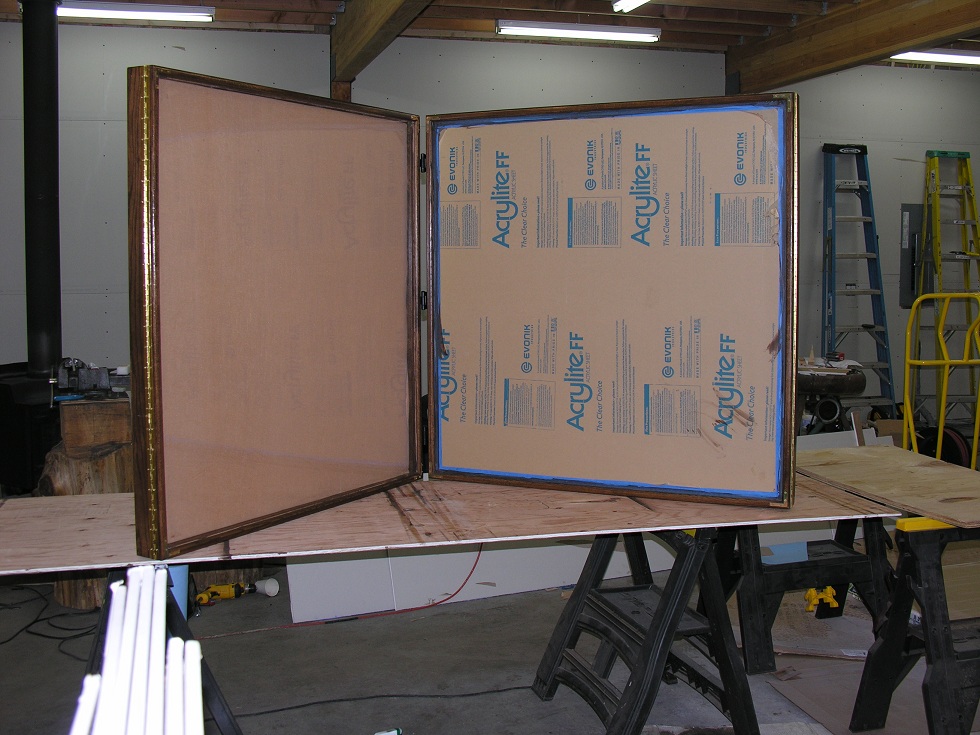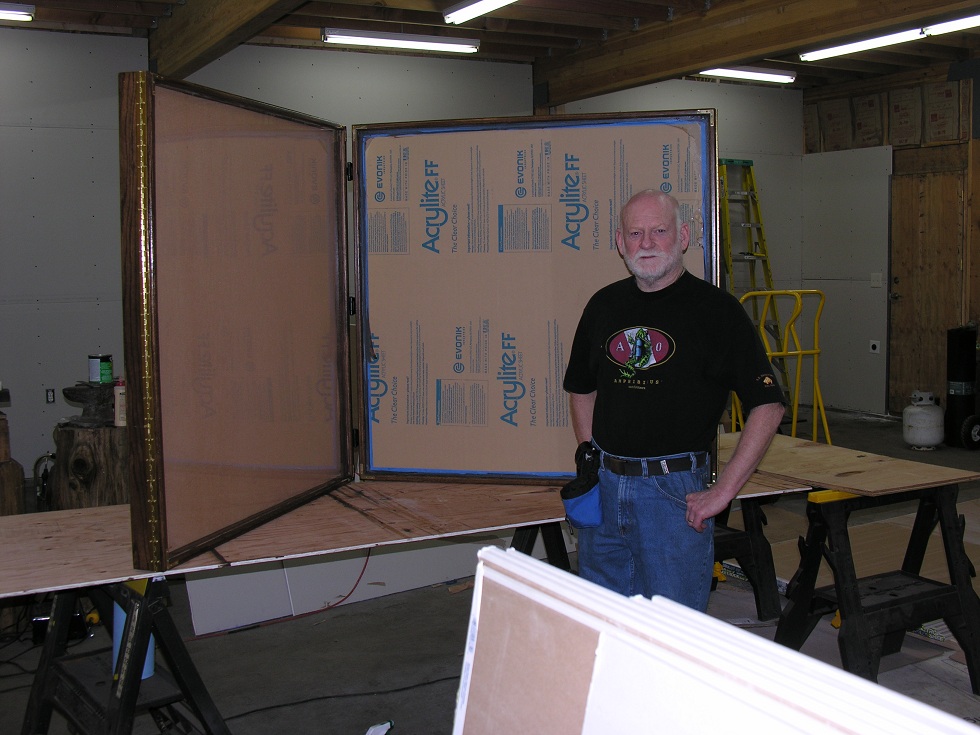 Flintknapper - Richard M. 'Yukon Dick' Kocan

Left: Paleo period, Type: Clovis, Length 107mm (4.3 inches), Width: 38mm (1.5 inches)
W/T 5:1, Material: Obsidian
Right: Archaic Period, Type: Pedernales, Length 76mm (3.0 inches), Width 39mm (1.1 inches)
W/T 6:1, Material: Obsidian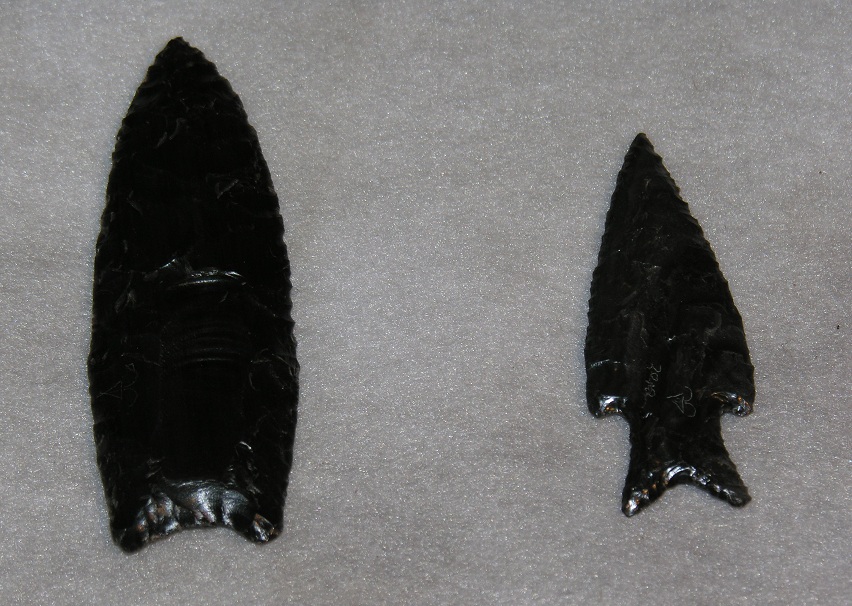 Flintknapper - Jim Miller

Point Style - Columbia Plateau, Heat Treated Arkansas Novaculite (translucent pink)
Heigth - 2-1/4" (5.715 cm), Width 1-1/2" (3.81 cm)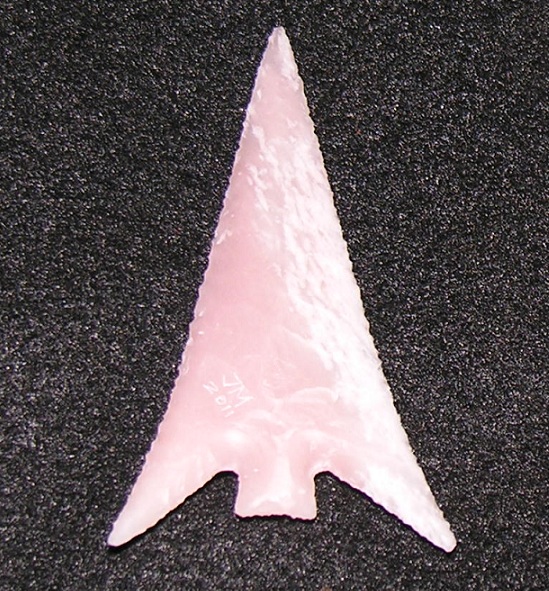 Flintknapper - William A. McCormick
Height 2-7/8" (7.1 cm) Width 1-1/2" (3.8 cm)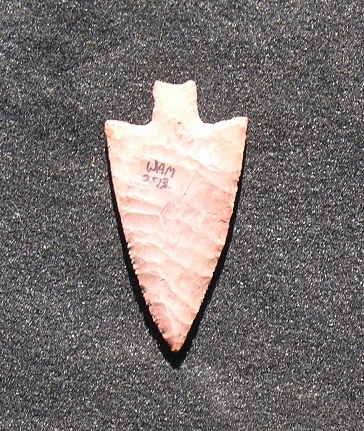 Flintknapper - Harvey Hughett


Point Style - Cahokia, Stone - Black Ohio Flint
Height - 3-1/2"(8.9 cm) Width - 1-9/16" (4 cm)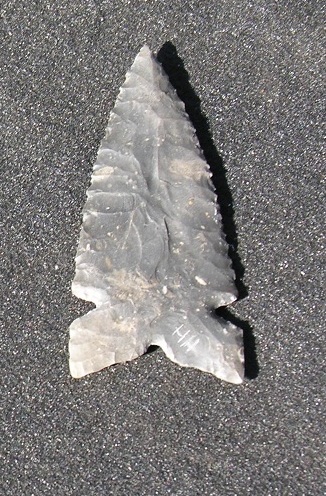 Flintknapper - John J. Johnson
Stone - Goldsheen Obsidian
Height 3-1/2" (8.9 cm) Width - 7/8" (2.2 cm)

Flintknapper - Dave Rauschenberg, Enumclaw, WA


Stone - Novaculite, Agate Basin
Point Style - Great Plains (10,000 - 8,000 BC)
Transitional Paleo-Early Archaic
Length - 7.5 inches (19.1 cm), Width - 1.75 inches (4.4 cm) Thickness - 3/8 inch (1 cm)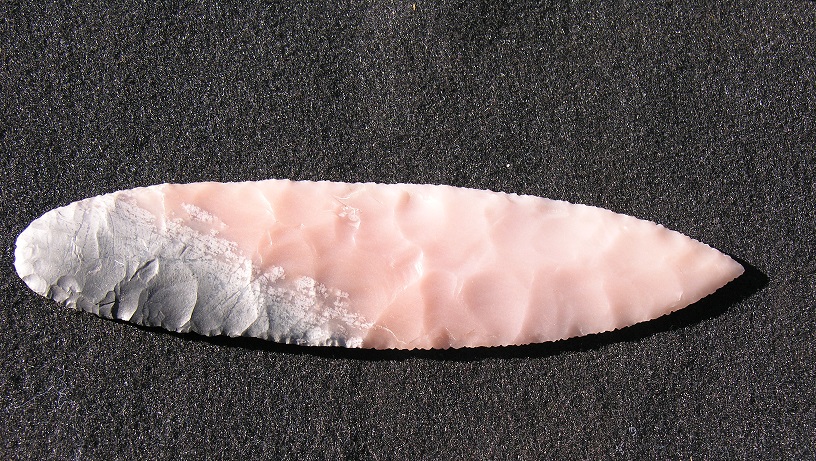 Flintknapper - Don L. Safford, Hot Springs, MT

Stone - Spec Grey Glass
Point Style - Northern Side Notched, Atlatl Dart Point (9,000 - 3,000 BP
Location - Great Basin Westward and South into Arizona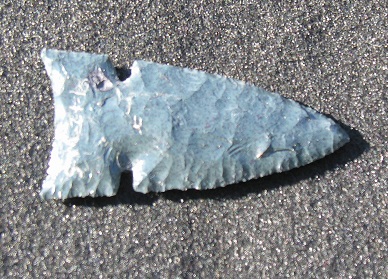 Flintknapper - Jerry '9-Fingers' Calvert, Kirkland, AZ
Stone - Unknown at this time
Point Style - 'E' Side Notch
Length - 3.75 inches (9.5 cm), Width - 2 inches (5.1 cm), Thickness - 0.3125 inch (0.8 cm)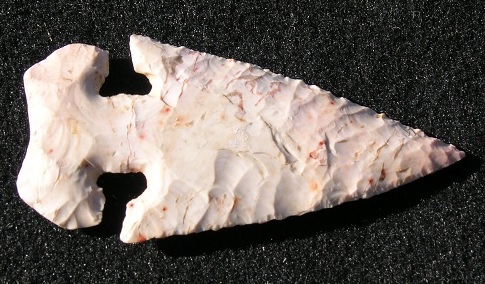 Flintknapper - Ian Elliot, Ellensburg, WA



Stone - Pumpkin Obsidian (Glass Buttes, OR)
Point Style - pending
Length - 2.5 inches (6.4 cm), Width - 2 inches (5.1 cm), Thickness - .25 inch (0.8 cm)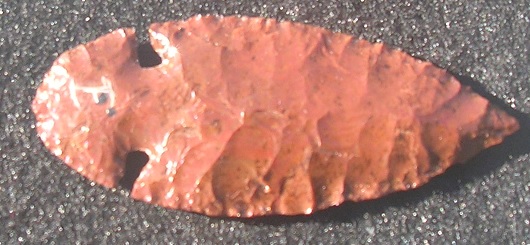 Flintknapper - Richard Pettersen, Kalispell, MT


Stone - Midnight Lace Obsidian, Glass Buttes, OR
Point Style - Wintu 'Ishi'
Length - 2.75 inches (7 cm), Width - 1.25 inches (3.2 cm), Thickness - .25 inch (0.6cm