Kabuki Syndrome Charity Fundraiser
In response to a request from Puget Sound Knapper member Tim Severn, a number of PSK members donated points to a display case to be raffled in support of a fundraiser for Kabuki Syndrome research and specifically to assisted Kerry Ingram's (aka Stonehunter) daughter Lilly, who is afflicted with this syndrome.
This fundraising raffle raised around $3,000 for Lilly. Although an Internet Auction, PSK member Jim Smith purchased $100 worth of online raffle tickets and ended up winning the raffle! He later sold the entire collection to Jim Keffer, who now displays the collection in his shop, scene of weekly Friday Knap-ins and at other PSK events.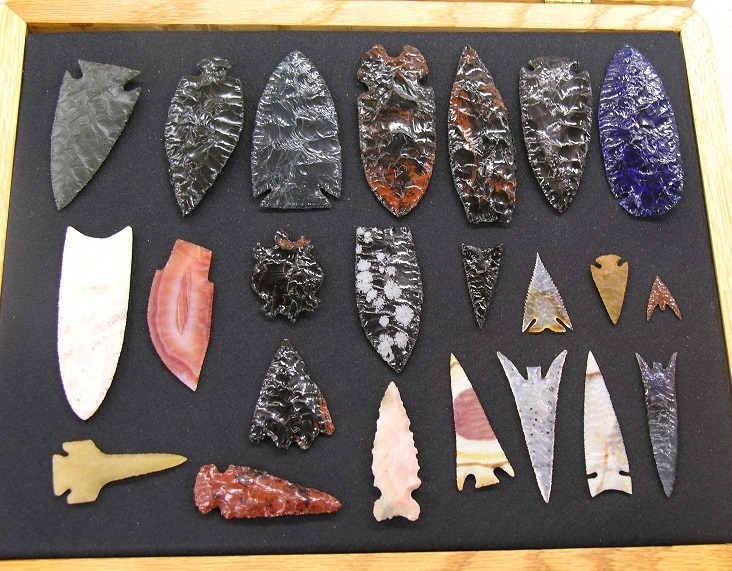 Dave Raushenberg's Additional Contribution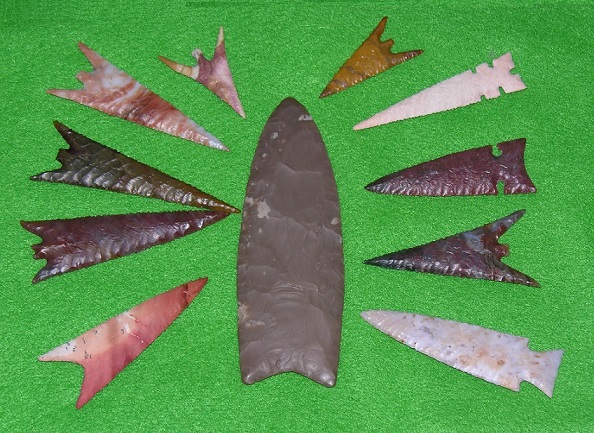 Contributing to the first display were the following:
Left to Right, Top to Bottom
Dave Rauschenberg - Dacite Point - 'Corner Notch'
Jim Smith - Black Butter Obsidian Point - 'Turkey Tail'
Mick Hill - Blue Spiderweb Obsidian Point 'Corner Notch'
Dick Kocan - Midnight Lace Obsidian Point
Jim Smith - Midnight Lace Blade
Joe Higgins - Purple Obsidian Point - 'Corner Notch'
Webb Hammond - Blue Glass Point
Dick Kocan - Midnight Lace Obsidian Point
Jim Miller - Burlington Chert - 'Clovis'
Jim Miller - ' Brazilian Agate 'Blade'
Bruce Goulet - Midnight Lace Obsidian - 'Eccentric, Turtle'
Bob Bower - Midnight Lace Obsidian Point (below Bruce Goulet, 2nd row)
Woody Woodside - Snowflake Obsidian Blade
Ray Harwood - Black Butter Point - 'Wintu/Ishi Point'
Steve Alley - Montana Moss Agate Point
Barney DeSimone - Sunset Jasper Point
Dana Anderson - Mahogany Obsidian - 'Winged Point'
Jim Miller - Hixton Quartzite - 'Drill'
Tim Evans - Pumpkin Obsidian Point
Tim Evans - Burlington Chert Point
Tim Severn - Bullseye Jasper Point
Dave Rauschenberg - Montana Moss Agate Point
Jim Hopper - Piute Agate Point 'Wintu/Ishi Point'
Dana Anderson - Rainbow Obsidian Point
Display cases by the late Jim Rayner, donated by Jim Keffer