Steve Berggren March 26, 1941 - June 30, 2010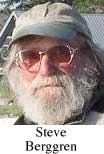 From the Daily World - Grays Harbor, WA

Steve W. Berggren, a long time resident of Westport, passed away June 30, 2010 in Aberdeen, Washington. He was born March 26, 1941 to Algot and Agda Berggren. He was raised and attended schools in Tacoma, graduating from Lincoln High School, later becoming an engineer and surveyor.
Steve served in the Army in Lybia working as an engineer and surveyor. He also worked for the City of Hoquiam and Brumfield Construction. Steve belonged to the Gillnetters Association, and fished the waters of Grays Harbor including Westport, Willipa and the Columbia. He belonged to the Grays Harbor Coin Club and Rock Club, and VASSA.
He enjoyed fishing, clamming, gold mining, rock hunting, stamp and coin collecting. Steve was very political and a constitutionalist and loved debating politics. He enjoyed visiting friends and was always going to hospitals and nursing homes to see someone.
Steve is survived by a brother, Tom of Portland, Ore.; a special friend, Jerrie Johnson and close friends, Linda Newman, Shannon Willis, Donnie Johnson, Alan Norberg, John Dickinson and many more. All will miss him.