In Memorium Ronald Alvin Correll
aka 'Arrowman'
August 11, 1939 - March 4, 2014
Rest in Peace
by Dr. Joe Higgins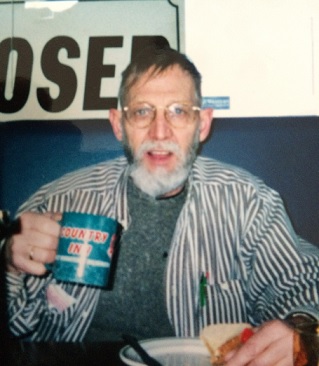 Ronald "Ron" Alvin Correll, 74, of Fredericktown, Missouri died Tuesday, March 4, 2014. He was born August 11, 1939 in Bellingham, WA., the son of Bert Walter and Frieda (Elsasser) Correll and was raised in the Ferndale, WA area.
He served his country as a radar technician aboard the USS Indianapolis. Ron was an accomplished welder, owning several shops that produced fine wood stoves, among other items. He also spend time with the Lummi Tribe near Ferndale. And Ron was a religious man, never far from his bible.
Ron also had a wanderlust. After raising a family he hit the trail as a road gypsy.
For PSK members, Ron added his expertise in the field of archery, knapping and philosophy. When I first met Ron in 1991 we were knapping in my garage when he appeared with his hat glued thick with stone arrowheads, hand-tied flies and beaded Native American Art. He did a Indian war dance around the garage singing an Indian chant and smoking - Ron was addicted to "tabacci". He instantly adopted us and we were forever stuck with 'Ronski'.
Ron was an expert archer and is nickname "Arrowman" was well deserved. He loved to eat venison and had no trouble putting deer in the freezer via bow and arrow. His arrows were works of art and he could make them quickly. We've adopted his methods and continue to teach his techniques.
While a road gypsy, Ron never stayed long in one place but when you met him you never forgot him. Some thought that there were several Ron Corrells - but that's another story.
Ron loved "discussing"various subjects - and nothing was off limits. He was always tweeking people - sometimes to the point of nausea - but that was Ron!
We had a saying about Ron - 'He enjoyed seeing the world through a rear view mirror and he always burned his bridges before he got to them'!
All these memories describe a very complicated person known as Ron Correll.
Ron made his final trip on March 4th, 2014 and I hope his Maker has a place for Ron!
Ron aka Arrowman's ashes, per his wishes, will be scattered in Oregon near the Little Deschutes River, Sunday, May 18th.
ps
Ron's body bore three, .32 cal holes and a half dozen double-ought buckshot holes. X-rays showed three chunks of lead still in him - again, that's a story for another time.