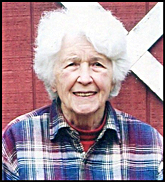 Patricia 'Pat' Hill Sep 23, 1926 – Jan 28, 2012
Pat Hill, a long time member of the Puget Sound Knappers Association and wife and mother to Knappers Elbert and Tom Hill, passed away recently.
She, El and Tome were frequent attendees of PSK knapping events, especially the Ft Knapadonia gathers hosted by Joe and Sunny Higgins. Pat was always friendly, fun to talk withs and one of the people who proved how important it is to have women be part of the PSK! Patricia (Pat) Alice HILL Loving wife and mother, passed peacefully after a long battle with Alzheimer's. Pat was born in St Peter, Minnesota on September 23, 1926 to Paul and Pearl (Ney) Schwarz. The Schwarz family moved to the Riverton area of South Seattle in 1942 with Pat driving the '36 Dodge Flatbed double-clutching all the way. She graduated from Highline High School in 1944, took pilot lessons, worked for Boeing for a short time, and watched the last B-17 come off the assembly line. Pat was crowned Queen in the Miss South King County pageant in 1947 the same year she met Elbert Hill from Seattle and thought it might be a good idea to marry this guy. Things were pretty normal as the couple settled in Burien, Elbert working for Ma Bell and Pat tending the home. Then the three boys came along and domestic tranquility became in short demand. The family moved to the Farm in Des Moines in 1958 and anything resembling normalcy went flying out the window. High adventures ensued on the 5H farm (registered brand) such as chasing escaped steers in downtown Des Moines, shooting rats through the hen house roof, and mending the thousands of cuts, abrasions, and lacerations suffered by her sons. The family took uncountable hiking, fishing, and camping trips in the Olympics and Cascades, including packing horses in the Pasayten Wilderness which Pat dearly loved. As a mother she had no qualms about cutting the phone cord stretched across HER kitchen, breaking up brotherly fights in the house with doses of cold water or offering a kind shoulder to cry on. Pat was just as at ease at the annual hunting camp and could shoot and field-dress a mule deer with the best of them and then cook up a real mean camp stew. A member of the Southgate Eastern Star, she and Elbert involved themselves with many community events such as riding in the Des Moines Waterland Parade in the horse and buggy; the Backcountry Horseman of Washington, the Pythian Sisters annual plant sale (showing off her green thumb talents) and volunteering for various events when asked or needed. Pat was a wonderful homemaker, mother, and wife with passions including gourmet cooking (although there was an on-going disagreement about her early ability to make pancakes), knitting (especially wool hats and socks), and enjoyed playing tennis. Her vibrant yet humble and engaging manner will be missed by all that knew her. She is survived by her devoted and loving husband of 64 years, Elbert, still on the farm; Sons Tom (and Linda) in Federal Way; John (and Janice) in Kettle Falls, WA; and Jim (and Heidi) in Auburn. Grandchildren are Stephen, Brian, Trisha, Kerry, Tealah, Jesse along with nine great-grandchildren. She is also survived by her sister, Phyllis Birge in Kent and brother, Paul Jr. (Chuck) Schwarz (and Doris) in Ellensburg. Goodbye Pat: Thanks for everything. Goodbye Mom: Nobody could have done it as good as you. Funeral Service will be held on Friday, 02/03 at 11:00 am at BONNEY-WATSON Washington Memorial, 16445 International Blvd., SeaTac, WA. Please sign the guest book at: www.bonneywatson.com.