8/3/2014


I'm an absolute noob when it comes to flint knapping, but I do claim some skill as a baseball player* from back in the day. That's why I was in Columbus, Ohio on July 23rd. The 1973 Ohio State Baseball team held a reunion and my ulterior motive for attendance was that Flint Ridge is only 40 miles east.

My childhood buddy and host for my time in Columbus, Dalous Byrd, surprised me with his parallel interest in knapping and we arose on Thursday the 24th with high hopes of visiting the Flint Ridge State Park to tour the aboriginal quarries along with the associated Museum. We checked on-line and our initial hopes were dashed when we learned that the museum was open only on the weekends, Saturday 9-5 and Sunday 10-5. Whodathunkit! Oh well, the park was open during daylight hours every day all year, so we could still enjoy viewing the ancient quarries, and after that, we'd visit the Nethers farm where we could dig up some flint of our own.

At Nethers' farm knappers dig their own holes, collect flint, and pay by the pound, on the honor system. Stop by the Nethers' home on the way out and enter the porch where there is a scale and some envelopes. Weigh your rock and place the fee of $5 plus 50 cents per pound in an envelope and slide it under the back door. Just like that, never have to speak to anybody.

I'd also had a few email exchanges with the renowned Ohio knapper Roy Miller. Perhaps I could stop by his shop and save the shipping costs for a few pieces of heated and preformed Ohio Flint? Struck out there too since he didn't have any stock on hand and lives 70 miles north of Columbus. He did mention that he might be at his private quarry around the time of my reunion and told me to call when I arrived. I decided to refrain from imposing and instead to try my luck at digging at Nethers.

Dalous and I pulled into Flint Ridge State Park about 45 minutes after leaving his driveway in Columbus. The area is beautiful maple wooded rolling hills interspersed with farmland tall with corn. The park was right where the GPS on my phone said it would be and we noticed dozens of little girls running around in identical red T-shirts. We figured there was a summer camp outing and went about our business of walking an improved trail where we saw depressions in the woods that were probably ancient quarries. Here and there a boulder of Ohio flint drew our interest and tested our morals, but we succeeded in taking only pictures. Lifting anything from the park is strictly forbidden. Not to mention the fact that frostbitten Ohio chert would be particularly un-knappable.

Flint boulder along one of the quarry paths at Flint Ridge. Size 11 foot is for scale.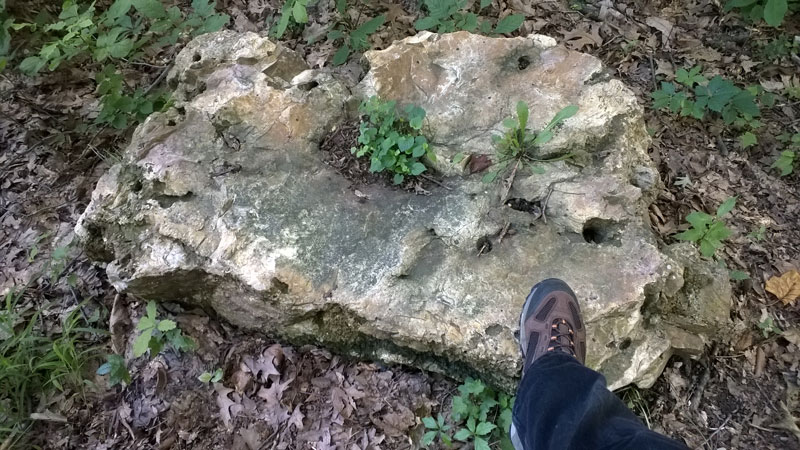 The path led us back to a central building that we surmised was the museum and we decided to look at the handout material offered on one of those pocket displays tacked to the entryway wall. While I admired an outdoor display of flint that ranged from pebbles up to several boulders that topped out at 200 pounds or more, Dalous noticed that the door to the museum was cracked a bit. He pulled on the handle and the door opened.
We entered, and yelled for someone, anyone, in the fully lighted space, but nobody answered. We decided a self-guided tour was in order and thoroughly enjoyed ourselves. I noticed several bins of preforms in the gift shop that ranged in price from $2 each to $6 each. I wanted a few of them to bring home, so we sought out an adult.
Dalous inspecting a flint boulder and flint garden in front of the Flint Ridge Museum - Just before we sneaked in.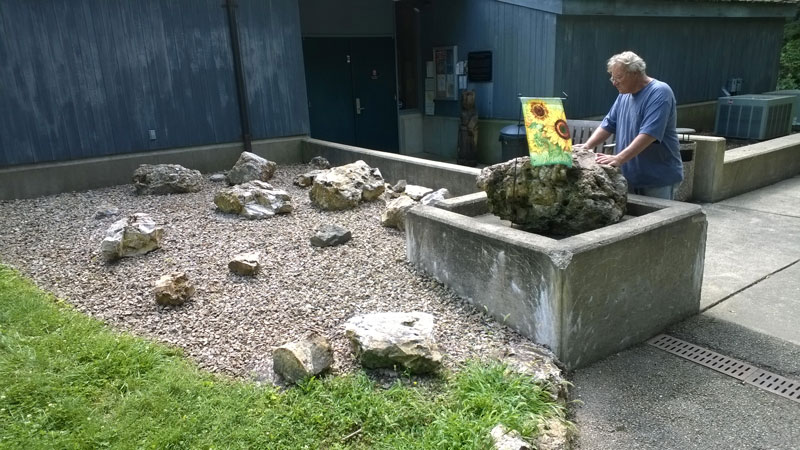 This is the boulder from the previous picture, I'm in place of Dalous and he's opening the door to the museum.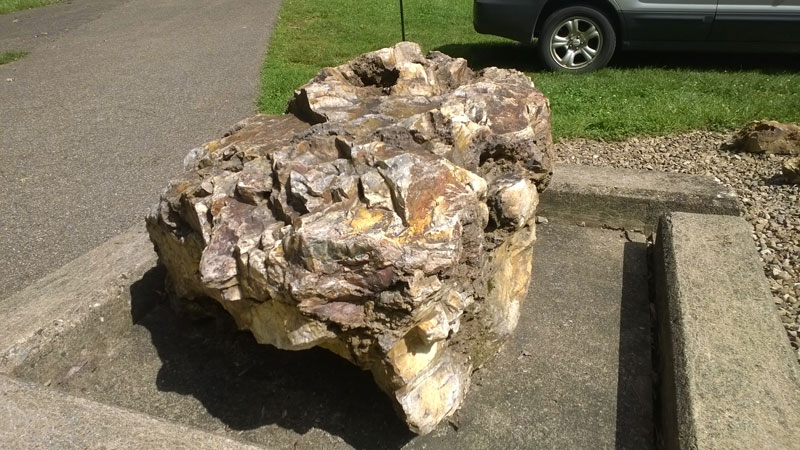 Inside the Museum, which is built over an original Abo quarry. The Aboriginal Hominid is plastic.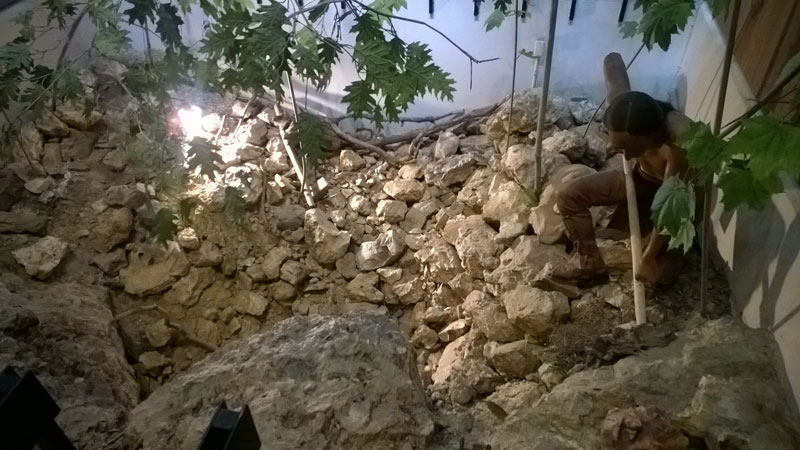 One of the Abo point displays in the museum.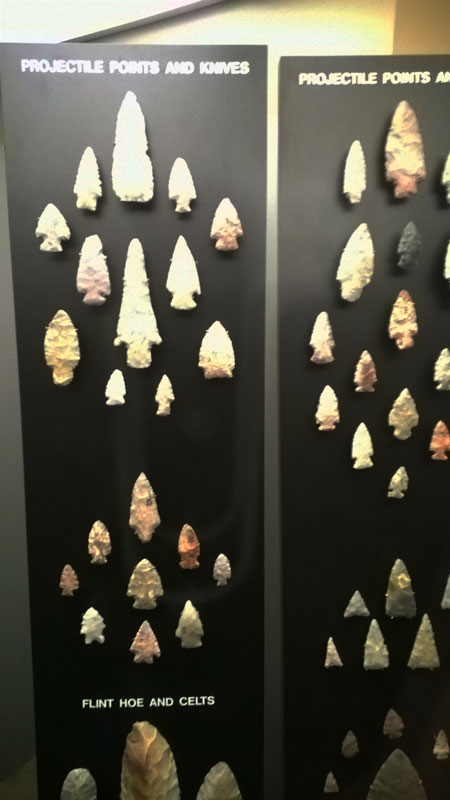 Outside, we found a lady not far from the front door who was teaching a group of the red-shirted little girls how to make dishes out of noodle-shaped clay, Ohio clay no doubt. She scowled at me and I offered, "I take it by the look on your face that we weren't supposed to be in the museum."
"No, you weren't, it's closed."
"Well, the door was open and all the lights were on, and now we want to buy some stuff if that's possible."
"You'll have to talk to 'Bill Weaver'," she said.
"Where can we find him and what does he look like?"
"He's on the trail with a group of girls and you can't miss him, he's six eight with white hair. He should be coming out right down there," she pointed to a trail exit.
We headed up the trail and found Bill teaching the girls about the forest and the ancient quarries, which are now mostly depressions filled with leaves and dirt, and water in some cases. Bill was a giant next to the girls and when he ended his talk we approached. We explained what had happened and that we were both newbie knappers, one of us all the way from Seattle, and he offered to allow us to join his group for a guided tour of the museum, where they were presently headed.
Dalous and I are not flyweights at 6'5" and 6'2" respectively, so it must have presented quite the spectacle as we trouped out of the woods, giant Bill first, a dozen little girls, and two more giants at the end. The scowling lady now smiled, and even giggled a bit.
We had a wonderful tour of the museum and were included as knappers in the discussion, We told about how we make big rocks into little rocks that vaguely resemble arrow points. After the tour was completed the girls were released to their caretakers for lunch and Bill allowed me to purchase a half dozen preforms and Dalous bought a T-Shirt, not red, it said Flint Ridge.
I asked Bill where the museum sourced the preforms and he said "Roy Miller."
"I've had a couple email exchanges with Roy but figured I'd not pester him," I said as we exited the museum into the brilliant sunshine.
"I think he'd love to meet you," Bill said, "and today's your lucky day, he's right there," and Bill pointed at a man a couple hundred yards away, across the street from the park, inside a chain-link fenced off area the size of a country home lot.
I drove over with Dalous and we pulled right into the Miller private quarry area. I introduced myself as the noob who emailed from Seattle and Roy warmed right up. He treated both of us like honored guests and sent us home with a bucket of rocks. I felt like I'd won the lottery, and since I can't heat treat the stone, I brought it back for PSK members to wrestle with.
I promise to 'wrestle' with it

Reefer
This is what Barry brought back to us. Ben Franklin for scale!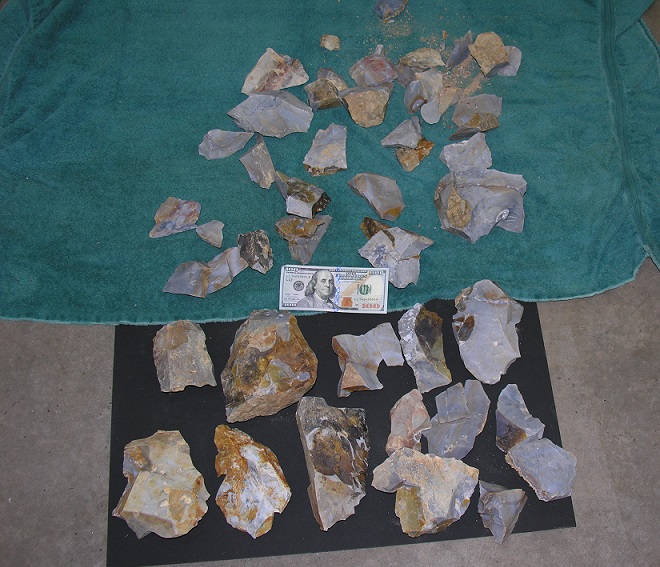 Roy Miller standing on a massive flint boulder in his personal quarry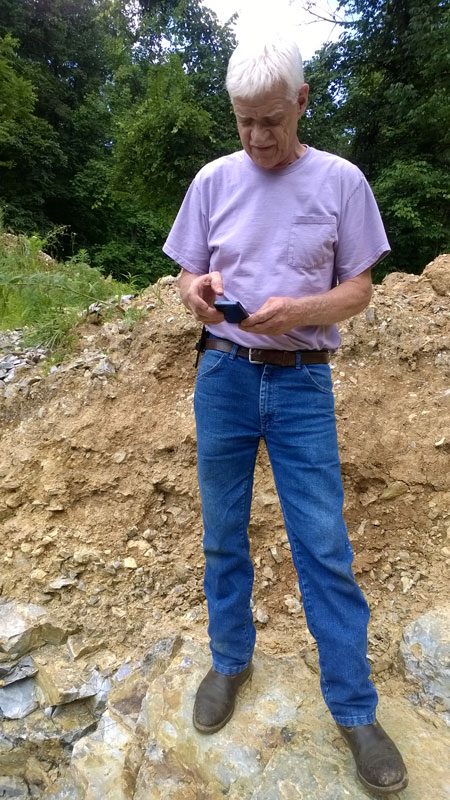 Barry and his new buddy, Roy Miller in Roy's quarry.
That's one gigantic flint boulder foot stool.
Dalous took this picture while standing on the grass behind Roy in the previous picture.
No telling how far back that boulder goes. I could maybe get a couple bird-points out of it.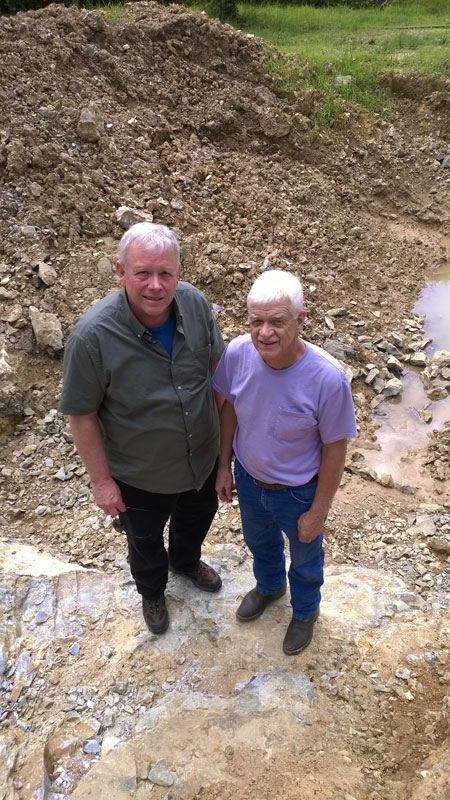 I'm informed by those who know, that the best time to visit Flint Ridge, Ohio is during the annual Spring Knap-in, held by the State Park in May--or during the Flint Ridge Lithic Society hosted Knap-in in August. This year it runs from August 28th through the 31st. Admission $5.00 per vehicle.
Contact info below:
Roy Miller
(330) 473-7041
Roy@RoyMillerFlintRidge.com
Ed Moreland
(740) 501-8483
Ed@FlintRidgeRockbreaker.com
Flint Ridge Museum
Pat and Bill Weaver
(740) 763-4127
Nethers Farm Link
http://mcrocks.com/ftr10-1/StreeterSeptember2010.html
* Editors note : Saying he claims some skill as a baseball player is a gross understatement - Barry played 10 years in the BIGS.