PVC Bow Class
Sammamish, WA April 2015
(By Jim Keffer)
Bows from PVC Pipe - who would have thought the PSK would get involved with this!
On April 11, 2015, PSK member Nicholas Tomihama conducted a free class on how to make archery bows from simple PVC pipe!
First a little background - Nick joined the PSK a little over a year ago to learn to make stone arrowheads that he one day might use. When he learned that a number of PSK members were also archers and/or bowyers, he introduced us to some bows he made of PVC Pipe - regular schedule 40 PVC you can get at most local hardware stores. Nick not only made the bows but he wrote the book on PVC pipe bows or should I say books. Nick is the author of 'Simple PVC Pipe Bows, 'Takedown Archery', 'Backyard Bowyer', 'The Impossible Bow' and at least five other books.
In 2014 and 2015, Nick attended the Glass Buttes knap-ins and introduced more members of the PSK to PVC Pipe bows, including renowned bow maker Steve Allely. Steve was so impressed that he said 'if there is ever a Bowyer's Bible 5th Edition, he'll see that a chapter on PVC pipe bows was included'!
On April 3rd, 2015, Nick called me to say he'd be in my area the weekend of April 11th and 12th and would I be interested in hosting a free PVC pipe bow class. How could I not?!? I immediately sent out an email to the local PSK members and received RSVPs from more than a dozen interested archers/bow makers.
Making a simple yet powerful PVC pipe bow isn't terribly difficult but you have to know what you're doing. And the cost is minimal - 4' - 5' of 3/4" schedule 40 PVC will yield a bow of 35 to 45 pound draw weight. And you only need a heat source ($9 heat gun from Harbor Freight works great), and a couple of 2" x 4"s and some 3/4" blocks of wood. With practice a motivated individual can make a 40+ pound draw weight bow in 30 minutes or less! A bow with a 60 lb. draw can be made the same way from 1 inch schedule 40 PVC in the same abount of time.
We held the class on April 11th at my shop and here are some photos:
Nicholas Tomihama heating and shaping the PCV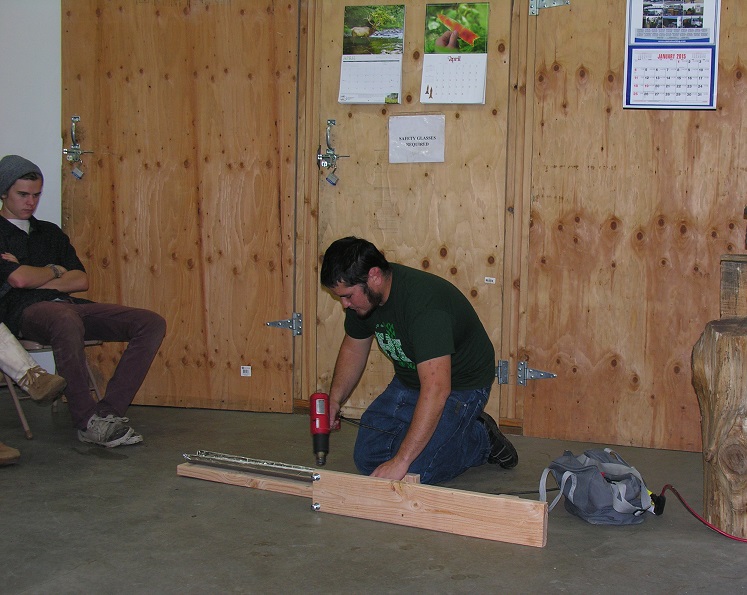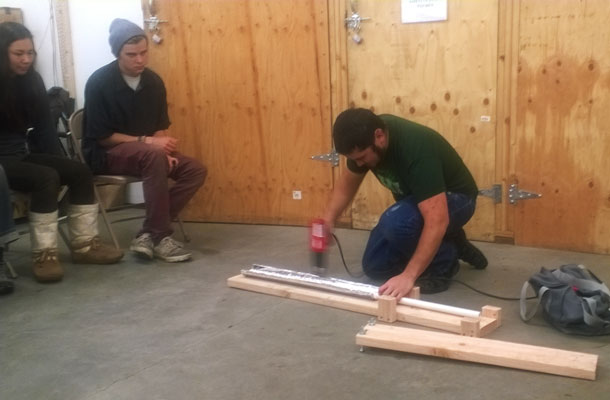 Close-up of the shaping jig. This is simply two 2x4s (or 2x6s) at least 36 inches long. One has spacers, either blocks of wood or adjustable bolts, at one end to allow for a taper fron handle to nock end.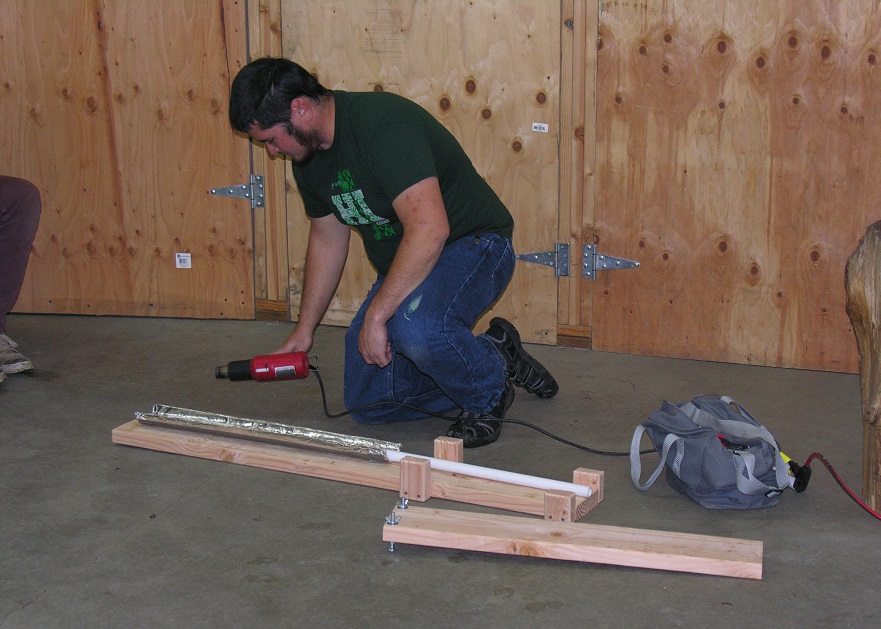 Nicholas Tomihama applying pressure (at last 150 lbs of weight) to the jig to produce a flat taper from mid-point (handle) to end.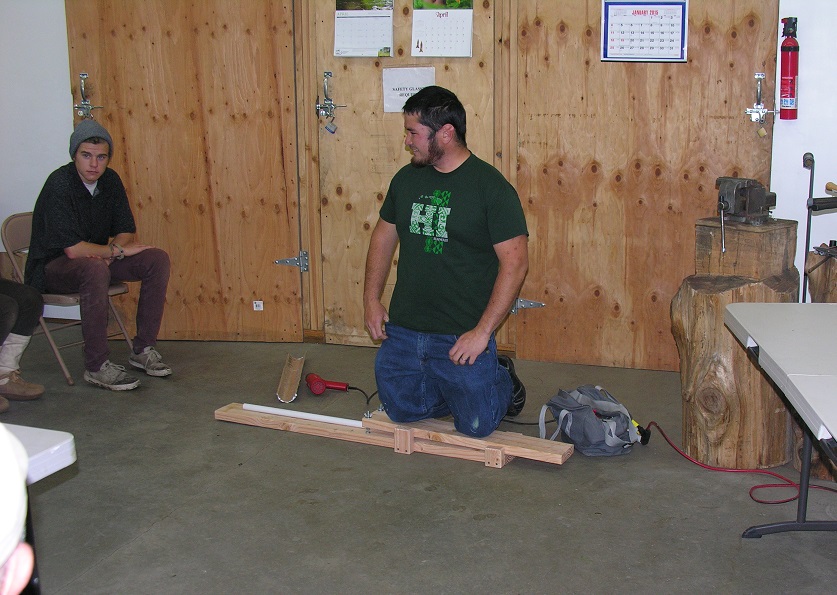 Nicholas Tomihama crimping the ends in preparation for the string notches. To do this he first re-heats the tip end(s) of the bow until they return to a round shape. He then presses the tip flat at 90 degrees to the bow taper. To input some recurve he also bends the lat 6 inches to about 60 degrees from straight.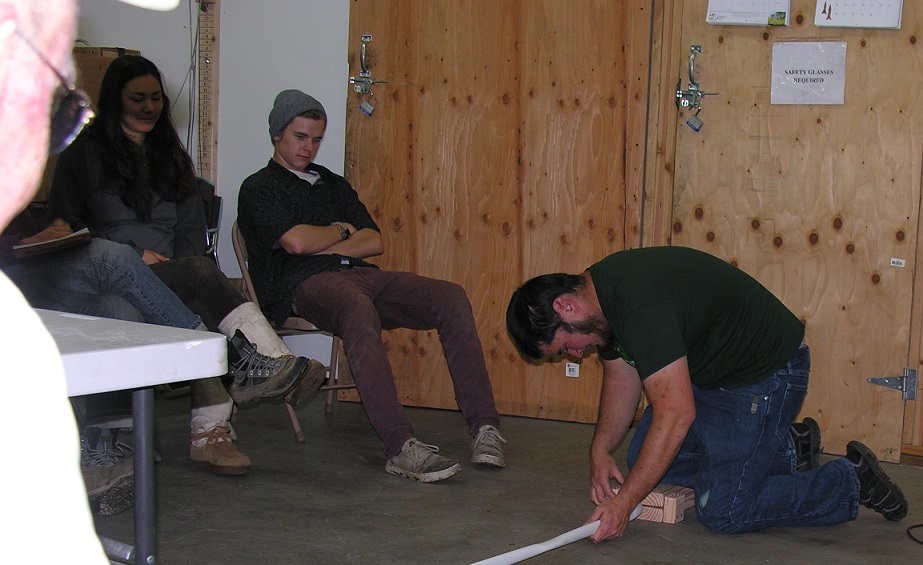 From the Wilderness Awareness School - Carmelo, Brock and Adam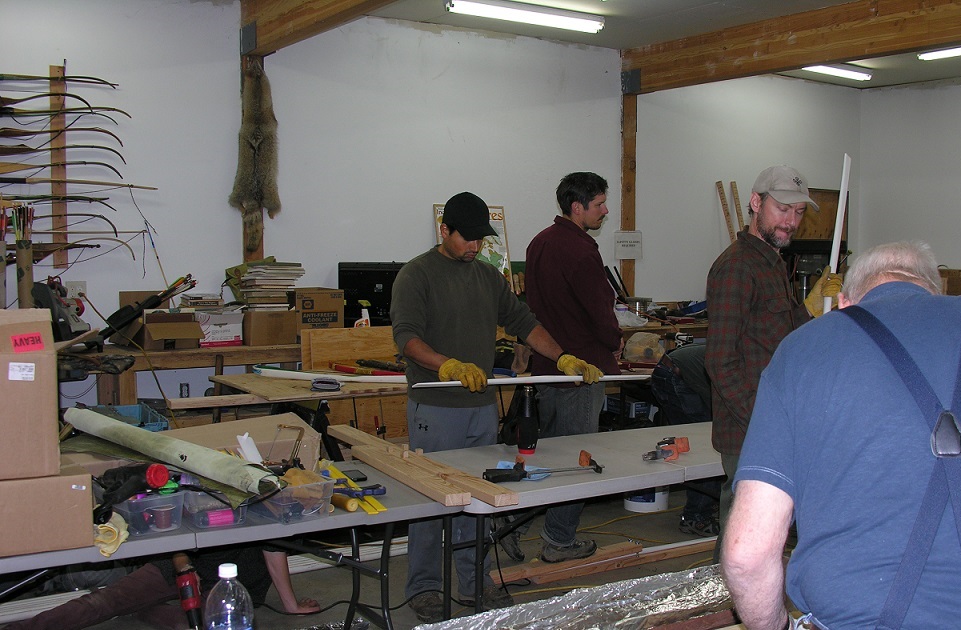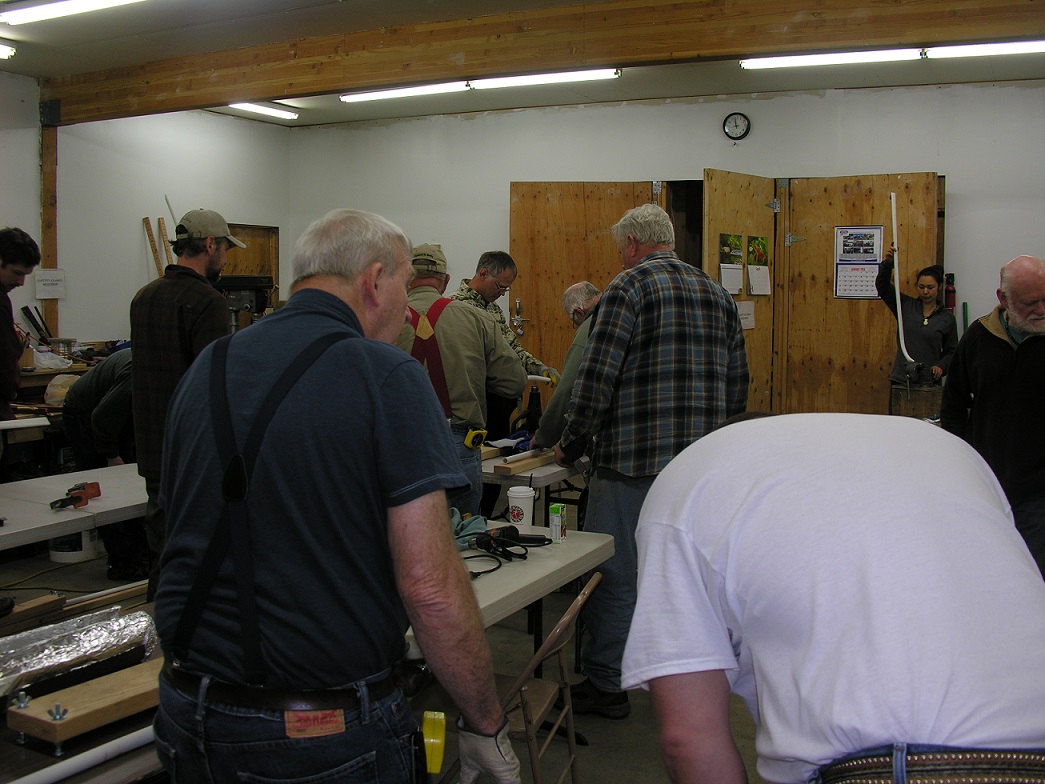 Jim Smith heating the PVC in a home made heat comcentrator - foil-lined cordboard tube split in half.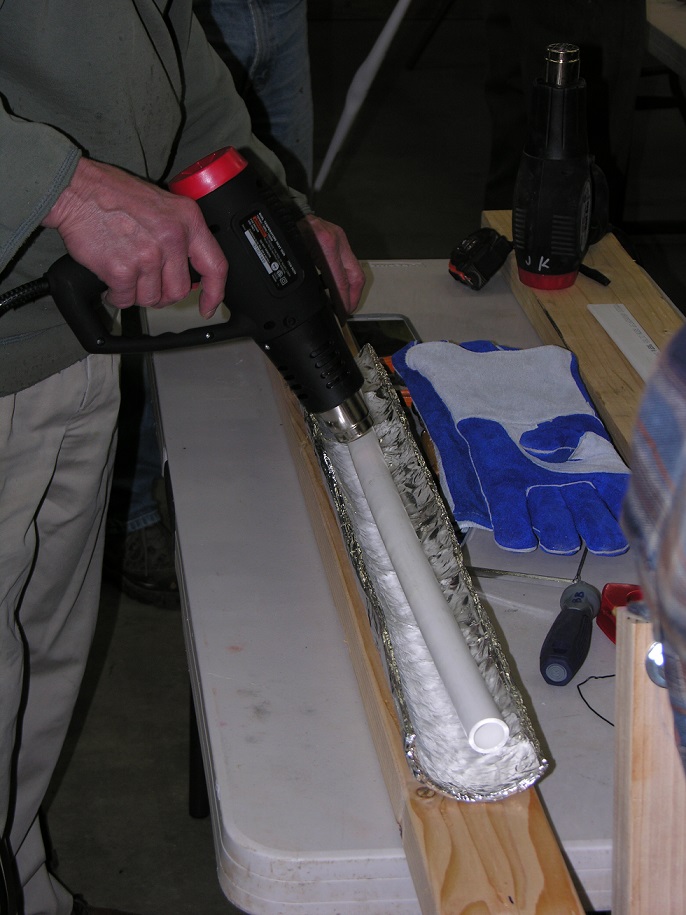 PVC 'oven' - Foil-lined box with a couple of heat lamps use to soften the PVC prior to shaping,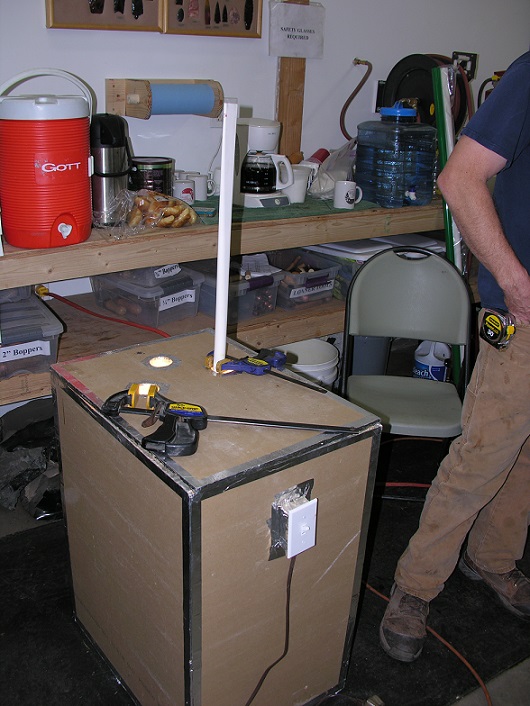 Brock's Wife crimping the end prior to cutting in the string notches. You can also see the 60 degree recurve.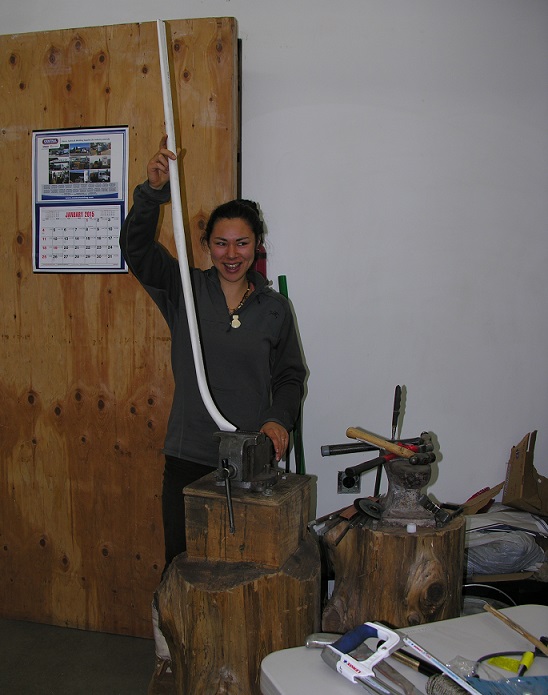 Nick checking the alignment on Max's bow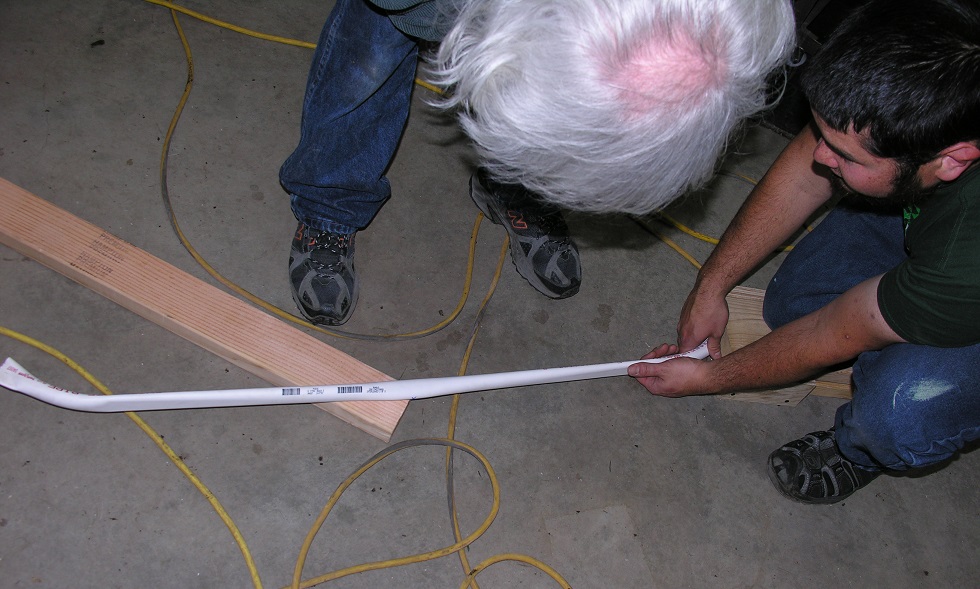 Adam's bow - complete with paint job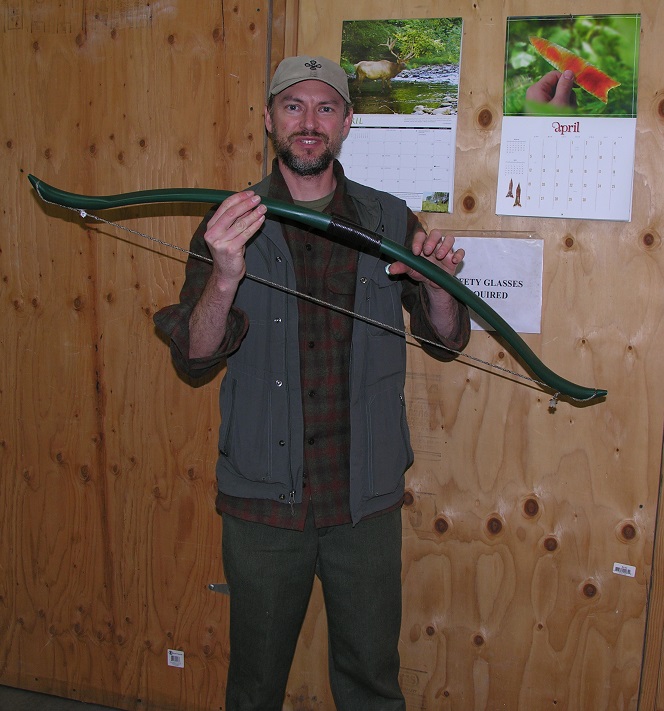 Woody Woodside and his work-in-progress Crossbow.BLaine Kuykendall looking on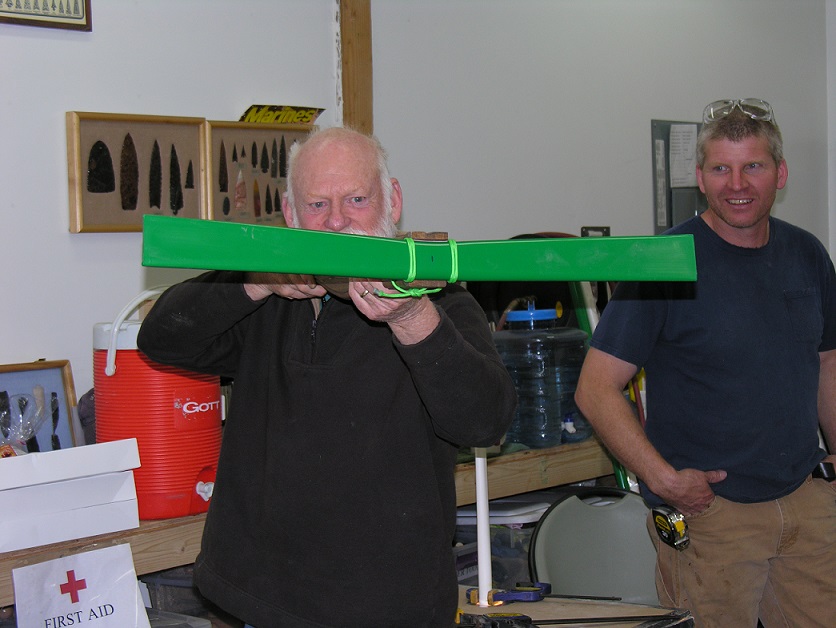 The Class
(left to right) Reed Kuykendall, Blaine Kuykendall, Joe Higgins, Jim Smith, Ted Kuykendall, Nicholas Tomihama, Adam Cypress, Carmelo Quetell, Ken Graham, Max Grow, Brock's wife, Brock Rodin,
Fourteen 'students' made 18 bows in about 5 hours. The bows varied in draw weight from about 34 pounds to 62 pounds using a regular bow scale. Cost of a single bow including string - approximately $2.