2015 Rocky Mountain House Knap-in Report
Rocky Mountain House Heritage Site
Rocky Mountain House, Alberta, Canada
Host - Russell Thornberry
July 9-12, 2105
This is what it is all about! Host Russell Thornberry and new KNapper!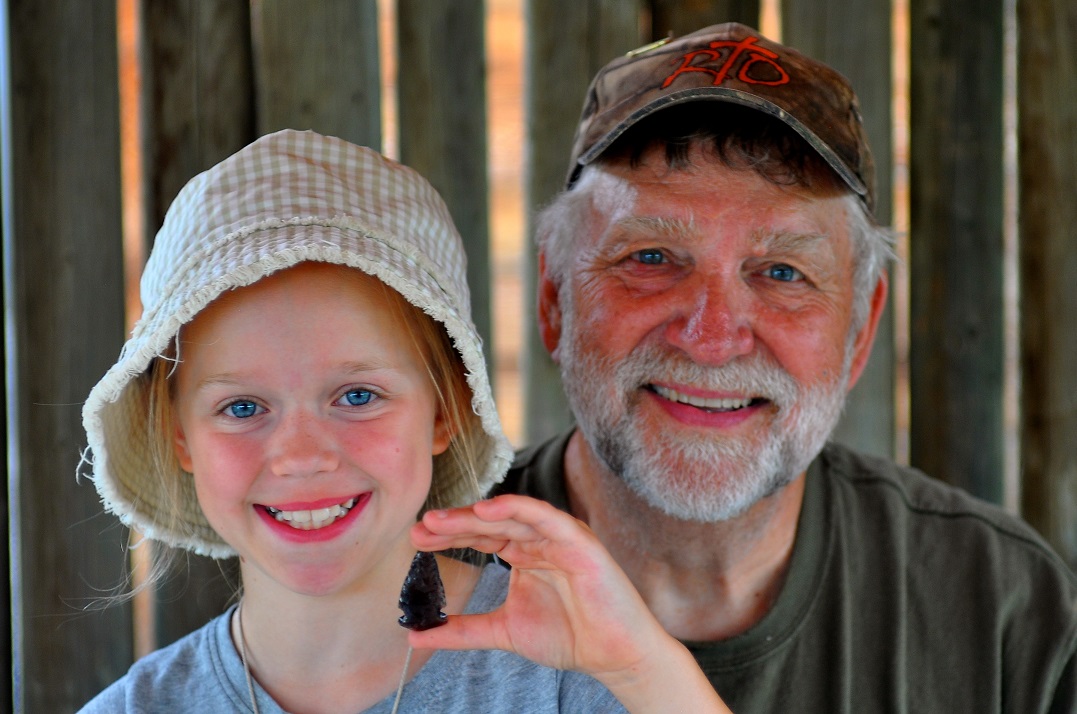 Canada's second knappin took place from July 9-12, 2105, on the grounds of the historic fur trading post located on the banks of the North Saskatchewan River near the town of Rocky Mountain House, Alberta. Russell Thornberry, a new member of Puget Sound Knappers, hosted the event with the help of long standing member, Barry Rogers, who organized Canada's first knapping at Fort Whoop-up in Lethbridge, Alberta, in September of 2014.
The Rocky Mountain House knappin was a great fit for the Legends and Legacy Weekend hosted by the historic site. Other events included knife and tomahawk throwing under the expert guidance and instruction of Andrew Thompson, as well as longbow shooting and At'latl throwing provided by Robert Edwards and other members of his Alberta At'latl Society. The Edmonton House Brigade dressed is period specific dress demonstrated the firing of old flintlock, black powder, trade rifles, as were common at the Fort until 1865. Native Alberta Indians were present with their traditional Tipis, demonstrating a variety of native crafts, including smoke tanning animal hides.
The event draws several thousand people annually so it was an ideal setting in which to introduce the public to flintknapping. Men women and children sat in with our knappers and learned to knap flint or obsidian points. Because of the advance coverage in the local newspaper, many people who had been curious about flintknapping showed up and were tutored by our veteran knappers. The smiles on their faces when they produced their first stone points were just priceless. Some of them were so excited that they stayed with us all weekend learning and delighting in their newfound passion. There is no doubt that they will be regular attendees of future knappins.
The public was quite surprised by the willingness of the knappers to invite them to sit down and try it. The interactive and experiential learning was a big hit and strangers quickly became friends. This aspect of our knappin was very pleasing to the Historic Site management. "When visitors come to our site and leave excited about what they have seen and experienced, we know we have succeeded," said site manager Travis Weber.
Through the entire weekend, experienced knappers sat beside newcomers and guided them through the basics of getting started. . No matter the level knowledge, the right person was always on hand.
PSK members Donn Paris of Washington, Barry Rogers of Alberta and Al Hill of Saskatchewan graciously provided plenty of rock, as well as knapping expertise for all comers.
The RMH Historic Site provided all the knappers with free firewood and free trailer parking and/or tent sites in close proximity to restroom facilities. As well, they provided their lovely High Water House facility for our Pot Luck dinner on Sunday night and everyone ate their fill with plenty of food left over.
An interested local visitor named Willie Kadatz came to learn about knapping and we learned that he was a career auctioneer, so he gladly offered his services at our auction after dinner. Willie was a real pro and added plenty of laughs (and bidding), which made the auction a lot of fun. We thank those who brought such great food auction items.
Overall it was agreed that the knappin was a roaring success and already there is enthusiastic talk about next year's event at the Historic Site, as well as September's knappin in Lethdridge, Alberta, hosted by Barry Rogers.
It is obvious that there are plenty of people in Western Canada who have waited for years to learn about flintknapping, so I anticipate that we will add many new names to our roster in the future. I am grateful to PSK for their dedicated members willing to cross the 49th Parallel to help us Canuks get into knapping
Rocky Mountain Heritage Site
The scaled down replica of the original "Rocky Mountain House" fur trading fort offered our PSK gang a perfect place to knap and share knowledge with interested onlookers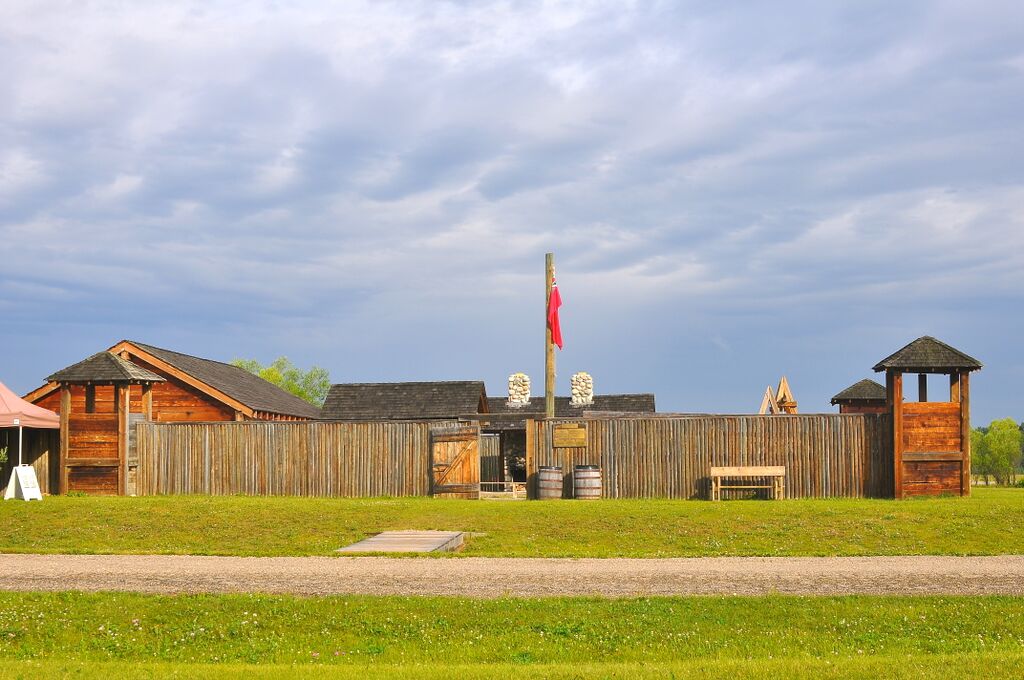 Canada's flag, the "Maple Leaf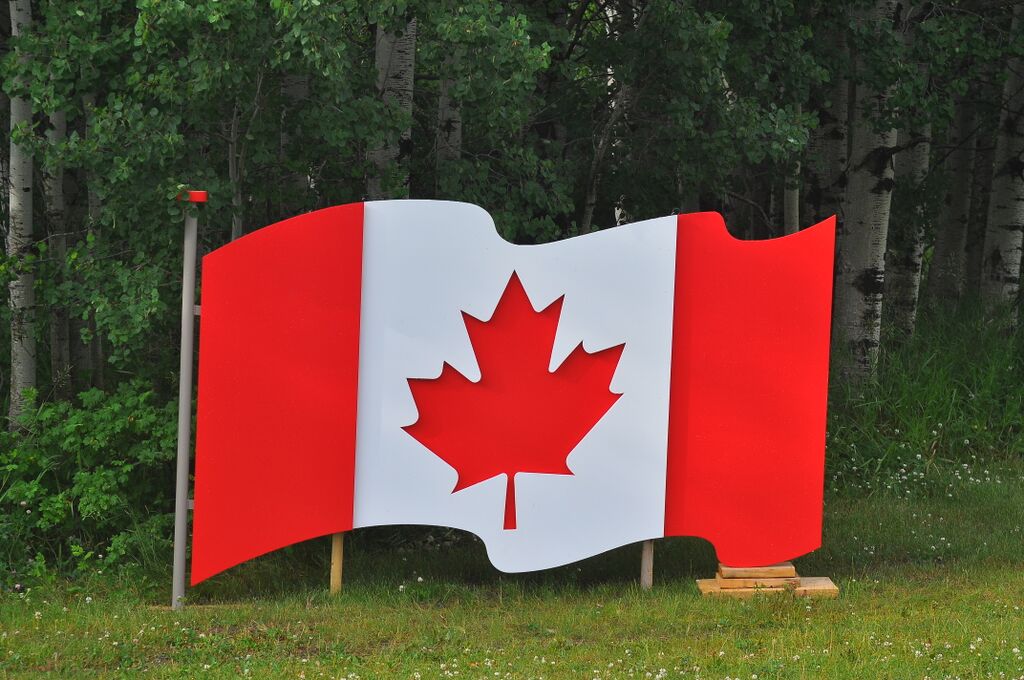 Another view of the fort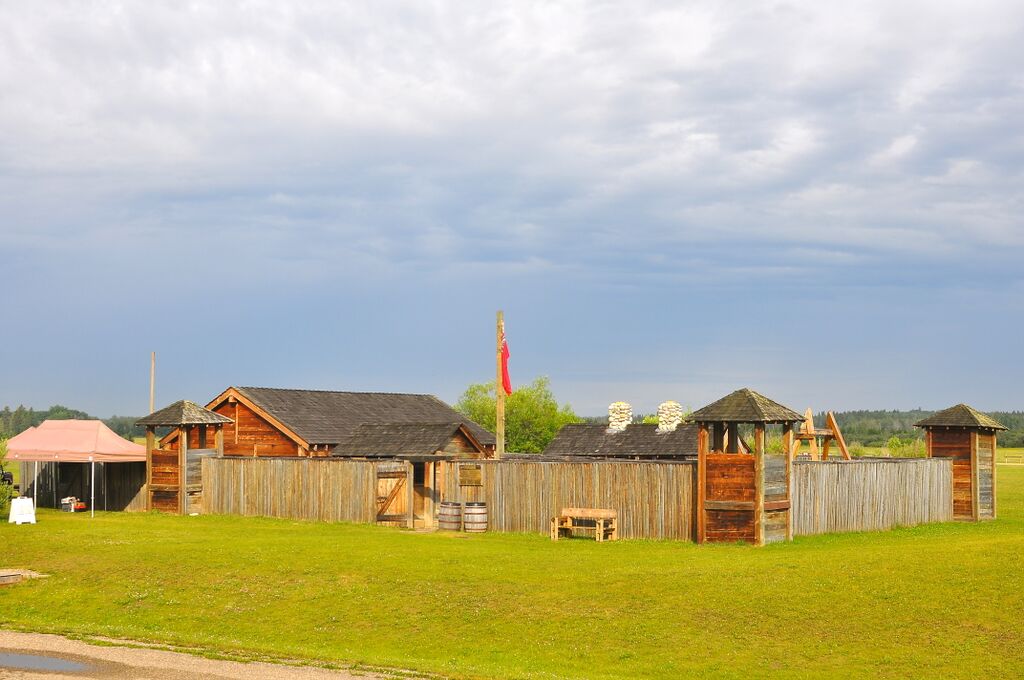 Veteran knapper, Donn Paris (right), put a big smile on Roy Trace's face (left) as Roy's dream of learning to flintknap became a reality! In the back ground Ernie Russell (right) and Don Simonson (left) also came to learn and spent four days with PSK. They all left happy and can't wait to join us in Lethbridge, Alberta, in September.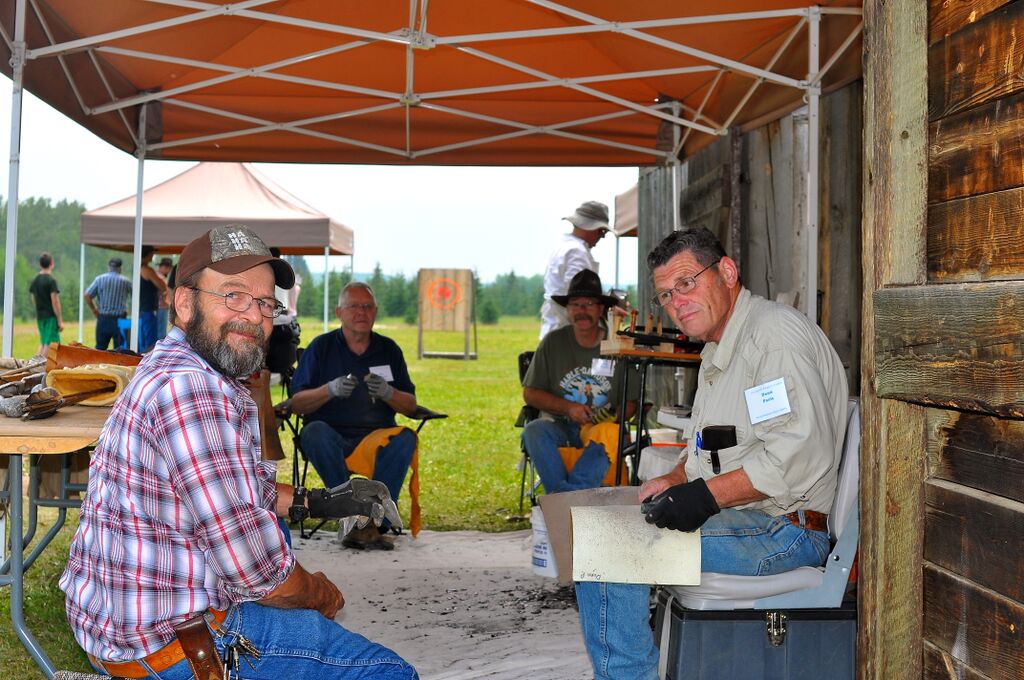 Peter Meyer of Calgary, Alberta, smiles as he mans his hammer stone for some abo knapping.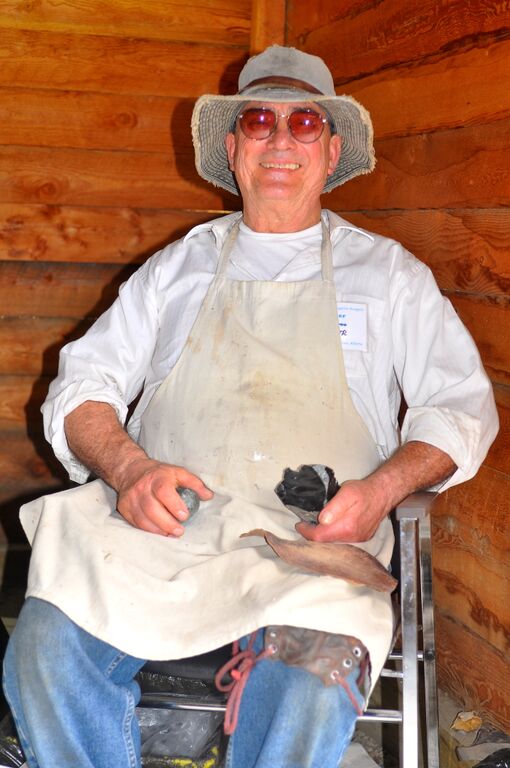 Barry Rogers caught knapping at the knappin!
Left to right: Adrian Breeuwsma of Alberta, Al Hill of Saskatchewan, Max Pedersen of Saskatchewan and Len Tenpas of Alberta, compare knapping techniques
Gabe Lamarche (left) of Prince Alberta, Saskatchewan, offers some knapping tips to Doug Shaw of Alberta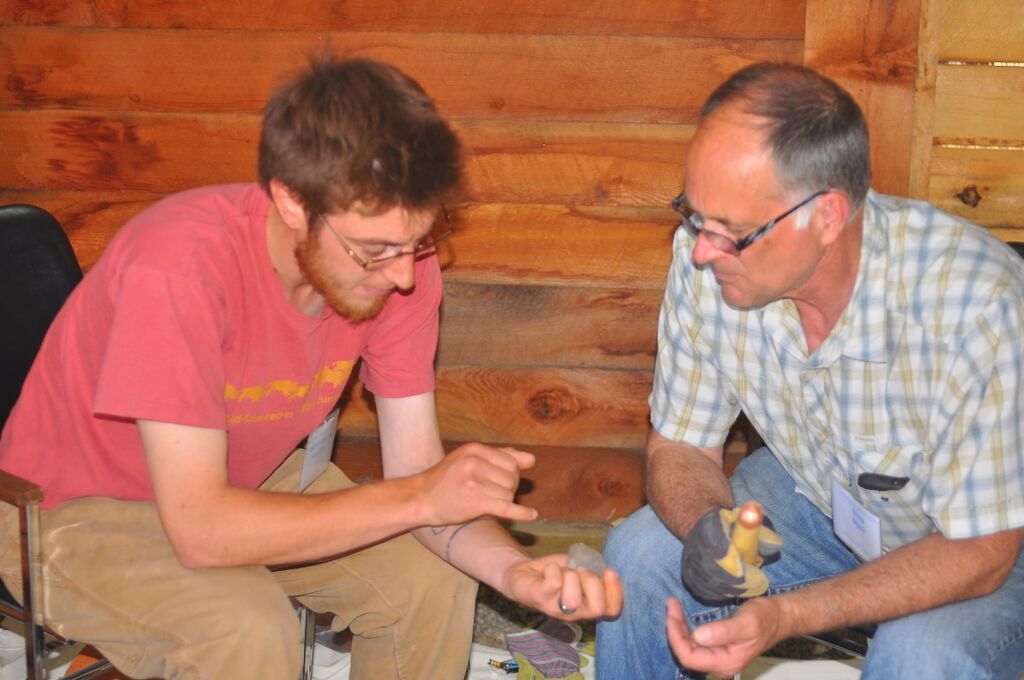 Don Simonson of Alberta, who had never seen flintknapping in his life, was so keen to learn that he stayed with us all four days of the knappin. Displayed on the table are abo knapping tools, self-bows and arrows and displays of points.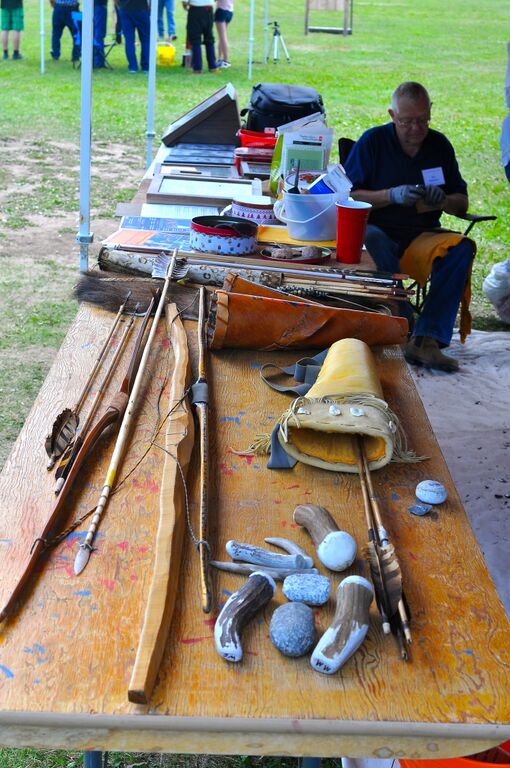 Newcomers to knapping, Don Simonson and Ernie Russell, are knapping away diligently behind the beautiful displays of points brought by Barry Rogers.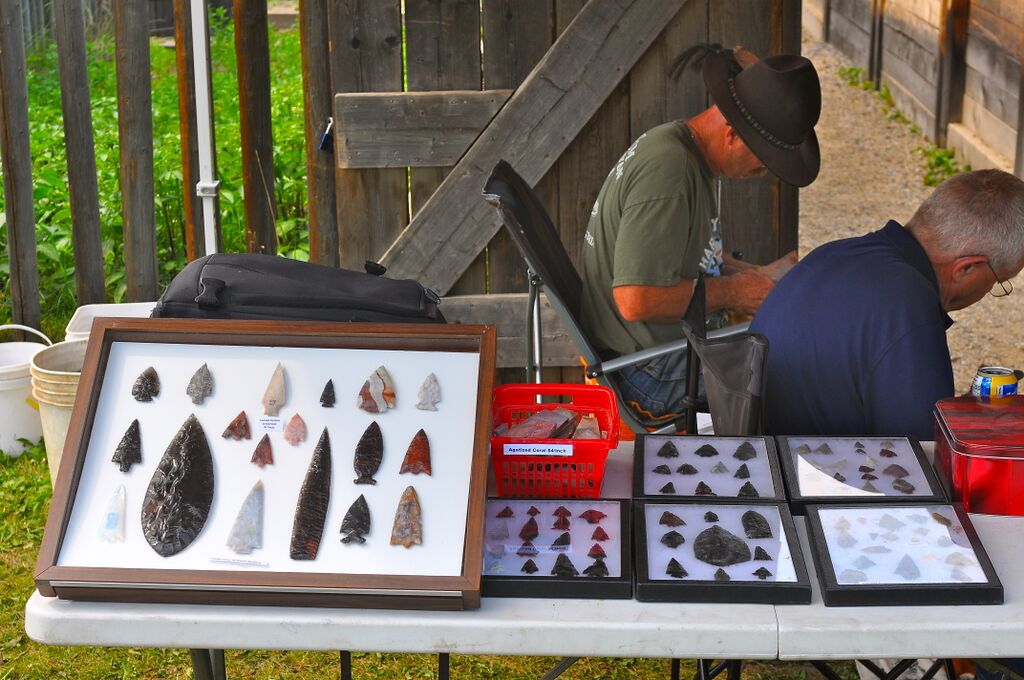 This cake tin is full of authentic points collected by Russell Thornberry in south Texas and northern Mexico.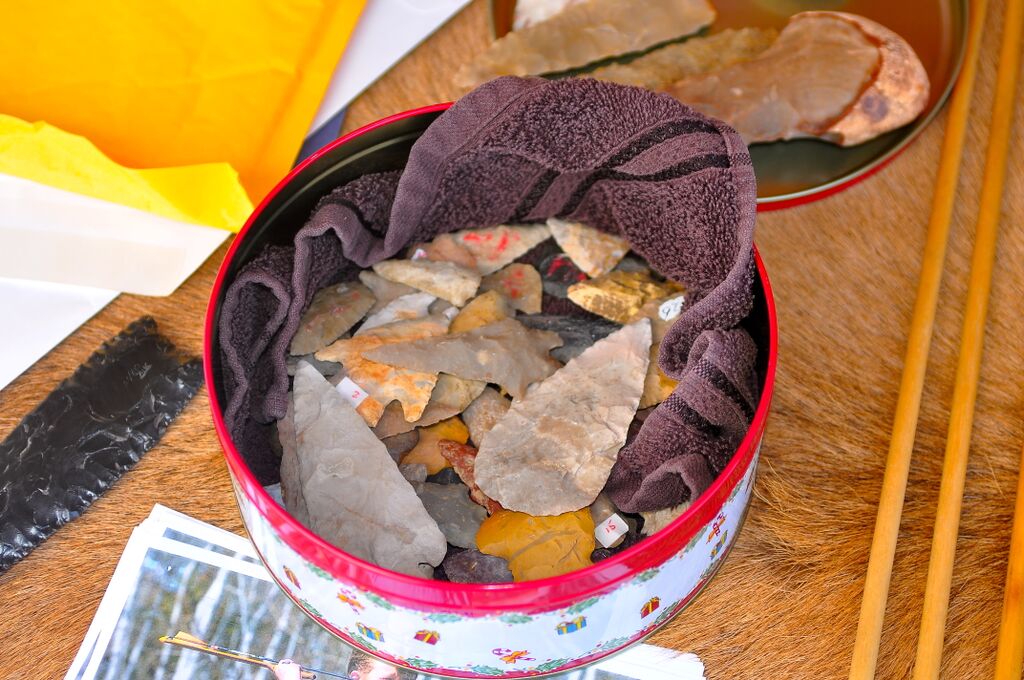 These large, modern points are among Russell Thornberry's collection knapped by some of his favorite "Super Knappers."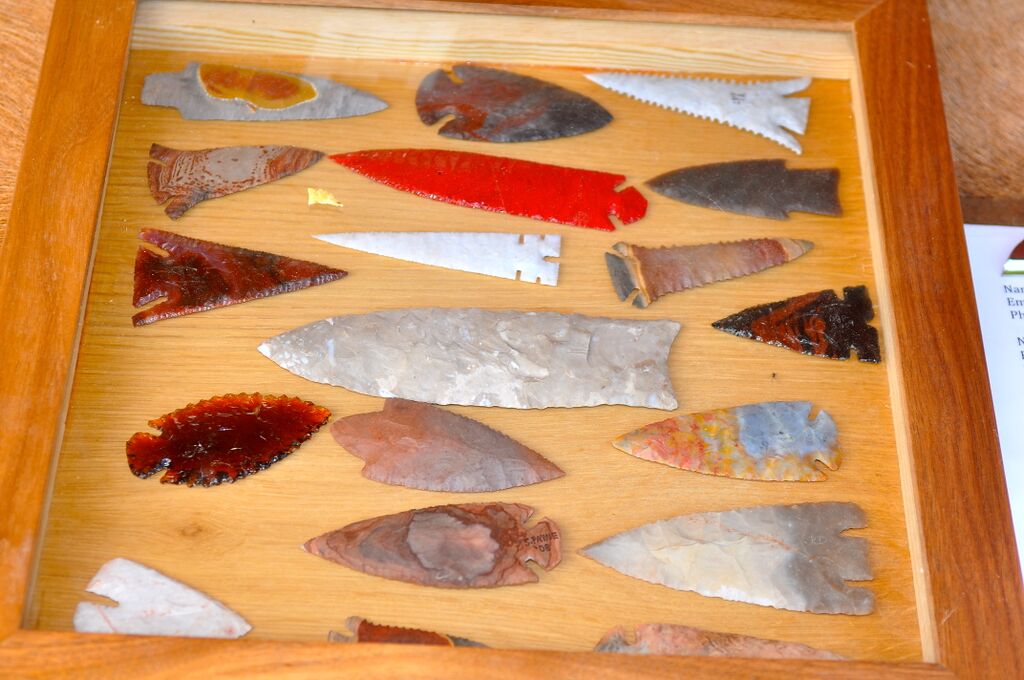 More actual arrow-sized points in Russell Thornberry's collection.
These Russell Thornberry knives are knapped from obsidian, coral and Flint Ridge flint.
These slab and point displays were provided by Barry Rogers.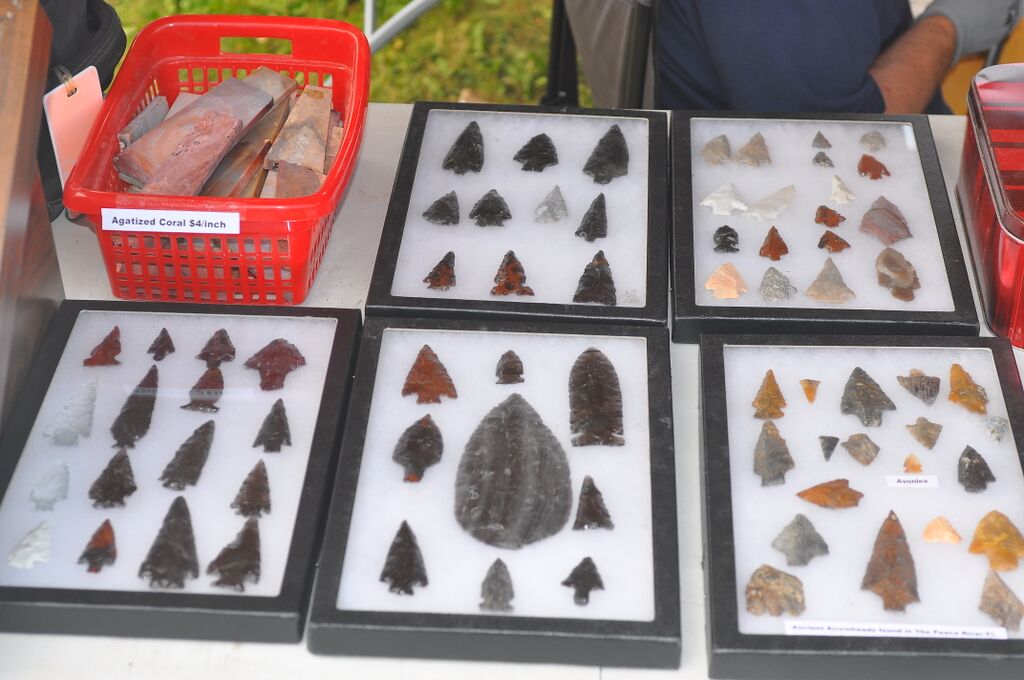 Darian Zdrill, of Prince Alberta, Saskatchewan, displays her first effort at flintknapping and she has reason to be proud. Great job Darian!
This little girl is one of many kids that came by and showed interest in flintknapping. She wears her enthusiasm on her face!
Primitive Skills and Other Activities
Andrew Thompson of Minnesota was on hand to teach folks the art of throwing (and sticking) tomahawks and knives.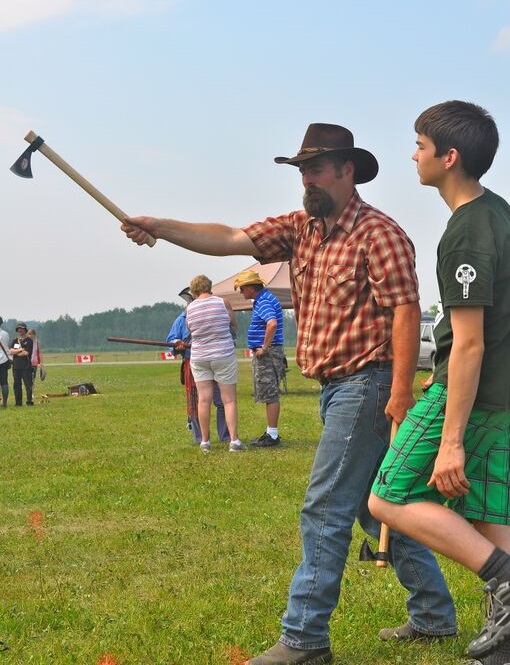 This young man had never attempted throwing knives or tomahawks and after a few minutes with Andrew Thompson he was sticking them like a pro!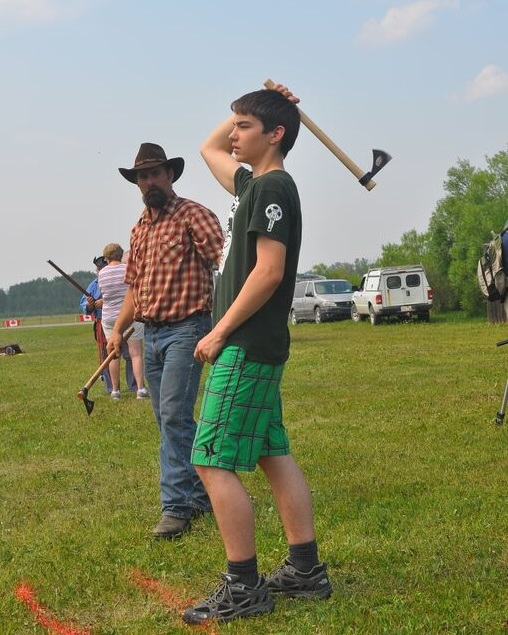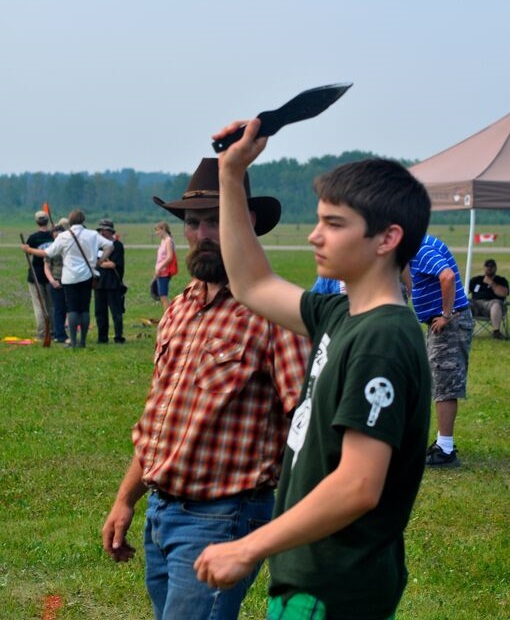 The At'latl was a big hit at the Legends and Legacies weekend.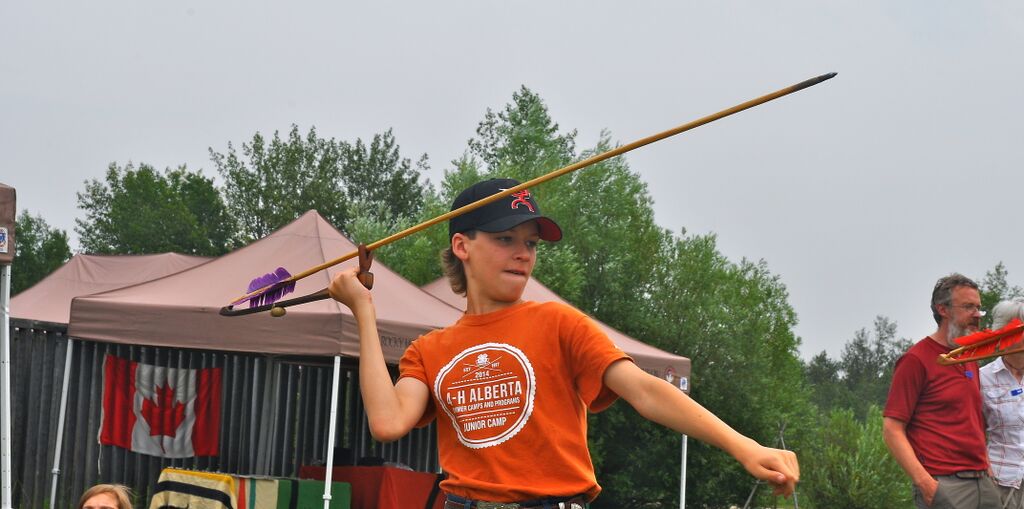 Robert Edwards, founder of the Alberta At'latl Society (left) quickly taught this youngster the tricks of the trade.
Brad Keith did an excellent job of introducing people to longbow shooting.